PepsiCo Aspartame Medical Charity Hoax Obesity
[Sums up disease charities. See: [2011 June] DIET DRINKS MAKE YOU FAT.]
Obesity charity paid £50k in secret by Coca-Cola to promote sweeteners
Last updated at 2:50 AM on 10th July 2011
A charity which criticised the Government for accepting money from junk food companies was itself secretly paid £50,000 by Coca-Cola to promote low-calorie sweeteners.
The National Obesity Forum signed a deal with Coca-Cola in January, a few months after trustee Tam Fry had said he was 'horror-struck' at plans for such companies to provide cash to back public health campaigns.
Mr Fry, 75, is understood to have brokered the Coca-Cola deal, despite accusing the Government last July of being 'bribed' by fast food giants.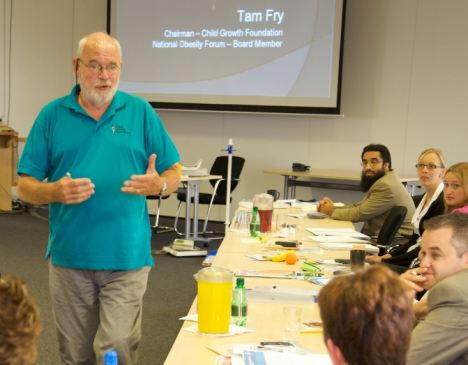 Education: Tam Fry, a trustee of the National Obesity Forum, made a deal with Coca-Cola
The money is to develop part of the charity's website devoted to low-calorie artificial sweeteners.
Many of Coca-Cola's drinks, such as Diet Coke, Fanta Orange Zero and Lilt Zero, include sweeteners like aspartame, acesulfame-K and saccharin, which have been linked to health concerns.
Recent studies linked aspartame to pancreas damage, cancer and premature births.
Sweetened: Coca-Cola can, with 10.6g of sugars
A senior charity source said: 'In July Tam Fry was horror- struck at the government handing the anti-obesity brief to the likes of Coca-Cola and by the following month he was holding out the begging bowl.
'Yet it has been known for years that diet drinks are bad in relation to obesity.'
A Coca-Cola spokeswoman said: 'We provided the charity with an educational fund to support its communications regarding low and no-calorie sweeteners during 2011. There is no product endorsement as part of this affiliation.'
The charity's chairman David Haslam said: 'We have an independent board assessing the health benefits of artificial sweeteners. Coca-Cola has no influence over our findings.'