Virginia Satir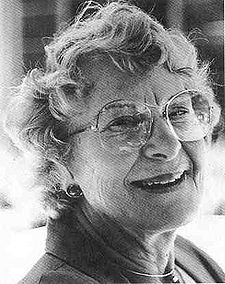 [The most famous family and couples therapist, upon whose knowledge much of NLP is based (others being Erickson and Bateson).]
Goals For Me
I want to love you without clutching,
appreciate you without judging,
join you without invading,
invite you without demanding,
leave you without guilt,
criticize you without blaming,
And help you without insulting.

Once a human being has arrived on this earth, communication is the largest single factor determining what kinds of relationships he makes with others and what happens to him in the world about him.
- Virginia Satir
Adolescents are not monsters. They are just people trying to learn how to make it among the adults in the world, who are probably not so sure themselves.
Every word, facial expression, gesture, or action on the part of a parent gives the child some message about self-worth. It is sad that so many parents don't realize what messages they are sending.
What lingers from the parent's individual past, unresolved or incomplete, often becomes part of her or his irrational parenting.
We must not allow other people's limited perceptions to define us.
If I can have the same from you then we can truly meet and enrich each other.
-Virginia Satir
Choosing congruence means choosing to be ourselves, to relate to and contact others, and to connect with people directly. -- Virginia Satir
"I am Me. In all the world, there is no one else exactly like me. Everything that comes out of me is authentically mine, because I alone chose it -- I own everything about me: my body, my feelings, my mouth, my voice, all my actions, whether they be to others or myself. I own my fantasies, my dreams, my hopes, my fears. I own my triumphs and successes, all my failures and mistakes. Because I own all of me, I can become intimately acquainted with me. By so doing, I can love me and be friendly with all my parts. I know there are aspects about myself that puzzle me, and other aspects that I do not know -- but as long as I am friendly and loving to myself, I can courageously and hopefully look for solutions to the puzzles and ways to find out more about me. However I look and sound, whatever I say and do, and whatever I think and feel at a given moment in time is authentically me. If later some parts of how I looked, sounded, thought, and felt turn out to be unfitting, I can discard that which is unfitting, keep the rest, and invent something new for that which I discarded. I can see, hear, feel, think, say, and do. I have the tools to survive, to be close to others, to be productive, and to make sense and order out of the world of people and things outside of me. I own me, and therefore, I can engineer me. I am me, and I am Okay."---- Virginia Satir
"We need 4 hugs a day for survival. We need 8 hugs a day for maintenance. We need 12 hugs a day for growth."----Virginia Satir
"Feelings of worth can flourish only in an atmosphere where individual differences are appreciated, mistakes are tolerated, communication is open, and rules are flexible - the kind of atmosphere that is found in a nurturing family"----Virginia Satir
"Life is not what it's supposed to be. Its what it is. The way you cope with it is what makes the difference." Virginia Satir
"I believe the greatest gift I can conceive of having from anyone is to be seen by them, heard by them, to be understood and touched by them."--- Virginia Satir
"Problems are not the problem; coping is the problem."--- Virginia Satir
"We can learn something new anytime we believe we can"---- Virginia Satir
"Over the years I have developed a picture of what a human being living humanely is like. She is a person who understand, values and develops her body, finding it beautiful and useful; a person who is real and is willing to take risks, to be creative, to manifest competence, to change when the situation calls for it, and to find ways to accommodate to what is new and different, keeping that part of the old that is still useful and discarding what is not."