Blood campaigner in mail mystery
http://news.bbc.co.uk/1/hi/scotland/4757666.stm
2006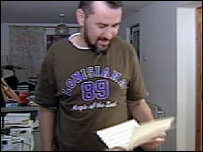 Mr Gunn was left mystified by his unusual post

Hepatitis C campaigner Andy Gunn, who was infected through faulty blood products, has complained to the police that his mail is being intercepted.

His action comes after a letter from his US lawyers was delivered to his home in a House of Lords envelope.

Mr Gunn, from Inverness, is currently trying to sue US manufacturers of the blood products which infected him.

A spokesman for the Home Office said it did not comment on "security matters".

Speaking to BBC Radio's Good Morning Scotland programme, Mr Gunn said he was determined to get to the bottom of what had happened to his post.

'Open book'

He was among hundreds of Scots who received contaminated blood during the 1980s and early 1990s.

He said: "I have spoken to my lawyers and they definitely did not send it there by mistake. I am not jumping to any conclusions - perhaps it is a miraculous case of maladministration.

"My life is an open book, but I'm not obliged to show everyone. This is an infringement and unacceptable."

A spokesman for Mr Gunn's US lawyers, Lieff Cabraser Heimann & Bernstein, said the letter had been sent to their client's home address in Inverness in standard office stationery.

He added: "Although this is an admittedly bizarre occurrence, I hesitate to conclude that there is a conspiracy involved.

"If the government was monitoring Mr Gunn's mail, would they have been so careless as to send it on to him in a House of Lords envelope? It seems highly unlikely, though I don't have another ready explanation."

Former anti-terrorism officer Charles Shoebridge said it was an unusual incident.

"If there is a warrant for the interception of someone's post then it's legal.

Campaigners have been seeking answers on blood infection

"However it's relatively unusual to ask for warrants to intercept someone's post. If there is no warrant then it is an offence and Mr Gunn can make a formal complaint to the police."

He added: "In my opinion it doesn't sound like an intercept warrant would be legally authorised - they are only for security threats or powerful economic threats."

Mr Gunn received infected blood products as a child while being treated at Yorkhill Hospital in Glasgow, leaving him with both HIV and hepatitis C.

He has long campaigned for a public inquiry into how approximately 550 patients in Scotland were infected with bad blood products.

However, the UK Government recently admitted that nearly all its files on the infection of patients through NHS blood products had been destroyed.

The government denied campaigners' claims of a cover-up and said it was a "regrettable" accident.

Hepatitis C is a life-threatening condition which can lead to liver cancer.