[Ex Chief of Secret Police. Certainly looks (and plays) the part.]

That's why we need 42-day detention, says ex MI6 boss
Jason Lewis – Daily Mail April 26, 2008


The former head of MI6 is backing controversial Government plans to hold terror suspects for 42 days without charge, saying it might prevent a dirty-bomb attack on Britain.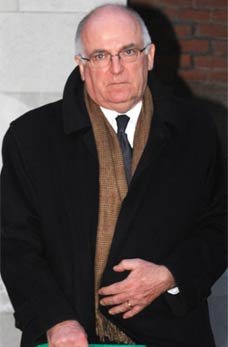 Sir Richard Dearlove

MI6 prides itself on avoiding political debates but former chief Sir Richard Dearlove warns that the UK would "regret" not bringing in longer detention for terror suspects.

Sir Richard, 63, who retired from MI6 in 2004, says that in some serious cases the current 28-day limit is not enough to build a case or to gather intelligence on the scale of the threat faced by Britain.

He says of Al Qaeda: "Should it ever obtain the means to blow away a complete city, I fear, with good intelligence that supports my fears, that it would not hesitate to try."

His intervention comes after Director of Public Prosecution Sir Ken Macdonald warned MPs on the Home Affairs Committee on Wednesday that any move to extend the period suspects can be held is unnecessary.

He said he had "managed quite comfortably" within the 28-day limit – and no suspect had been held longer than 14 days in the past nine months.

But writing in Contingency Today, a magazine for security professionals, Sir Richard says the increased complexity of terrorism cases, especially the need for help from spy agencies abroad, means investigators need more time.

"In some states simply establishing identity is a major investigative challenge," he says. "When we do need that extension, we will need it badly."

Al Qaeda "does not fight for a claim to territory, nor for a political agenda. It seeks to destroy our values and our way of life" – and it is "already pressing against the limits of our capabilities to contain it".

He adds: "It knows well how to exploit the vulnerability of the global village – how to pass unnoticed, cover its tracks, ride on our technology.

?"In a recent prosecution, the investigation involved 270 computers, 2,000 disks and 8,224 exhibits spread across eight national jurisdictions."

He is "instinctively against the erosion of the basic liberties" but adds: "When I know that a few of my fellow citizens feel they are justified in the name of some greater purpose to attempt to kill their neighbours, then I want them, where and when necessary, to be effectively constrained.

"If 42 days is not adopted, regret it we will – and who in our blame culture will the media turn on when the uncharged terrorist, released after a month, turns out to have held the key to preventing the next major attack, and what bad law might we then, in haste, enact during the crisis-driven enquiry that would ensue?"



And EU plans a travel ban on 'troublemakers'


EU security chiefs, including Home Office officials, are secretly planning a Europewide database of 'troublemakers' to stop them travelling to protests.

People on the register – the brainchild of Germany – would not need to have been convicted of any offence and could include sit-down protesters.

Britain would send 'alerts' to other European countries on people campaigning against the expansion of Heathrow or the war in Iraq.

According to EU documents obtained by The Mail on Sunday, the list is designed to stop the 'troublemakers' travelling to further demos abroad.

Germany wants a crackdown after clashes at last year's G8 summit there.

Tony Bunyan, of human rights group Statewatch, said: 'A pattern is emerging where people who exercise their democratic right to attend cross-border protests are confronted by aggressive paramilitary policing
www.dailymail.co.uk/pages/live/articles/news/news.html?in_article_id=562276&in_page_id=1770
http://www.dailymail.co.uk/pages/live/articles/news/news.html?in_article_id=562276&in_page_id=1770