The Eisenhower Ad
September 24, 2009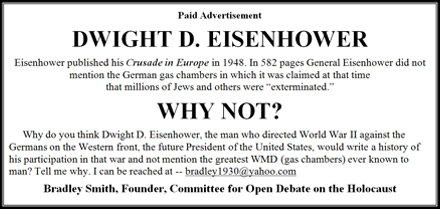 On 08 September, when we ran our "Eisenhower" ad in the Harvard Crimson, it reached an audience of some 26,000 students, faculty and staff. One university campus, one focused audience. For the first time in their lives most Harvard students were introduced to a question about the WWII German WMD (gas chambers) that was simple and provocative.

There was no assertion of fact in the ad, no claim to "truth," only a simple question. The question asked why General Eisenhower, the leading Allied commander on the Western front during WWII, made a decision to not mention the German WMD in his account of that campaign in his book Crusade In Europe published in 1948.

He made that decision consciously! To not mention the German WMD! We are not going to suppose that it just slipped his mind. The question asks why he chose to make that decision? That's all. Why?

Once the ad was published in The Crimson it caused a furor on and off campus. The story was picked up by all local media in the area, and then by CNN. CNN quotes me as saying, with respect to the scandal caused by the ad at Harvard: "Why the fuss? Because it's taboo, and has been taboo from the beginning. When you break a culture-wide taboo, supported in theory and practice by the State, the University, and the Press, you create a fuss."

That quote was repeated again and again in media all around the States, the Spanish speaking world in Europe and South America, in Israel, the Jewish American press, in the Portuguese language O Globo in Brazil, and on so many Web pages and Blogs (most recently on History News Network, a Web page run By Historians For Historians) that we stopped keeping track.

I want to run the "Eisenhower" ad in student newspapers on university campuses all over America. The number of university-connected people we can reach is very impressive. If we use the Harvard statistics for a base, and those stats are minimal, when we run the ad in ten student newspapers we will reach some 260,000 students, faculty and administration. A good number of State universities have 40,000/50,000 students alone, so you can see where this can go.

This is where you come in, hopefully. Will you help me run the Eisenhower ad in student newspapers on university campuses? Every contribution you make will help and be much appreciated. The ad itself will cost about $135 per insertion. It varies. If you can fund the cost of running the ad one time, that would be swell. If you can fund two, three or more runs of the ad – that would be magnificent.

We are working here to break through a taboo. The professorial class in America joined with the State following WWII in asserting the "unique" monstrosity of the Germans with their infernal behavior (Germans cooking Jews to make soap from their fat, Germans skinning Jews to make lampshades and riding breeches from their hides, Germans using WMD to "exterminate" millions of innocent civilians—the list goes on and on). No one is saying that the Germans behaved like angels during WWII, but enough is enough.

It is more than enough when we understand how the assertion of "unique" German monstrosity is exploited to morally justify the conquest of Arab land in Palestine by European Jews, to morally justify the ongoing Israeli subjugation of and humiliation of the Palestinians, and to morally justify the U.S. Congress in passing on more than 100-Billion (!) dollars of American tax-payer monies in direct aid to the Israeli State—so far (The Washington Report on Middle East Affairs).

The American university is not the place, under any circumstance, where taboo should be preferred by academics over the questioning of historical orthodoxies. To the contrary! You do not have to be a professor to understand that it is better to encourage a free exchange of ideas than it is to discourage such an exchange via suppression, censorship, and taboo. We all understand that whether we have been to university or not.

If you agree with the thrust of this letter, please help me run our Eisenhower ad in student newspapers in universities around the country. Your contribution will be very much appreciated, I will use it carefully, and it will be productive. We will encourage the debate, in the full light of day, that the professorial class and those who serve the Holocaust Marketing Industry are determined should not take place.

Thank you,

Bradley R. Smith

PS: All communications regarding contributions will he held strictly confidential.

PPS: I realize that you don't really know who I am, that so far we have done no work together. With that in mind I want to remind you that you can get my 320-page confessional, Break His Bones: The Private Life of a Holocaust Revisionist, for $4. No shipping, $4. That's it. All my cards are there on the table, face up. I think it will help you decide that this is an important project, and that I am someone you can trust to carry it forward.

You can order Break His Bones here.

You can contribute directly to the Eisenhower ad via Paypal here.