Jerome M. Hauer
9/11 Masterminds
[vid] 9 11 THE BIG CLUE EVERYONE MISSED
[vid] 9/11 Masterminds - Explosive Connections Within 30 mins of WTC2 being hit many American mainstream news corps were giving out Bin laden's name as a suspect and the complete run-down on Al Qaeda and the Taliban along with the reasons for the collapse itself ! Who would have the power to organise that these experts were put on TV that morning ? Who would have an interest in having that information giving out to the public so quickly ? Find that out and you got the killers!
[2010 May] Larry Silverstein and the John Patrick O'Neil Connection By Laurence De Mello Hauer had previously been employed by his pal Mayor Giuliani from 1996 to 2000 as the director of The office of Emergency Management. Hauer came up with a job for O'Neil. Hauer told O'Neil that his "'client'' Larry Silverstein wanted him to be Chief of Security at the WTC, this was now the end of August 2001. O'Neil liked the offer which was a generous one, US$350.000 P.A plus perks, but O'Neil wanted a few days off before he started his new job. He was told that Silverstein "'wanted him in the office no later than 11th September'' So September 11th was to be John O'Neil's first day at work in the WTC.
[2008 Jan 20] The Key Players of 9-11: Who is Jerome M. Hauer? by Christopher Bollyn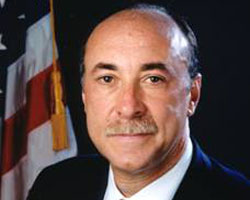 Jerome M. Hauer, who has strong family connections to the State of Israel, built the bizarre crisis center for the Office of Emergency Management in Larry Silverstein's WTC 7, the 47-story tower which was demolished by explosives in the afternoon of 9-11. As the first director of the new crisis center, "one of Hauer's first tasks was to find a home for an emergency command center to replace the inadequate facilities at police headquarters," according to the Times.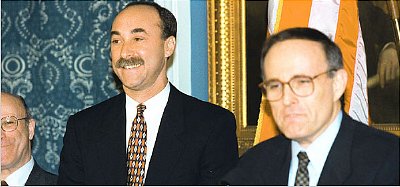 Photo: Mayor Rudolph W. Giuliani of New York appointed Jerome M. Hauer, left, to lead the newly created Office of Emergency Management in 1996
See:Barak Chertoff Goff Hellerstein Mukasey Olmert Troy Silverstein Zakheim Netanyahu Guiliani Murdoch