Homosexuality & Demonic Possession

December 2, 2010 http://www.henrymakow.com/homosexuality_from_an_occult_a.html

" While many gays were dying from AIDS, I was living this terrible event : gayness seemed to be deadly on a physical and also on a spiritual plane. "
[EDITOR'S NOTE: This article offers more evidence that the Illuminati promotion of sexual promiscuity & homosexuality has occult implications.]

by Le Gall
(for henrymakow.com)

The story I am about to summarize is mine. I have absolutely no claim to a higher truth, but I can bring you some features of the reality of the unseen and the collusion between certain sexual practices and the occult.

The first gay men I met in Paris were show-business Jews. In my twenties, 25 years ago, I gravitated to the artistic world, completely dominated by Jews.

So I made the acquaintance of one of those Jews with whom I had sex (but no penetration I might add.) The next morning, I began to feel unwell with a pain down the spine, at the perineum exactly. This point, I learned much later corresponded to the first Shakra. My negative Kundalini was just starting, a phenomena I had never heard about.

The pains increased, gaining the tree genitourinary, and then the whole body. The discomfort was widespread but indescribable. I was both mentally and physically shaken.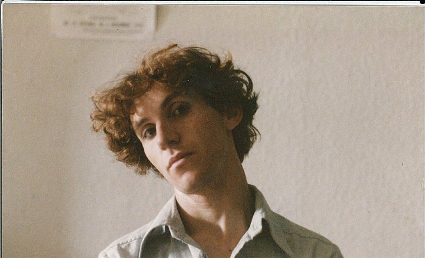 (the author, 25 years ago)
Laboratory analysis came back negative. Over the months, the sensations became more and more difficult and precise. Sexual desires have increased and also negative thought like the idea of suicide. I had the sensation of evil forces around me. At some people's houses, furniture creaked when I had left them. Friends told me about it.

I was very tired, full of negativity and desperate to find a solution.

DOCTOR

A year later, returning to Paris, I met a doctor, also Jewish, who abruptly told me that I was certainly suffering from an occult problem. Through the doctor, I met an old clairvoyant, who delivered the terrifying following diagnosis: the homosexual relationship had put me in contact with a demonic entity.

He described it very precisely, "something" hanging on my back, from the neck to the tailbone, red and black. This man who was supposed to have powers and to be able help people with occult problems nearly fainted as he tried to get rid of it. He was really upset and fell on one chair. When he recovered, he was totally pale. It was indeed a real possession. I asked him a few questions:

Q- How do you get you one of "these things"?

A- During sexual intercourse... Because of negative vibrations with the universe.

He suggested I go to a monastery, to have positive thoughts, and to begin a spiritual life.

DEMONIC POSSESSION

A few weeks later, unable to sleep, when I cried, "I hate God", my wooden closet made a huge crashing noise. This was my first experience of paranormal phenomenon. I realized that by making love with that guy, and having that psychic game, instead of having reached the 7 th sky, I had fallen into a hell pit. My physical and mental struggle was horrible: against suicidal tendencies, against physical pains (especially along the joints), and criminal "voices". I had to cope with, much bigger sexual desires than ever before. This situation was simply threatening.

I kept on seeing the same doctor, who insisted I was cursed and that it was my responsibility and no one else's. When I do think now that the other guy was not innocent at all...but, you know, remember that I only was a poor christian or goy.

Three months later, I followed the advice of the psychic and went into a monastery. There, I told a priest about the "possession", and then I met an exorcist who practiced a ritual which led to no result, no clearance at all. I had the impression of being broken from inside, and of having no more roots. And I just didn't know how not to stay sane.

More important, in this monastery, I was confronted with several paranormal phenomena, including a luminous phenomenon consisting of points forming a geometric figure, absolutely perfect, it looked like a constellation, but it was in a room before me and at eye level: here is the shape of it :

x x x

x x

x x


It happened in a dark room in the monastery. I dared not going too close to it. I stared at it, and after 15 seconds, I simply left the room, totally amazed. (I would of course behave very differently now)

That was I reckon a sign from God. I really think that the Divine Power wanted me to believe in Him.

This is the main meaning of apparitions. Now, when I think of this phenomenon, I would describe it as God's electricity.

Years later I discovered this same figure but upright in the esoteric Jewish Kabbalah : the Tree of Life.

After those events, I decided not to talk to ordinary persons of what I had seen, as they would not have believed me or as they would take me for a mad person. Among other paranormal phenomena, there have been internal visualizations: a sad face, Shakras (heart shakra heart and "ajna shakra" called third eye, they look like bicycle wheels, years afterward, I saw designs of them in an occult book), lucid dreams where I visited haunted houses, and "cleaned them" ... So, this very weird experience was both a mixture of Kundalini, Initiation and Possession.

A Buddhist guy told me once : "had you been a woman, you would have been pregnant". I told him that his advice was not right as there had not been any kind of penetration. He looked very amazed after I had told him so.

RECOVERY

Gradually, over the years, the pains and the symptoms eased. The demonic force is still there, but I have learned to live with this incredible osmosis. My body suffers sometimes, some forms of burns that circulate throughout the body, but I found a way to counteract them: avoiding seminal loss, avoid sex as much as possible, avoid crowds, never watching horror films, and praying.

Sexuality- even heterosexuality - involves for mediumic personalities games with the invisible forces that can serve as vectors, as channels for demonic entities which feed on the emitted sexual energies. Hence the importance of sexuality in Satanism an in this decadent satanized civilization.

It is a mystery to me seeing that I managed to survive these 25 years, with a force of which there are no other words to say it is demonic. I would say that 30 per cent of my energies are still "sucked" by it.

What I am certain of : the Illuminati plan to possess the world on a spiritual level, and degrade it on a material one .

I have decided to consecrate myself and for the rest of my life to the Light. What we call "Love" here, is for me now, totally pointless, whatever it is, gay or straight.

It is not at random that Christianity or Buddhism call for chastity. It is the best way to reach the Light inside. I am old and strong enough now to talk about it with no complex, and wherever it is, through the net or in front-of any kind of audience.

http://legaysavoir.blogspot.com/

--

Related- Makow- Freud's Part in Our Satanic Possession

--- Priest says, Promiscuity, Homosexuality Can Lead to Demonic Possession
---
---
---
---
---
---
---