Israeli Apartheid
Israel
See : Palestinian genocide
['The Jewish State is not an apartheid apparatus! it is actually far worse. Israel doesn't attempt to exploit the Palestinians, it wants them gone. Israel puts into action Nazi-like (Lebensraum) ethnic cleaning tactics because Jewish nationalism is an expansionist ideology driven by judeo-centric racist supremacy. The truth is simple and devastating. However, the Diaspora Jewish Left attempt to conceal it all is actually embarrassing, yet, symptomatic.'----Gilad Atzmon.]
[2017] Palestine and the Israeli Occupation, Issue No. 1. Israeli Practices towards the Palestinian People and the Question of Apartheid. Executive Summary This report concludes that Israel has established an apartheid regime that dominates the Palestinian people as a whole. Aware of the seriousness of this allegation, the authors of the report conclude that available evidence establishes beyond a reasonable doubt that Israel is guilty of policies and practices that constitute the crime of apartheid as legally defined in instruments of international law.
[2015 Aug] Leading Israeli journalist says Israel is an Apartheid state
9/11 & Israeli Apartheid, The Kiss of Death for World Zionism
[vid] The Zionist Story The Zionist Story, an independent film by Ronen Berelovich, is the story of ethnic cleansing, colonialism and apartheid to produce a demographically Jewish State.
[2013] Former Pink Floyd frontman sparks fury by comparing Israelis to Nazis
[2010 Nov] Israeli Government Documents Show Deliberate Policy To Keep Gazans At Near-starvation Levels
[2010 Jan] Auschwitz Survivor: 'Israel Acts Like Nazis'
[2009 Book] Israeli Apartheid: A Beginner's Guide by Ben White
[2009] An interview with author Ben White by Stefan Christoff.
[2008] This is like apartheid': ANC veterans visit West Bank One prominent member of the delegation, who declined to be named, said South Africa had been "much poorer" both during and after apartheid than the Palestinian territories. But he added: "The daily indignity to which the Palestinian population is subjected far outstrips the apartheid regime. And the effectiveness with which the bureaucracy implements the repressive measures far exceed that of the apartheid regime."
[2002] Apartheid in the Holy Land by Desmond Tutu
External
http://apartheidweek.org/
http://www.stopthewall.org/
Coalition Against Israeli Apartheid
Stop the Wall:
http://www.inminds.co.uk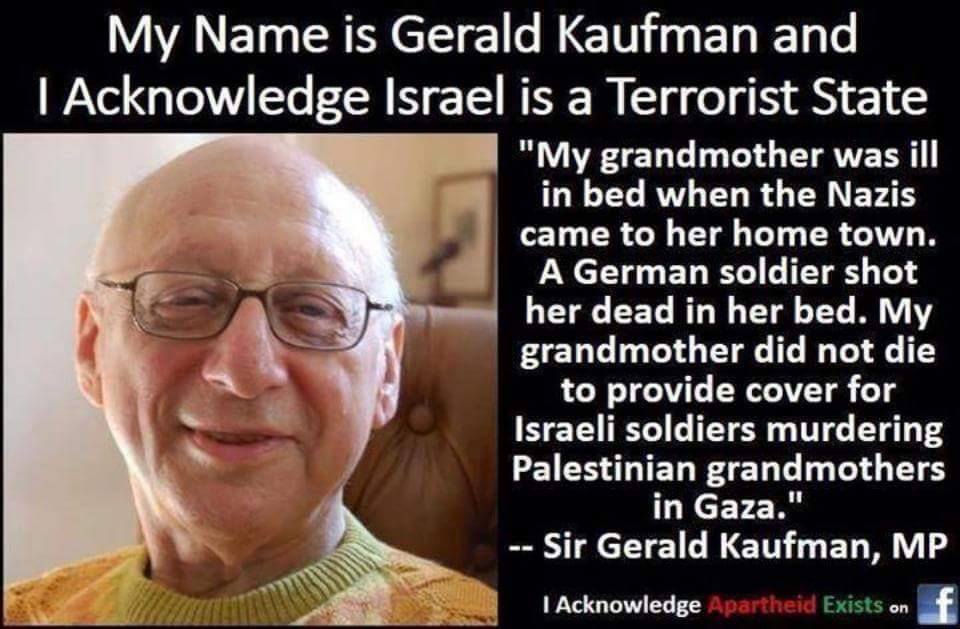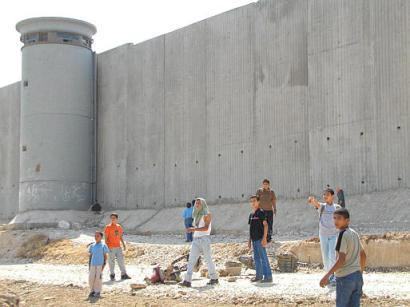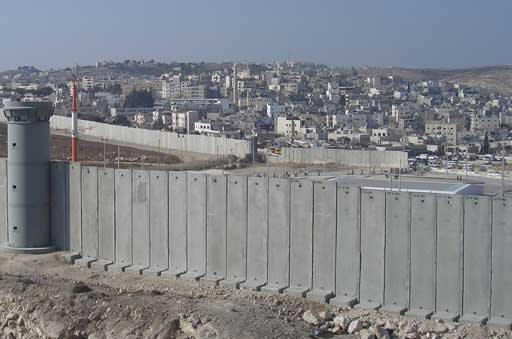 Apartheid wall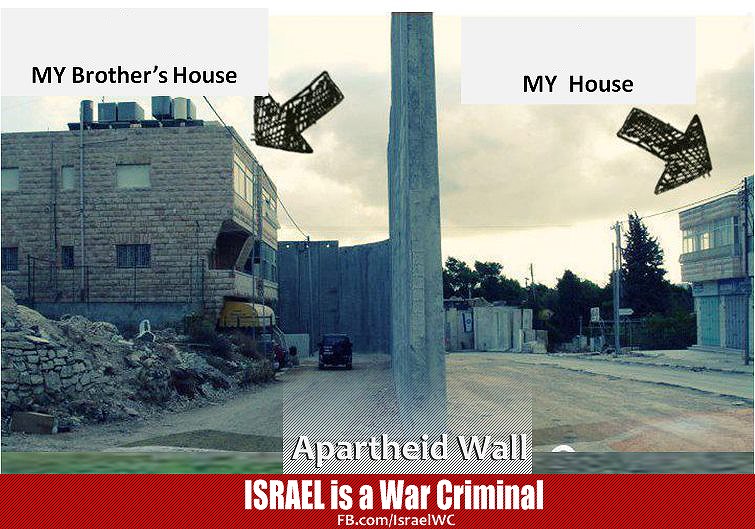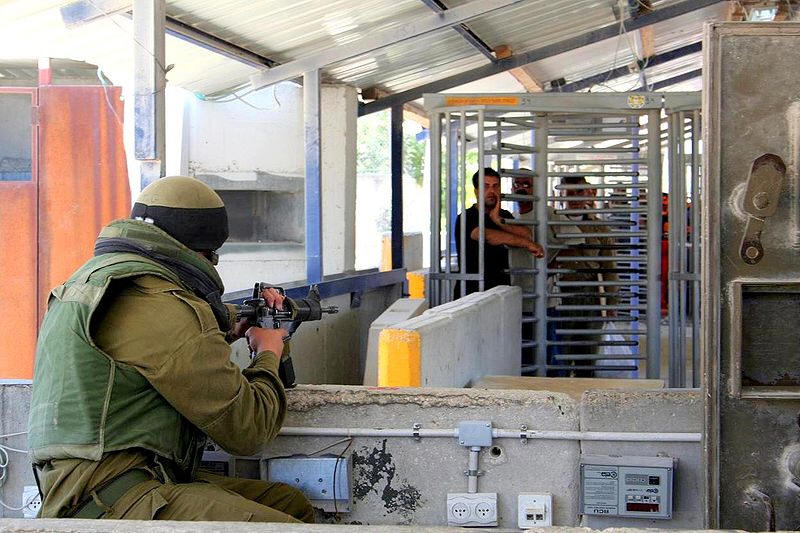 Huwwara Checkpoint, one of many Israeli checkpoints and closures that restrict the movement of Palestinians in the occupied West Bank and have been compared to the apartheid pass system.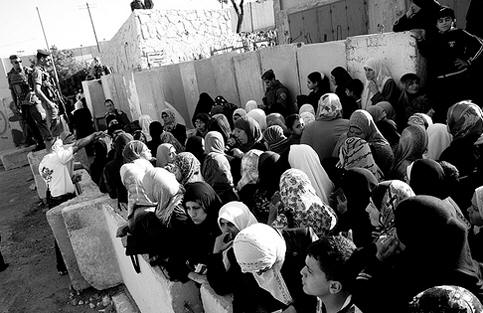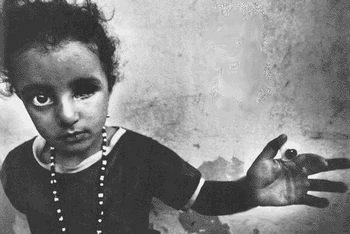 "Fida Sherafi, a Palestinian girl in Gaza, lost her eye to a rubber bullet when she was nine months old. She has learned to take out her glass eye to clean it. 'I made sure to show both the Israeli and Palestinian sides of the war,' says Grossfeld. 'A kid is a kid. They don't deserve to have their eyeballs shot out.'" Photo by Stan Grossfeld, Life Magazine, June 1997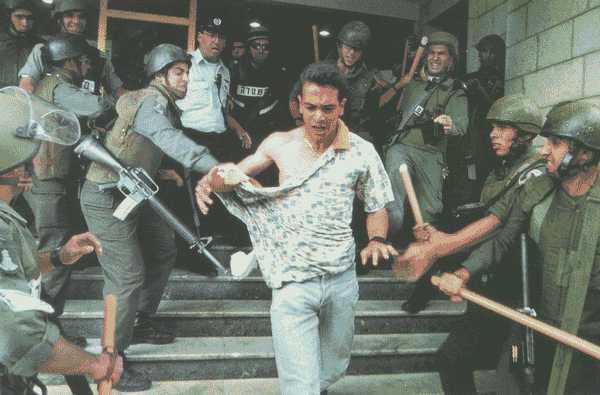 Palestinian youth is harassed by a dozen armed Israelis during the two minutes of silence the Palestinians observed as a sign of protest during Israel's 50th anniversary celebrations.