Ariel Sharon
Zionism Israel Palestine
Lying Zionists cover up Sharon's horrific words, deeds Ariel Sharon embodied the pure, unmitigated evil of Zionism. He was a war criminal, a terrorist, a mass murderer, a torturer, a rapist. The French term "genocidaire" also applies.
Burying Sharon – and "We Jews control America"
[2013 Feb] Sharon Feared Exposure of Israeli Genocide
[2006 Jan 13] Is Ariel Sharon the Mastermind of 9-11? by Christopher Bollyn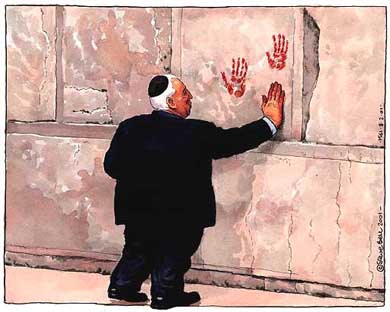 ARIEL SHARON AND HIS CHIEF OF STAFF MOSAF.......4-04-02
Sharon War Plan Exposed: Hamas Gang Is His Tool by Jeffrey Steinberg July 2001
How Sharon and the Likud Party nurtured the rise of Hamas by Ray Hanania
Sharon will lead the region only to tragedy and conflict by Michael Jansen
Sharon quotes
"It is the duty of Israeli leaders to explain to public opinion, clearly and courageously, a certain number of facts that are forgotten with time. The first of these is that there is no Zionism, colonialization, or Jewish State without the eviction of the Arabs and the expropriation of their lands."
-- Ariel Sharon, Israeli Foreign Minister, addressing a meeting of militants from the extreme right-wing Tsomet Party, Agence France Presse, November 15, 1998.
"Everybody has to move, run and grab as many (Palestinian) hilltops as they can to enlarge the (Jewish) settlements because everything we take now will stay ours...Everything we don't grab will go to them."
-- Ariel Sharon, Israeli Foreign Minister, addressing a meeting of the Tsomet Party, Agence France Presse, Nov. 15, 1998.
"Israel may have the right to put others on trial, but certainly no one has the right to put the Jewish people and the State of Israel on trial."
-- Israeli Prime Minister Ariel Sharon, 25 March, 2001 quoted in BBC News Online
"Every time we do something you tell me Americans will do this and will do that. I want to tell you something very clear, don't worry about American pressure on Israel. We, the Jewish people, control America, and the Americans know it."
"Jews as individuals are great individuals – talented, ambitious, intelligent, smart. As a people [though], I would not give them as high a grade. Jews know how to hate."– Ariel Sharon, in an interview with the Israeli daily Yediot Aharanot, Feb. 1, 2002. Quoted in the Los Angeles Times, Feb. 2, 2002, p. B3.
"Even today I volunteer to do the dirty work for Israel, to kill as many Arabs as necessary, to deport them, to expel and burn them, to have everyone hate us, to pull the rug out from underneath the feet of the Diaspora Jews, so that they will be forced to run to us crying. Even if it means blowing up a few synagogues, I don't care. And I don't mind if after the job is done you put me in front of a Nuremberg Trial and then jail me for life. Hang me if you want, as a war criminal… What your kind doesn't understand is that the dirty work of Zionism is not finished yet, far from it."----Ariel Sharon
"Tell me, do the evil men of this world have a bad time? They hunt and catch whatever they feel like eating. They don't suffer from indigestion and are not punished by Heaven. I want Israel to join that club. Maybe the world will then at last begin to fear us instead of feeling sorry. Maybe they will start to tremble, to fear our madness instead of admiring our nobility.

Let them tremble, let them call us a mad state. Let them understand that we are a savage country, dangerous to our surroundings, not normal, that we might go wild, that we might start World War Three just like that, or that we might one day go crazy and burn all the oil fields in the Middle East. Personally, I don't want to be any better than Harry Truman who snuffed out half a million Japanese with two fine bombs."
"I vow that I'll burn every Palestinian child that will be born in this area. The Palestinian woman and child are more dangerous than the man, because the Palestinian child's existence infers that generations will go on…"
Tell me, do the evil men of this world have a bad time? They hunt and catch whatever they feel like eating. They are not punished by heaven or bothered by indigestion. I want Israel to join that club. Maybe at long last the world will learn to fear us instead of feeling sorry. Maybe they will start to tremble, to fear our madness than admiring our nobility. Let them tremble. Let them call us a mad state. Let them understand that we are a savage country, dangerous to our surroundings, not normal. That we might go wild, start world war 3 just like that. Or that we might go crazy and burn all the oil fields in the Middle East. Even if you prove to me that the present war is a dirty immoral war, I don't care. We shall start another war, kill and destroy more and more and do you know why it is worth it? Because it seems that this war has made us more unpopular among the uncivilized world. We will hear no more of that nonsense about the unique Jewish morality. No more talk about a unique people being a light upon the nations and no more uniqueness and no more sweetness and light. Good riddance. ~ Ariel Sharon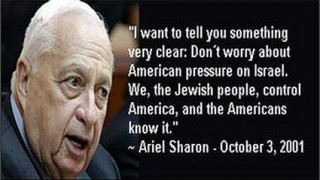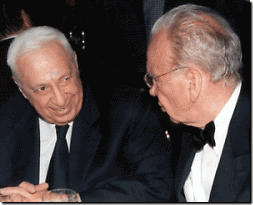 Murdoch "Murdoch told of the time he took a group of editors from New York and London for a weekend at Ariel Sharon's ranch. Sharon took them on a bird's-eye tour of Israel aboard a helicopter gunship, flying over the Golan Heights, West Bank and settlements. "We saw the vulnerability of the country," Murdoch said. "Not all New York newspapers feel the cause of Israel is all the news that's fit to print," he added. Rupert Murdoch's televised statements on Israel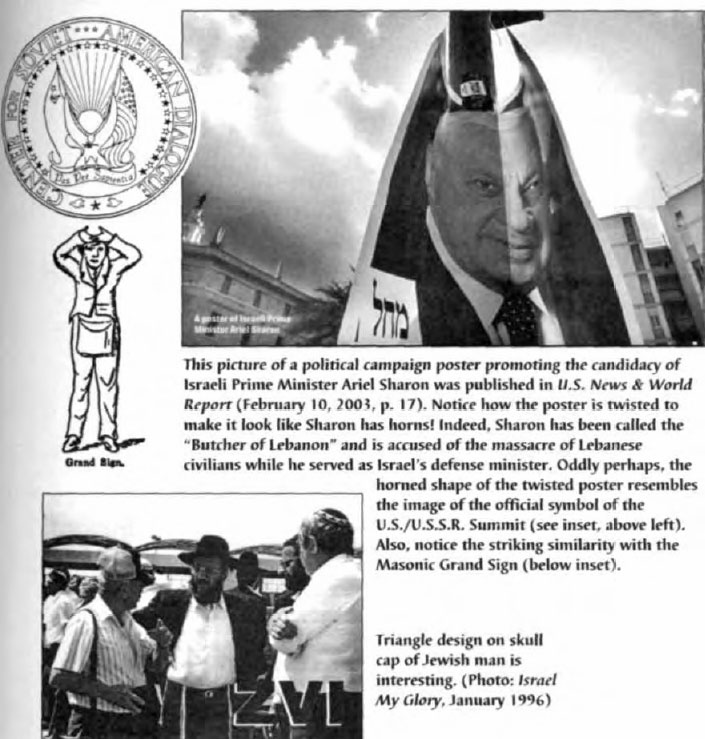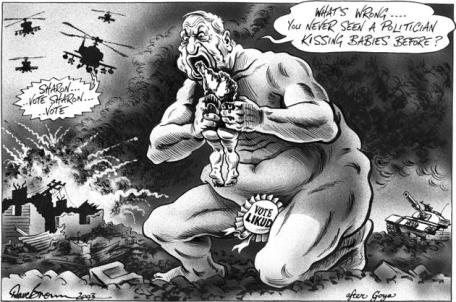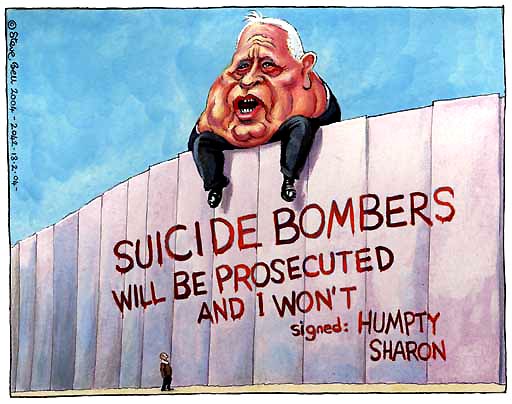 Dave Brown January 2003, The Independent: I based this cartoon on Goya's Saturn Devouring his Children, which was based on a prophesy in Greek myth that Saturn's children would grow up to supplant his power, so he decides to eat them. Instead of Saturn, I drew a naked Ariel Sharon holding a body with various forms of destruction in the background. The following day, the Israeli Embassy complained and sent the image round to Jewish groups in America. It elicited a huge response, not all of which was bad. http://www.cartoons.ac.uk/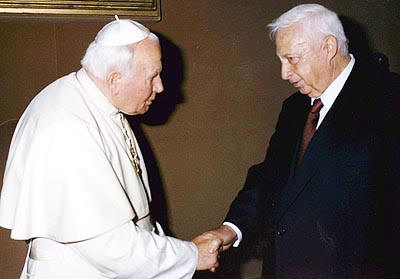 Handshake

Palestinian President Mahmoud Abbas with Israeli Prime Minister Ariel Sharon. Both men are Masons. http://www.bibliotecapleyades.net/sociopolitica/codex_magica/codex_magica08.htm