Robert Kennedy, Sirhan Sirhan
[DVD 2011] Second Dallas. Who Killed RFK?
Sirhan Sirhan and His Account of Delta Programming Mind Control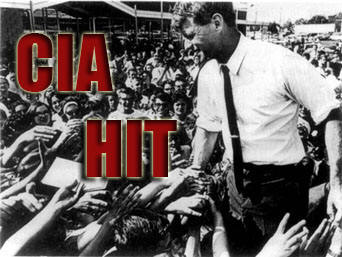 [2011 May] Convicted RFK assassin says girl manipulated him
[2011] JFK and RFK: In the Shadow of Dallas and LA
[2011] RFK: Outing the CIA at the Ambassador In a recent article ("JFK and RFK: In the Shadow of Dallas and LA"), I cited the identifications of three officials of the CIA at the Ambassador Hotel when Bobby was shot, by Bradley Ayers, who knew all three, and by Wayne Smith, who knew one of them very well.
Who Killed Bobby Kennedy?: The Unsolved Murder of Robert F. Kennedy, by Shane O'Sullivan
Quotes
the time that Kennedy died in Dallas, Jack Ruby had been in the company of two known hypnotists. One of them was CIA agent David Ferrie, from New Orleans. The other was Billie Del Mar, who was then entertaining in Jack Ruby's Carousel Club. Del Mar fled from Dallas the day of the Kennedy assassination, and was never called to testify before the Warren Commission. Mae Brussell INSIDE THE HEARST KIDNAPPING
The extent and scope of these methods of ordering behavior and erasing memory, following these acts of murder, has to be exposed. You can erase the memory of a murder from a person's mind through hypnosis. You can also implant the conviction that a man has committed a murder, when in fact, he has not.
This happened in the assassination of Robert F. Kennedy, where it was suggested to Sirhan Sirhan, by his psychiatrist, how he killed Robert Kennedy. Evidence exists to disprove this theory. Mae Brussell INSIDE THE HEARST KIDNAPPING
One of the people who was a drummer with the Tommy Dorsey Band for a while was William Joseph Bryan, Jr. (aka William Joseph Bryon, and William Jenning Bryan III, etc.) William Joseph Bryan, Jr. was a CIA Mind-control programmer. He programmed people when he was with the Air Force as Chief of Medical Survival Training, which was a covert brainwashing section (If the Air Force. Bryan opened up his own hypnotherapy Institute on Sunset Strip in Hollywood where he programmed some people in acting for the Illuminati. Bryan was the person who programmed Sirhan Sirhan to kill Robert Kennedy. Bloodlines of the Illuminati Van Duyn
The way you create Manchurian Candidates is you divide the mind. It's part of what the Intelligence Community wanted to look at. If you're going to get an assassin, you're going to get somebody to go do something, you divide the mind. It fascinates me about cases like the assassination of Robert Kennedy, where Bernard Diamond, on examining Sirhan Sirhan found that he had total amnesia of the killing of Robert Kennedy, but under hypnosis could remember it. But despite suggestions he would be able to consciously remember, could not remember a thing after was out of hypnosis. I'd love to examine Sirhan Sirhan. D. Corydon Hammond, Ph.D.
Bill Kurtis's TV-show, A & E Investigative Report on the assassination of Robert Kennedy suggested that Sirhan Sirhan was a mind controlled assassin or patsy that would have been created under Project Artichoke .(2) The object of this project was to create the real "Manchurian Candidate", an assassin who could be programmed to kill a target and then not even remember he did it. Sirhan Sirhan fit the profile. Angry at the death of his parents during a conflict with Israel the convicted assassin of RFK was said to have been in a trance-like state during and after the shooting. Later, Sirhan Sirhan would state strongly that he did not actually remember anything that happened during the shooting, but everyone said he did it, so he must have done it. [1997] Sex, Drugs, the CIA, MIND CONTROL and Your Children By A.B.H. Alexander
Sirhan was programmed at a racing stables in Santa Ana, California by two CIA mind-control specialists -- one of them a priest. A co-worker of Sirhan at the stables was Thomas Bremer, whose mind-controlled brother Arthur, shot Governor George Wallace in 1972. Not many miles from the stables is a Synagogue used for mind-control purposes. Its rabbi is a 'former' member of US Naval Intelligence........Such police corruption is exemplified by the LAPD's complicity in the assassination of Robert Kennedy, It is well known within the ranks of the LAPD that mind-controlled patsy Sirhan Sirhan, in keeping with the patsy arrested for the murder of Israeli Prime Minister Yitzak Rabin, FIRED BLANKS, in order to misdirect the attention of eyewitnesses. At least one police officer's eyewitness report was re-written by a senior officer in order to protect the true conspirators. Moreover, police radio communication was disrupted (as in the Princess Diana assassination) thereby preventing the broadcasting of other suspect's descriptions.(17) Mind Controlled Killers: What happened at Columbine High School? Was O.J. Simpson innocent? In Defense of Buford Furrow Jr.! by Brian Desborough
Both Frank Sinatra and CIA mind-control programmer William Joseph Bryan, Jr. (aka William Joseph Bryon, and William Jenning Bryan III, etc.) were members of the Tommy Dorsey Band. Bryan programmed people while he was with the Air Force as Chief of Medical Survival Training which was the Air Force's covert mind-control section. Later he opened up his own hypnotherapy Institute on Sunset Strip in Hollywood where he programmed some people in the Illuminati who are actors. He also was the person who programmed Sirhan Sirhan to be involved in the Robert Kennedy assassination. The Illuminati Formula 12. External Controls
External
RFK Assassination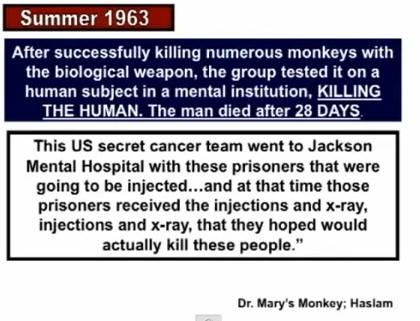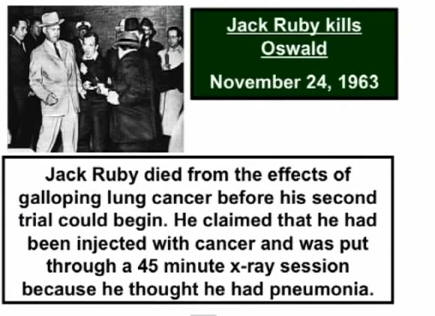 [vid] The Exploding Autoimmune Epidemic - Dr. Tent - It's Not Autoimmune, you have Viruses