ARNON MILCHAN - MOSSAD'S MAN IN THE MIDDLE
by Christopher Bollyn http://www.bollyn.com/the-mass-media-the-9-11-cover-up
If one considers the known evidence of Israeli prior knowledge of 9/11, the Odigo text messages and the five arrested Mossad agents, for example, as indicative of Israeli state involvement in the crime, the identity of the hidden power behind the cover-up is rather obvious. The "hidden hand" suppressing the information about 9/11 would have to be a high-level person in the Israeli political-military intelligence establishment who has very close relations with media kingpins like Murdoch, Levin, and Eisner. Arnon Milchan (a.k.a. Milchen) is such a person.
While millions of Americans have watched his films, such as Pretty Woman and JFK, very few know that Arnon Milchan is a "best friend" of Shimon Peres (born Szymon Perski in Wiszniewo, Poland) the Israeli president and godfather of Israel's nuclear arsenal.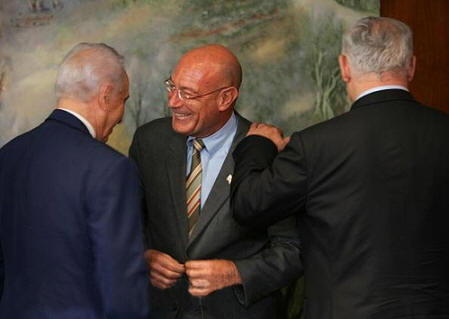 The Israeli movie producer Arnon Milchan (between Peres and Netanyahu) is a close friend of Israel's president Shimon Peres ("his first letter he wrote as president went to me"), Defense Minister Ehud Barak, and Likud Party leader Binyamin ("Bibi") Netanyahu. Milchan, who began his career with the fertilizer/chemical company Milchan Brothers, reportedly owns 30 companies in 17 countries involved in plastics, electronics, communications, and pharmaceuticals.
Milchan's 40-year friendship with Peres, the man who oversaw the illegal development of Israel's nuclear weapon program, is key to understanding Milchan's career as an undercover operative, weapons procurer, and film producer. The fact that Milchan, the Hollywood producer, has been Israel's "foremost weapons procurer" for decades, brokering deals for "everything from nuclear triggers to rocket fuel to guidance systems," is seldom mentioned in the U.S. news media.
This is probably due to the fact that Milchan is also a "best friend" and business partner of Rupert Murdoch. He is also a friend and business partner with Levin (Warner Brothers) and Eisner. "I consider him one of my best friends," Milchan said about Murdoch, "and I think vice versa. We're having a ball. He's a very cool guy."
"Kingpins like Warner Brothers' Gerald Levin and Disney's Michael Eisner are quick to return his calls," the American Jewish journalist Ann Louise Bardach wrote about Milchan in her article "The Last Tycoon" in April 2000.
In 1997, after a six-year relationship with Warner Brothers, Milchan became a partner with Murdoch, selling him twenty percent of his film company, New Regency Productions, for $200 million. Murdoch also invested another $30 million in Regency Television. Today, Murdoch's equity partnership with Milchan is close to fifty percent. "Milchan's deal with Fox also assures him a level of financial security," Bardach wrote. "With Murdoch's $200 million investment and a subsequent $600 million line of credit from a team of banks led by Chase Manhattan, Milchan is well into mogul territory. "Milchan's tony offices occupy most of Building 12, right next door to the Executive Building on the Fox lot," Bardach wrote. "And it is from this seat of power that Milchan is building an entertainment empire that could one day rival Murdoch's."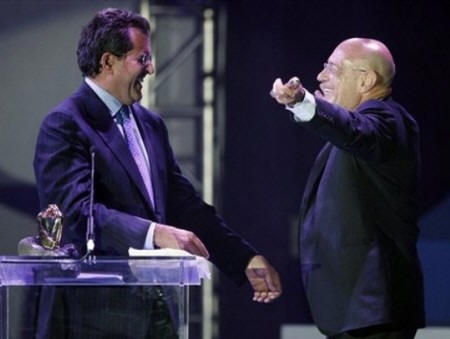 Peter Chernin, president and chief operating officer of Rupert Murdoch's News Corporation, left, presents Arnon Milchan with a lifetime achievement award at an event celebrating the 60th Anniversary of the state of Israel in Los Angeles on September 18, 2008. Chernin, Murdoch, and Milchan have worked together for many years.