The bizarre Halloween rave in Amsterdam where clubbers will be showered in 'BLOOD'
The world's first 'Blood Rave' is to be held in Amsterdam on Halloween
The Facebook event is said to be inspired by the 1998 horror movie Blade
It is unspecified if real or synthetic blood will be showered on guests
By BECKY PEMBERTON FOR MAILONLINE
PUBLISHED: 08:09, 5 September 2015 | UPDATED: 01:36, 6 September 2015
Halloween celebrations are supposed to be a bit spooky - but many will consider this a bit much.
A rave in Amsterdam is planning to shower clubbers with sprinklers filled with gallons of blood.
The secretive event, posted on Facebook, does not specify whether the blood will be real or synthetic, but is said to be inspired by the graphic opening scene from the horror film Blade.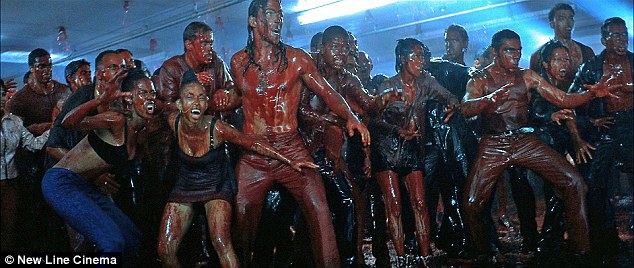 A Halloween event in Amsterdam is set to recreate a blood rave scene from the 1998 movie Blade (pictured), which saw clubbers sprayed with blood
Unsurprisingly the organisers of the graphic event are remaining anonymous, and have even listed the place of the event as 'a discrete location in Amsterdam.'
According to the event page, Blood Rave is a nightlife community for like-minded individuals, with the rave description ending with the question, 'thirsty?'
The event has attracted a great deal of attention. with over 4,100 currently attending, according to the page.
But some have misgivings about what kind of blood will be used for the deluge.
One user posted on the event: 'What kind of blood will you use? Pig or cow? Because pig might be a problem for several kinds of people (religious/cultural reasons).'
According to the NL Times, which claims to have spoken to the event organisers, what will be showered on clubbers is still being decided.
'After a long search we have developed a special sprinkler system with pipes running across the ceiling and thus making us able to spray blood over the crowd,' the newspaper was told.
'We've already tested it a number of times with a substance resembling blood. It is pushing the borders, but we want to see how far we can go.'
Some have voiced their misgivings about the controversial theme. One said: 'I don't want to be 'that guy' but this has disaster written all over it.'
The event has links to an opening scene from the 1998 vampire film Blade, where blood pours from the ceiling in a club.
Tickets are currently listed at €24.50 (£17.93).
Read more:


Read more: http://www.dailymail.co.uk/travel/travel_news/article-3222295/The-bizarre-Halloween-rave-Amsterdam-clubbers-showered-BLOOD.html#ixzz3n7IX6zEq
Follow us: @MailOnline on Twitter | DailyMail on Facebook