'Gravy' Sodomic mind control Feldman, Corey
Corey tells of Hollywood sodomy
WENN - The West Australian on October 23, 2013, 10:31 am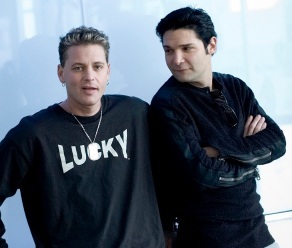 Corey Haim, left, and Corey Feldman. Picture: AP Photo/Courtesy AETN, L. Pief Weyman
The late Corey Haim was sodomised on the set of a 1986 movie by someone who has become "one of the most successful people in the entertainment industry", according to his long-time friend Corey Feldman.
In his upcoming memoir, Coreyography, the Stand By Me star opens up about the sexual abuse he and Haim suffered early in their careers as child actors.
In an excerpt obtained by the New York Post's Page Six, Feldman recalls a story Haim, then 14, shared about his experience on the set of Lucas, in which an "adult male convinced him that it was perfectly normal for older men and younger boys in the business to have sexual relations, that it was what all the guys do.
"So they walked off to a secluded area between two trailers . . . and Haim allowed himself to be sodomised."
Feldman claims he, too, was abused by an older man, who he identifies as Ron Crimson, a pseudonym.
The actor alleged Crimson introduced him to drugs, and left him "revolted" one night when he performed oral sex on the teenager.
"I desperately wanted him to stop, but I was afraid of losing my friend."
And perhaps the most disturbing moment in the book comes as Feldman recalls a photograph of himself and Haim at his 15th birthday party surrounded by five paedophiles.
"I would begin to realise that many of the people I had surrounded myself with were monsters," he wrote.