Fidel Castro
Cuba
[Jesuit]
[March 30, 2016] Cuba: Communism Part of Illuminati Charade Fidel Castro came to power in Cuba because of the covert help of New World orderlies in the US State Dept. and mass media. They cut off arm sales to Batista while at the same time supplying Castro, partly by Russian submarines. This told the Cuban military which way the wind was blowing and they quietly defected. ...Weyl says that both Ernesto Guevera and Fidel Castro were trained as Soviet agents as teenagers. Guevara, an Argentine, was liaison between the Soviet espionage network and the Castro forces who masqueraded as an indigenous force. In fact, they were largely bankrolled and supplied by the Soviet Union.... According to Humberto Fantova's "Che! Hollywood's Favorite Tyrant", Guevara was complicit in the execution of 10,000 Cubans after the revolution: He was "a bloodthirsty executioner, a military bumbler, a coward, and a hypocrite...it's no exaggeration to state that Che... was the godfather of modern terrorism. And yet Che's followers naively swallow Castro's historical revisionism. They are classic "useful idiots." the name Stalin gave to foolish Westerners who parroted his lies..."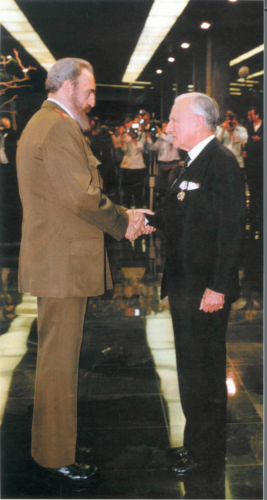 Castro shaking hands with his boss, Grandmaster and Prince of the Sovereign Military Order of Malta, Andrew Willoughby Ninian Bertie
Quotes
Fidel Castro was born in the village of Brian in Cuba on August 13, 1926 into a rich family, the son of Angel Castro, who was a Spanish immigrant, and his cook Lina Ruz Gonzalez. In his early life Fidel Castro went to Jesuit schools and from there he attended the Jesuit preparatory school Colegio Belen in Havana. http://www.wwwk.co.uk/people/politicians/fidel-castro.htm
Controlled Opposition Fidel Castro was trained in Jesuit schools for seven years, put in power by the Jesuit's Knights of Malta-controlled Skull and Bones CIA, and advised by a Jesuit, Fr. Armando Llorente during the revolution. Today, Castro continues to be subservient to 78th Grandmaster and Prince of the Sovereign Military Order of Malta Andrew Willoughby Ninian Bertie, cousin of Queen Elizabeth. http://aftermathnews.wordpress.com/2007/09/12/fidel-castro-says-us-fooled-world-over-911/
Fidel Castro was born on Aug. 13, 1926, on his family's prosperous sugar plantation near Birán, Oriente Province. His father was an immigrant from Galicia, Spain. Castro studied in Jesuit schools in Oriente and in Havana, where one of his high school teachers, Father Armando Llorente, recalled him as "motivated, proud, different from the others'. Fidel had a desire to distinguish himself primarily in sports; he liked to win regardless of efforts; he was little interested in parties or socializing and seemed alienated from Cuban society."
The life of Fidel Castro has always been bound up with prophesies, some of them strangely accurate. Probably the most known is the one made by [Jesuit] Father Antonio Llorente, Castro's teacher and spiritual adviser at the [Jesuit] Colegio de Belén. "Fidel Castro is a man of destiny," prophesied Llorente. "Behind him is the hand of God. He has a mission to fulfill and he will fulfill it against all obstacles."[1] In this particular case, however, I have the feeling that Father Llorente was slightly confused about whose hand was behind Fidel Castro.
[...]
19. The student is involved with a gang or an antisocial group on the fringe of peer acceptance.
Yes. It has been extensively documented that, as soon as he joined Belén, he formed his own gang and began harassing other students. The Jesuit padres were terrorized. They had never seen a student like Fidel Castro.[15] He continued his involvement with gangs when he became a Law student at the University of Havana.[16]
[...]
Moreover, it seems that the Jesuit's efforts in nurturing the monster were not by mistake, but by design. Argentinean journalist Alfredo Muñoz Unsaín, for many years Havana's correspondent for France Press, tells a quite revealing story. Father Padre Arrupe visited Cuba in the early 1980s, and Muñoz Unsaín had the opportunity of talking to him on several occasions. In one of them, recalls the reporter, the Black Pope gave him the classic Jesuit spiel, ending by telling that he was very pleased with the work of the Jesuits in Latin America, particularly of the many important disciples they have developed who later reached prominent positions in all walks of life. "Well, I guess you are not proud of all of them," retorted Unsaín, and added, "Don't forget that Fidel Castro was one of your disciples." To what Arrupe answered, in the classic Jesuit way, by using a question to answer another one, "And what makes you think we are not proud of Fidel Castro?" http://www.amigospais-guaracabuya.org/oagsg005.php
Castro, instead of being sent to an inadequate state school, went to Jesuit colleges in Santiago de Cuba and the capital Havana. Santiago is the capital of Oriente Province, from which the rebellion against Spain was launched. Havana was even then a centre of political and social corruption. The contrast and the lesson must have their impact on the growing boy. http://www.guardian.co.uk/world/1959/jan/11/cuba#article_continue
Fidel Castro Ruz was born on August 13, 1926, on his family's successful sugar plantation near Birán, Oriente Province, Cuba. Castro's parents had not planned to send their young son to school, but he was so set on getting an education that he talked them into letting him go when he was only six or seven years old. Castro studied in Jesuit schools in Oriente and in Havana, Cuba. He was a motivated student who did well in agriculture, history, and Spanish, and he was also an exceptional athlete. Meanwhile he showed little interest in socializing.
In 1945 Castro entered law school at the University of Havana, where student activism, violence, and gang fights were common. Castro soon joined the activists and associated with one of the gangs, the Unión Insurreccional Revolucionaria. Although police suspected him of the murder of a rival student leader and other violent actions, nothing was proven. Castro developed a reputation for his personal ambition and public speaking ability, yet he never became a well-known student leader. On several occasions he was defeated in student elections. http://www.notablebiographies.com/Ca-Ch/Castro-Fidel.html
This is from Cuba's official website on itself.† http://www.cubaheritage.com.† The specific web page below is the official Cuba biography of Fidel Castro.† Its specific URL is http://cubaheritage.com/subs.asp?sID=16&cID=3

Notice carefully from the article below:
1) Fidel Castro attended three Jesuit institutions.† College Lasalle and Colegio Dolores.† "Colegio" in Spanish is a high school or junior college.

2) † He then attended a Jesuit university for "preparatory" studies--obviously, what we would call a "general studies" program--at Colegio Belen.† I say, "general studies," because, after he matriculated from there, he went to law school.

3) Upon graduating from law school he joined the Orthodox or Christian Democrat party.† My European readers will instantly recognize that this is the Roman Catholic Party.† The first Christian Democrat party was begun in Italy under Pius XI in the 1920's.† Pius XI later disbanded that party, to put his full support behind Benito Mussolini and his Fascists.† The leader of the Christian Democrat party was then forced into exile, though he and Pope XI remained on good speaking terms.† It was in London that this leader met a fellow exile--Avro Manhattan.

Returning to Fidel Castro: Castro was obviously fully working for the Jesuits when he joined the Christian Democrat party as a young lawyer.† Not only that: by the time of the Cuban revolution in 1958-59, the Jesuits in Latin America were going fully Marxist-Leninist in ideology, as both Avro Manhattan and a former Jesuit priest, Malachi Martin, well document. Malachi Martin documents how that, in 1963, the Jesuits became fanatic, left-wing Communists, under Pedro Arrupe, himself a Marxist, and a great advocate of Fidel Castro.† Martin documents in his book: "The Jesuits and the Betrayal of the Roman Catholic Church" how the Jesuits proceeded to foment Communist revolutions throughout Latin America and Africa, with Castro's aid.

[...]

Back to Castro and Communist Cuba: the "Calvary Contender," an independent online Baptist periodical, reports that Henry Morris, the writer of the Genesis Flood, says that the Pope recently visited Cuba.† He and Castro shared the same podium.† Pope John Paul II sounded as Communist as Castro.

Here is a blurb from the Calvary Contender:
"POPE & CASTRO SOUND ALIKE ON SOCIALISM-- Fidel Castro and Pope John Paul II met last Nov. Cuba is overwhelmingly Catholic. Catholics are allowed to join its officially atheist Communist Party. The Pope sounds very Castro-esque in his frequent condemnations of capitalism, consumerism and the suffering of the poor (11/19 HT). He told the Nov. UN World Food Summit that the imbalance between the rich and poor ("the haves and have-nots"?) cannot be tolerated. "

That link is at http://home.hiwaay.net/~contendr/1-1-97.html.

Notice above very carefully:
1) Cuba is overwhelmingly Roman Catholic.

2) Roman Catholics are allowed to join the atheist Communist Party.

3) Fidel Castro himself is a graduate of several Jesuit institutions, and is in good standing with the Pope.

4) He was a member of the Roman Catholic Christian Democrat party before starting his Marxist/Leninist revolution.

Albert Rivera, the former Jesuit priest who became a Protestant preacher, said that Castro is a fourth-degree, professed Jesuit.† The circumstantial evidence strongly corroborates that statement
The Catholic Church in Cuba has only 720 priests, one for each 8,000 Catholics, compared with the U.S. ratio of one for every 760 Catholics. Moreover, Cuba's lower classes consider the church somewhat foreign; 400 of the priests are Spanish-born (most of them anti-Franco, despite Castro's accusation), and another 100 are foreigners from other countries. Although nearly 85% of Cuba's 6,700,000 population is nominally Catholic, regular church attendance is confined mostly to women and children. Castro himself went to Jesuit-run schools for eleven years and wore a religious medal as a guerrilla in the hills. But he is divorced (though not remarried) and does not go to church. His ten-year-old son, under his mother's influence, has become a Methodist. http://www.time.com/time/magazine/article/0,9171,869811,00.html