Flu Shot Paralyzes 9-year-old Girl – Goes from Speaking 2 Languages to Now Only 10 Words
February 15, 2016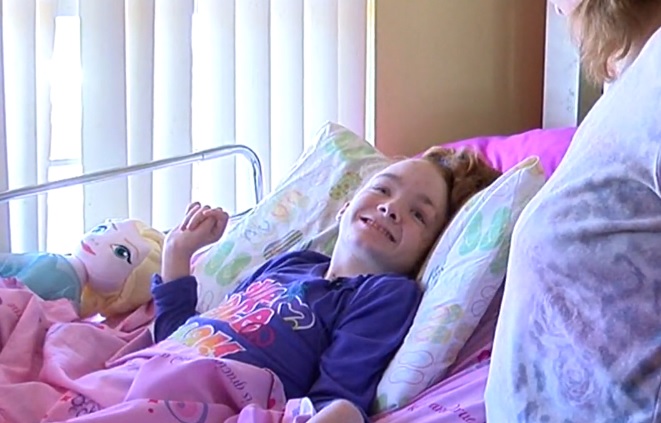 Image from ABC News Tampa Bay.
Health Impact News Editor Comments
As we have previously reported, the annual flu vaccine is the most dangerous vaccine in America. More awards for damages due to injuries and deaths related to the flu vaccine are issued each year via vaccine court than all other vaccines combined. (See: Government Continues to Pay Damages for Injuries and Deaths Due to the Flu Vaccine in Vaccine Court for the latest report from the Department of Justice.)
In this story from ABC Action News in Tampa, a 9 year old girl becomes paralyzed from the neck down right after the flu vaccine, and goes from speaking 2 languages to now only being able to speak 10 words.
A flu shot is blamed for paralyzing Marysue Grivna; the 12-year-old needs a room of her own
by Jacqueline Ingles
ABCActionNews.com
Excerpts:
"Marysue went from being a normal 9-year-old to basically a newborn child," explained Carla Grivna, the little girl's mother.
For Carla and Steven Grivna they hold on to the memories of Marysue speaking two languages, her helping them in the kitchen and her love for playing outside.
Marysue can now speak just 10 words including mommy and daddy.
"The few words you have heard her say she has had to work hard to do," her mother explained.
Marysue is also paralyzed. She is now fed through a tube and wears a diaper.
On November 20, 2013, Marysue's parents took her to the doctor where she received her annual flu shot.
Her mother recalls putting her to bed on the night of November 25, 2013, and then checking on her right before she turned in for the night.
It was typical of Marysue to awake by 7 a.m. and then go into wake her parents up.
On the morning of November 26, 2013, she never made it to her parent's bedroom.
When her mother finally awoke, she was alarmed that Marysue had broken her routine. Carla Grivna walked into her daughter's room to check on her.
Her daughter was not responding to her calls to wake up, so Carla lightly nudged her.
Still there was no response despite Marysue's eyes being open.
"The look on her face was like help me, like she was scared but she couldn't respond to me," Carla recalled.
Read the full story at ABCActionNews.com
- See more at: http://vaccineimpact.com/2016/flu-shot-paralyzes-9-year-old-girl-goes-from-speaking-2-languages-to-now-only-10-words/#sthash.PZfu9VQo.dpuf