Hemingway
Authors
The Stolen Century It is now known that Hemingway worked for Intelligence in WW2. He not only worked for OSS (the precursor to the CIA), he worked for Navy Intelligence ONI, the FBI, and even worked with the Russian Intelligence agency NKVD (the precursor to the KGB).
''All thinking men are atheists''. — Ernest Hemingway (exact opposite is true)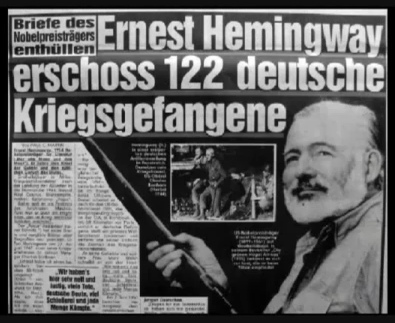 Headline of a German newspaper: Letters discover: Hemingway shot 122 German prisoners of war in Summer 1945 The Rhine meadow camps in Germany in summer 1945 (part 3)
[2006] Ernest Hemingway shot 122 German POWs "You're wrong, brother, I said to him and shot him three times quickly in the stomach, and then when he went to his knees, I shot him in the skull so that the brain came out of his mouth - or from the nose, I believe."