HUGE Scandal – Chelsea isn't Bill Clinton's Daughter?
By TPIWriter
http://www.thepoliticalinsider.com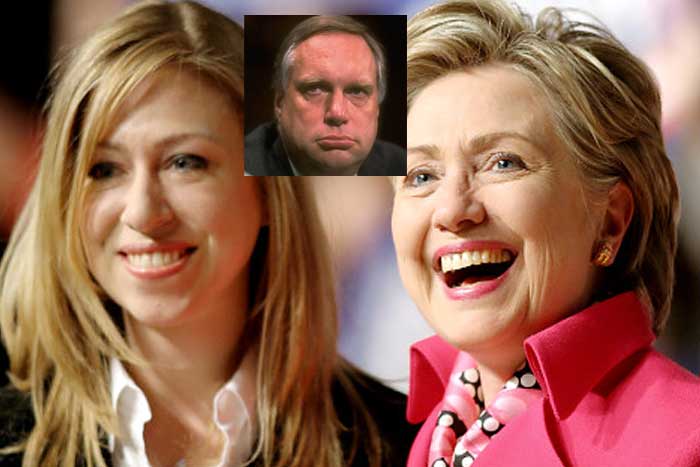 This secret could DESTROY Hillary Clinton's Presidential campaign.
Another skeleton in Hillary's closet is coming back to haunt her… It appears Chelsea Clinton's real father is Webster Hubbell, the former Mayor of Little Rock, Arkansas. Hubbell was a law partner at Rose Law Firm with Hillary, and became one of the most important Clinton-insiders.
Then-Governor Clinton appointed Hubbell as Chief Justice of the Arkansas State Supreme Court, but 10 years later he resigned before pleading guilty to federal mail fraud and tax evasion for overbilling clients. Hubbell served 15 months in prison.
The New Yorker reported on rumors that Hillary Clinton's affair was first noticed in 1984 at the Governor's Mansion during Bill's second term, but had started long before.
Apparently, Bill Clinton is infertile. This raises serious character questions about Hillary Clinton… If she was elected, this type of sex scandal could open her up to blackmail.
Robert Morrow claimed:
"His exact words were, 'I shoot blanks.' Stunned by what I'd just heard, I asked him, 'Then what about Chelsea?' And he said, 'Oh, Webb (Hubbell) sired her.'"
As the National Enquirer reported (the same tabloid which broke the John Edwards sex scandal), the accusation was being made by former Clinton aide Larry Nichols.
"According to well-respected author Edward Klein's (2005) book, The Truth about Hillary, Bill discovered his wife was pregnant by reading it in the 'Arkansas Gazette.'"

"It's unfortunate, sad really, that Chelsea has no real relationship with Hubbell – who I believe to be her real biological father – when he's alive and kicking and living in North Carolina.

"But it could be she's in denial, despite overwhelming proof that Webb is her real dad."

"Whatever Chelsea does or doesn't know about her paternity, I'm sure she considers Bill her real dad — despite there being no blood ties," Nichols said. "I saw firsthand what a doting, loving father he was to his little girl.

"He always treated her as if she was his own – which in his heart, I believe she's always been – from day one."
And, as an update, the National Enquirer attempted a DNA test and Hubble was NOT excluded as the possible father:
The ENQUIRER approached Webb, 67, at a book signing in Durham, N.C., on July 18, 2014. He was promoting his political thriller ironically titled, "When Men Betray."

Webb arrived to a crowd of about 10 people in attendance – including an ENQUIRER reporter posing as a fan.

Our reporter presented a brand new Sharpie pen and a pristine copy of the book. Webb signed his name in the book – and even agreed to place both the book and the Sharpie pen in a protective bag.

"Webb was more than accommodating. He just thought I was some kind of super fan," said the reporter, who also retrieved a large Starbucks drink that Webb had been drinking from – which was later tested for additional saliva and DNA!

Chelsea's DNA was much more difficult to acquire. As a former First Daughter, she's constantly guarded by Secret Service agents or an entourage from her dad's Clinton Foundation – where she serves as Vice Chairwoman.

On April 9, however, The ENQUIRER was there as Chelsea spoke about public health initiatives at Harvard University's T.H. Chan School of Public Health in Boston.

The undercover ENQUIRER reporter posed as a high school student visiting Harvard on a college tour. As Chelsea exited the auditorium, the teenager followed with a new Sharpie and a clean copy of Hillary's authorized biography, "Living History."

"Chelsea, I admire you so much! Can you sign your mother's book for me?" the teen gushed.

Eager to please, Chelsea signed the book for the teenager – who quickly returned it, along with the Sharpie pen tucked inside, to an ENQUIRER reporter.

The samples were taken to a genetics lab in the Southeastern United States – which agreed to do the testing on the agreement that The ENQUIRER not publish its name.

The forensic examination of the samples could not disprove that Webb was Chelsea's father – with the official result being "inconclusive."
Here are some striking photos which show how similar Hubble and Chelsea Clinton look.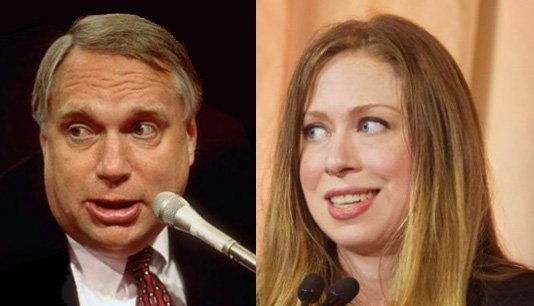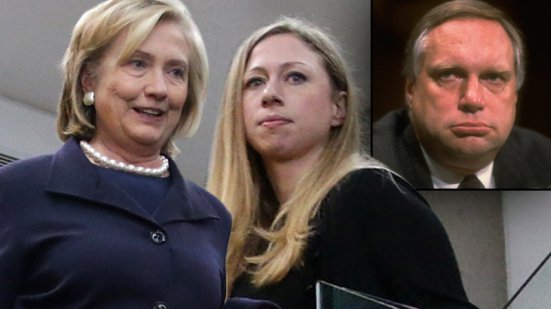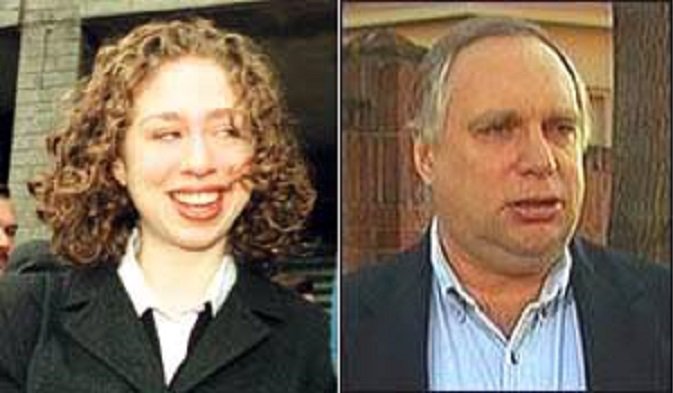 And here is Larry Nichols describing whow he knows Bill Clinton is NOT Chelsa's father.
What does this revelation say about Hillary Clinton? Please spread this everywhere to your friends on Facebook and Twitter!