Juan Carlos (King of Spain )
Royals
Is Prince William really the son of King Juan Carlos of Spain?
[2012 feb] Did Spain's King Don Juan Carlos have an affair with Diana? The exposure claim made in a new book
[2012 April] 'I made a mistake': Spanish King Juan Carlos in unprecedented apology over elephant hunting safari... as calls grow for him to be axed from WWF presidency
[2012] King of Spain 'is serial womaniser who made a pass at Princess Diana'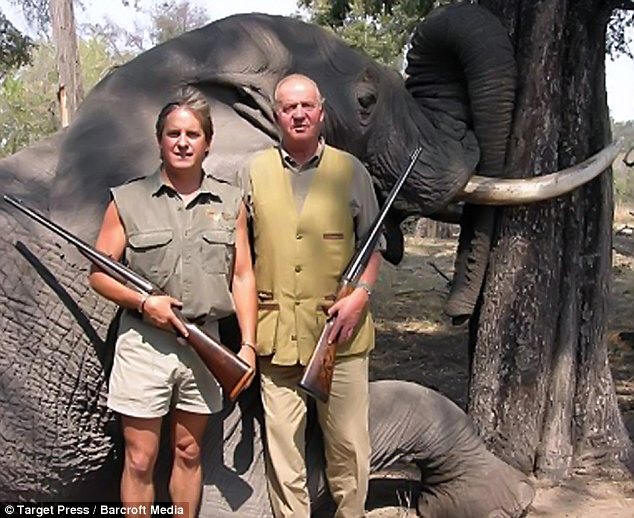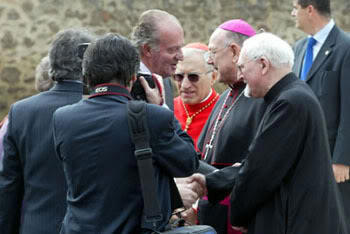 Shaking hands with the Black Pope, Peter Hans Kolvenbach.
JUAN CARLOS DE BORBON Y BORBON was born on January 5th, 1938 in Rome, where the Royal Family was living at that time, having had to leave Spain when the Republic was proclaimed in 1931. His father, Don Juan de Borbon y Battenberg, Count of Barcelona and Head of the Spanish Royal Household ever since King Alfonso XIII had relinquished this status, and his mother, Dona Maria de las Mercedes de Borbon y Orleans.
At the express wish of his father, he was educated in Spain, which he visited for the first time at the age of ten. In 1954 he completed his Baccalaureate at the San Isidro School in Madrid, and in 1955 began his studies at the Academies and Military Colleges of the Army, the Navy and the Air Force. During this time he carried out his practice voyage as a midshipman on the training ship Juan Sebastian Elcano and qualified as a military pilot. In 1960.61 he completed his education at Madrid's Complutense University, where he studied constitutional and international law, economics and taxation.
Colegio Imperial de Madrid (also known as the Colegio Imperial de la Compañía de Jesús or El Colegio de San Pedro y San Pablo de la Compañía de Jesús en la Corte) was the name of a Jesuit teaching institution in Madrid.
Founded at the end of the sixteenth century and reached its peak in the seventeenth century, acquiring the title of "Imperial College" thanks to the patronage of the Empress Maria, daughter of Charles V, Holy Roman Emperor and the wife of Maximilian II, Holy Roman Emperor. Philip IV of Spain is considered the founder of the Reales Estudios in 1625. Subjects included theology, philosophy, geography, and the sciences. Lope de Vega, Francisco de Quevedo and Pedro Calderón de la Barca can be counted amongst the institution's pupils. The institution's library served as the most important one in Madrid until the 18th century, large part of which is now shared by the Universidad Complutense y la Real Academia de la Historia.
When the Society of Jesus was suppressed in 1767, Charles III of Spain re-established the university as the Reales Estudios de San Isidro in 1770, as a continuation of the studies there. The Jesuits returned from 1816-1820; 1823-1834. Between 1835 and 1845, it became once again a lay institution, with the name of Estudios Nacionales, incorporating with the Universidad Literaria de Madrid. http://en.wikipedia.org/wiki/Colegio_Imperial_de_Madrid
Next door, the Instituto de San Isidro once went by the name of Colegio Imperial and, from the 16th century on, was where many of the country's leading figures were schooled by the Jesuits. http://www.lonelyplanet.com/worldguide/destinations/europe/spain/madrid?v=print

http://www.theworldoftruth.net/HallettReport/No5.html