Kray twins
Mafia
THATCHER'S PEOPLE In the early seventies runaway children and teenagers from the provinces would arrive at a main London rail station, where waiting to talk to them as they came off the trains was a well dressed man associated to the Krays, The Krays would take the boys and put them up in a communal house and encouraged to become rent boys, transvestite singer Boy George has spoken of this time in his life and Peter Tatchell was threatened with exposure when he wanted to stand for Parliament. Jimmy Saville was a regular visitor to the house in Norfolk and there was one in Suffolk too.
[2011 Oct] Death of a Showman: Jimmy Saville 1926-2011 by T Stokes
[2010] How the Krays ran a protection business for Sinatra and Co from behind bars The Kray twins ran a lucrative bodyguard and 'protection' business for Hollywood stars from behind bars which prison officials were powerless to stop, secret documents reveal today. The gangland crime lords controlled the business from their cells while Reggie was in jail and paranoid schizophrenic Ronnie was in Broadmoor high-security hospital. The brothers boasted on their business card that their clients included 'Hollywood stars and Arab Noblemen', such as singer Frank Sinatra, adding: 'We have never lost a client.'..Sinatra was said to have recruited an 18-strong team of bodyguards from the firm, Krayleigh Enterprises, before his June 1985 visit to the Wimbledon tennis tournament.
[2009] THE KRAY TWINS, BOYS, TOP PEOPLE, SEX IN PRISONS
[2010] SPOOKS AND SPARES; GIRL MODELS AND RENT BOYS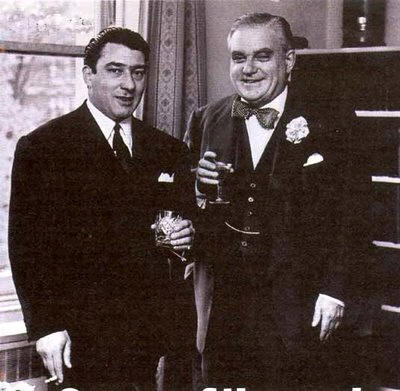 Gangster Ronnie Kray and top politician Lord Boothby in 1963. Lord Boothby was close to all the top people from Churchill to Tom Driberg. Reportedly, Ronnie once said to a boy: "You will go home with Lord Boothby. You will do exactly what Lord Boothby wants. Or I will hurt you"
The Kray twins from the Londonís East End underworld, with many boxing acquaintances were privy to insider gossip on upcoming bouts. Although it is not generally known, the Krayís were part of the Jewish underworld and would have had links with the same mafia that ran the boxing syndicates in the U.S.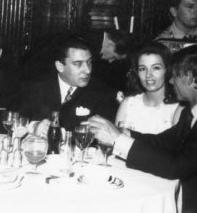 The Christine Keeler-Profumo scandal helped Harold Wilson, friend of Israel, to become UK prime minister.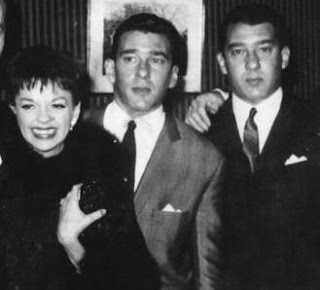 Judy Garland and the UK's Kray Twins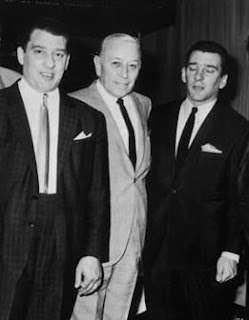 George Raft and the Kray Twins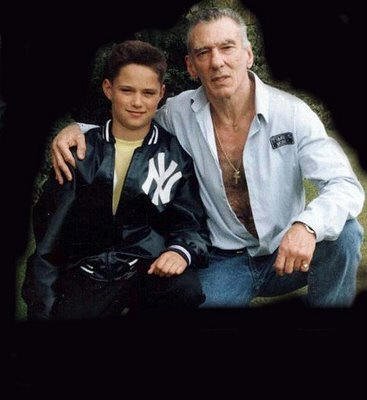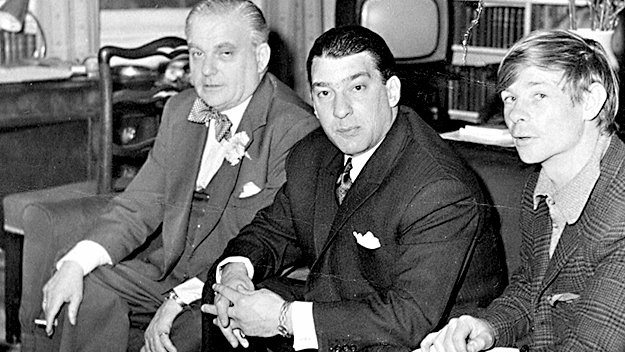 Conservative Lord Boothby, gangster Ronnie Kray and a young man.