My daughter is suffering after HPV vaccination, says Grantham mum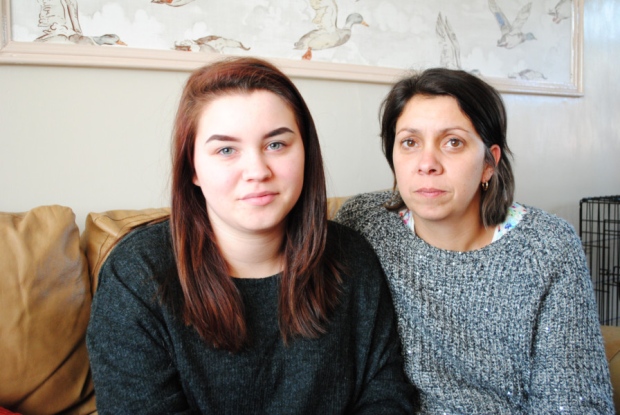 Georgina with mum Martina Haude.
23 October 2015
http://www.granthamjournal.co.uk
A mother whose daughter fell ill after having the HPV vaccine at school says it is unsafe and parents need to be more aware of its side effects.
Martina Haude says she is not against vaccinations but the symptoms shown by Georgina, 15, and thousands of other girls around the world after having the vaccine make her believe it should be stopped until it can be shown to be safe.
The HPV (human papilloma virus) vaccine is given to girls aged 12 and 13 in the UK to protect against cervical cancer.
Martina, of Manor Drive, Great Gonerby, says that there is a leaflet with the vaccine which lists the possible side effects, but girls and parents are not shown this when the vaccine is given.
Georgina, who attends Priory Ruskin Academy, had the first of three jabs at the end of 2012 with another two over the following few months.
After the first jab, Martina said her daughter started complaining of headaches, sore arms and legs and dizziness. She is constantly tired and was even bedridden for several months last year.
The symptoms persisted and Georgina went to see her doctor and other healthcare professionals.
But Martina says they have been "fobbed off", having been told it is growing pains or chronic fatigue.
Martina said: "Georgina's grades were amazing and she was winning medals. She was very sporty.
"But if I had known about these side effects then maybe I would not have let her have that injection. As parents we have not seen the list of side effects. We are just told to contact our doctor if there are any symptoms."
Martina said Georgina has had at least 30 X-rays and has been seen by doctors for numerous ailments. On one occasion she was taken to Boston Hospital for scans because of a severe headache. "It's been a total nightmare," said Martina.
Georgina has now been diagnosed by a consultant as having PoTs (Postural Tachycardia Syndrome). This is an abnormal increase in heart rate after sitting or standing up. It typically causes dizziness, fainting, sweating and other symptoms.
Georgina is attending school a few hours a day but she has had to cut down on the number of GCSEs she is due to take next year because she has missed out on so much schooling. She was also a keen rower with the school and trained in the gym every day, but that is no longer possible.
Martina said that once Georgina was diagnosed with PoTs "the alarm bells started ringing".
She found a Facebook site called 'Parents of daughters suffering long term side effects following HPV vaccination' and discovered that parents all over the globe were concerned that their daughters were being affected by the vaccine.
The chairman of the group, Freda Birrell, suggested that Georgina should be tested for PoTs. Martina said: "If it was not for Freda we would not have known. I could not stop thinking, how come all these girls end up with these side effects?"
Martina now hopes that her daughter can go to a specialist PoTs clinic at Sheffield once she turns 16 in January.
She says Georgina still has many other problems, including stomach and dietary ailments.
Georgina told the Journal: "I feel really tired and I have a lot of chest pains and my legs hurt."
Her greatest hope is that an investigation by the European Medicines Agency will confirm that the vaccine does cause PoTs and complex regional pain symdrome. Its findings are due next year, but the review does not question whether benefits outweigh the risks.
Caron Ryalls, secretary of the Association of HPV Vaccine Injured Daughters, said: "They had to take action so it is not surprising but it is welcome. My concern is these problems are underdiagnosed so if officials are looking for confirmed diagnoses, a lot might be missed.
"I hope the review will listen to the families and not just the pharmaceutical companies."
The NHS says the vaccine used to vaccinate against HPV is called Gardasil, which has been used in the national vaccination programme since September 2012. It says the safety and effectiveness of Gardasil has been rigorously tested in clinical trials and a vaccine is only released to the public if scientific tests, called clinical trials, show the benefits outweigh the risks.
It says the data from these trials was reviewed by the European Medicine Agency's committee for medicinal products for human use before a licence was granted for Gardasil's use in the UK.