WHO IS DAVID MILIBAND?
Extract from: [2007] Exposing the Zionist Hidden Hand That Rules Britain and the United States By Christopher Bollyn
It goes without saying that both Miliband and Rice are dedicated Zionists, they are, after all, serving in extremely pro-Zionist governments. But why are their personal and family histories not discussed by the media? Don't the American and British people have a right to know the person who is overseeing the implementation of their national foreign policy?
David Miliband, who only became a Member of Parliament in June 2001, was recently in Basra, Iraq, when the British officially stepped back from their failure and turned over control to Iraqi authorities.
Although Miliband and other British officials have tried to put a good face on the disastrous results of the Anglo-American invasion and occupation, the fact that it has been a complete failure is painfully apparent to all.
As a senior Iraqi military officer told ABC News, "The British legacy in Basra is criminal gangs, a corrupt and infiltrated police force, and borders open to all."
Major-General Jalil Khalaf, the new police commander in Basra, told the Times of London: "They left me militia, they left me gangsters, and they left me all the troubles in the world."
Yousif Nassar, one of Basra's most famous composers, is also disappointed at what the British did to his city. "The British Forces created chaos and failed to deliver what they promised," he said, as reported by the Times of December 17, 2007.
The Times article was entitled "Crumbling services and violence on the streets, but hope follows British pullout."
"We congratulate all of those who have helped achieve this, most notably British and Coalition military and civilian personnel," Defense Secretary Des Browne and David Miliband said in a joint statement when the pullout was announced. How could these senior British officials congratulate anyone for their achievments in Basra? The Anglo-American occupation of Iraq is nothing but an unmitigated disaster. Perhaps that was the plan all along?
Knowing who David Miliband is and what he represents is key to understanding the real power behind Britain's foreign policy. This is certainly the reason the Zionist-controlled media keeps the British population – and the world – ignorant of the Miliband family's roots – in Brussels.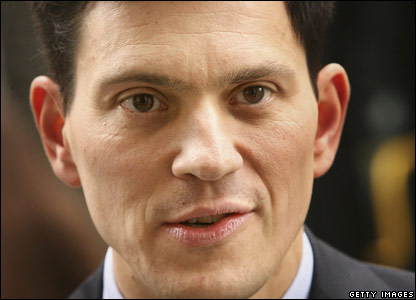 David Milliband

David Miliband is the son of Ralph Miliband, born Adolphe in Brussels in 1924, and Marion Kozak. Ralph was a well known Marxist political theorist. Ralph, who died in 1994, is buried in Highgate Cemetery close to his idol, Karl Marx.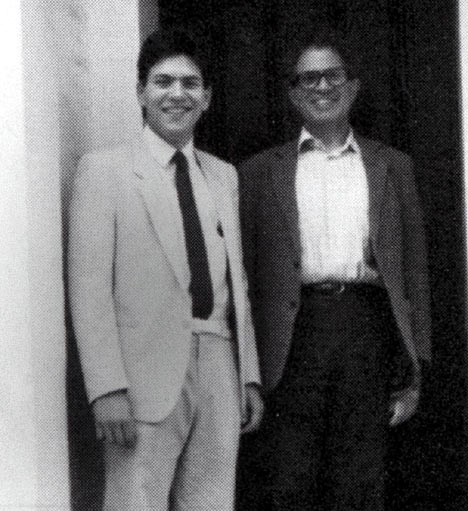 Miliband and his father, the Marxist Ralph Milliband at his spacious home in a comfortable part of London

David's brother, Edward Samuel Miliband, is also a member of Prime Minister Gordon Brown's cabinet where he has been chairman of the Treasury's Council of Economic Advisers, which directs the UK's long-term economic planning.

Beyond that, the family history gets confusing and misleading, on purpose I'm sure.

The online biography of Adolphe "Ralph" Miliband says he was born in Brussels of Polish-Jewish emigré parents and that both his parents lived in the Jewish quarter of Warsaw, before his father, Samuel "Sam" Miliband, joined the Red Army in the Polish-Soviet or Bolshevik War (February 1919 – March 1921).

Sam Miliband is said to have left Poland after the First World War, which ended in November 1918. He supposedly became a leather worker in Belgium and then returned to Poland to join the Red Army under the command of Leon Trotsky (born Lev Davidovich Bronstein) in 1920.

The commanders who served under Trotsky in the Bolshevik War against Poland were Mikhail Tukhachevsky, Aleksandr Yegorov, Joseph Stalin, and Felix Dzerzhinsky.

Nikolay Bukharin, writing in the Soviet newspaper Pravda, urged the Bolsheviks to carry on beyond Warsaw "right up to London and Paris."

General's Tukhachevsky's order of July 2, 1920 read:
To the West! Over the corpse of White Poland lies the road to world-wide conflagration. March on Vilno, Minsk, Warsaw! Onward to Berlin over the corpse of Poland!
Why would a poor leather worker in Belgium give up his work and travel all the way to Poland to fight with the Bolshevik Red Army against the Polish Republic and the West? If this is true, Samuel Miliband must have been a very dedicated communist.
This is, however, most certainly not the whole truth. The family tree of the family of David and Edward Miliband clearly indicates that their grandfather Samuel Miliband was also born, like their father Adolphe, in Brussels in 1865. In this case, Brussels-born Sam must have been an extremely dedicated communist. There is another possible explanation. Perhaps Sam was a Zionist emissary on a mission to bring support and funds to the Red Army in their attempt to conquer Poland. If the family tree is correct that Sam Miliband was born in Brussels, there is something more to the Miliband story.
The Miliband family tree provides the names and dates of birth of Samuel's 11 siblings, his parents, and even his grand-parents, data which supports it as a credible source. Why then has the Zionist-controlled media obscured the Miliband family history and pretended that David's father was born in Warsaw, when his family records indicate he was born in Brussels?
This is information about the Miliband family that the Zionist-controlled media had evidently decided that the public does not need to know. It also suggests that the preferential treatment and promotions that the Milibands have received since coming to Britain have more to do with their high-level connections than with their abilities.
Their connections and loyalties are evidently to the highest levels of the Zionist "Communist" International in Brussels, which is the only reason they are in the positions they are in. Their loyalty is clearly not to the British nation or people.