MIRACLE DROPS? Wendy cancels cancer op after tumour shrinks By KEN OXLEY (Sunday Sun Sept 15, 1991)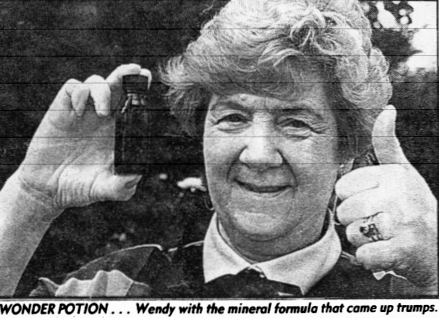 Grandma Wendy Cook believes she's cured her cancer... with mineral drops!
After a three month-course of the wonder stuff a malignant tumour SHRUNK….
And Wendy, 55, was so pleased she CANCELLED an operation to have it removed.
"I had a tumour in my groin measuring four inches but now it's just one inch wide," said Wendy, of Hexham, Northumberland.
'I'm hoping it will disappear altogether."
The complex formula is the result of years of research by Hungarian scientist Dr Jozsef Beres.
SUBSIDED
In Hungary he carried out tests on 235 patients who had "no chance of recovery."
After giving them the drops nearly ONE THIRD found their tumours had subsided.
The formula is being copied in this country by Chris Macnaney, a researcher based in Alston, Cumbria.
Mother-of-three Wendy said: "I was elated when I discovered I wouldn't need an operation.
"I was examined by a specialist and he agreed it would be best to leave well alone."
Herbalist Paul Imrie said the unque formula contains minerals not normally available at health food shops.
Paul, who runs a private practice in Newbiggin-by-the-Sea, Northumberland, said:
PERFECT
"It includes minute quantities of cobalt and vanadium, which are poisonous in large amounts.
"It took Jozsef Beres years to perfect the formula and it seems to get results."
Dr Michael Weaver, consultant surgeon at Hexham General Hospital, said:
"Like many other doctors I have an open mind about alternative therapies."
The Sunday Sun's own Dr Barbara also fired a word of warning.
"Anyone who thinks they may have a growth should seek qualified medical advice," she said.