Husband says breast surgeon 'told his wife she would never breastfeed after he operated on her needlessly even though she didn't have cancer'
Ian Paterson charged with 20 counts of malicious wounding over operations
Breast surgeon is said to have claimed extra money for unnecessary procedures
He left another with 'significant deformity' after wrongly reporting test results
Husband of one alleged victim says his wife was scared for baby's health
By Richard Spillett, Crime Correspondent For Mailonline
1 March 2017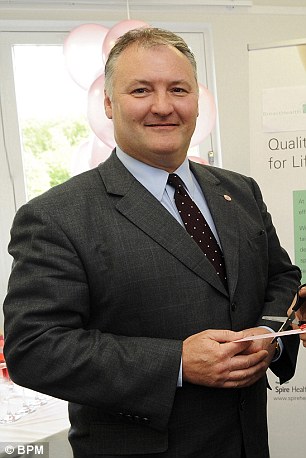 Ian Paterson, 59, denies 20 counts of wounding with intent against nine women and one man at Nottingham Crown Court
The husband of an alleged victim of breast surgeon Ian Paterson has told of the turmoil her 'unnecessary' operation had on his family's lives.
Paterson is standing trial at Nottingham Crown Court accused of 20 counts of wounding with intent against nine women and one man, between 1997 and 2011.
The court has heard how Leanne Joseph had her milk ducts removed in 2006 after Paterson allegedly told her it was a 'small price to pay for her life'.
The prosecution say her scan had been 'entirely normal' and that the operation - and a similar one on her other breast - were 'quite unnecessary'.
Her husband Mark Joseph told the court she had a discharge from her left breast while five months pregnant which looked like milk.
But when they told Paterson he said this was 'impossible' and advised Mrs Joseph to take medication to stop her producing milk, the jury heard.
Mr Joseph said his wife became 'paranoid' and was diagnosed with obsessive compulsive disorder after their daughter was born.
He said she would not let him hold the baby or prepare bottles in case he passed on any infections.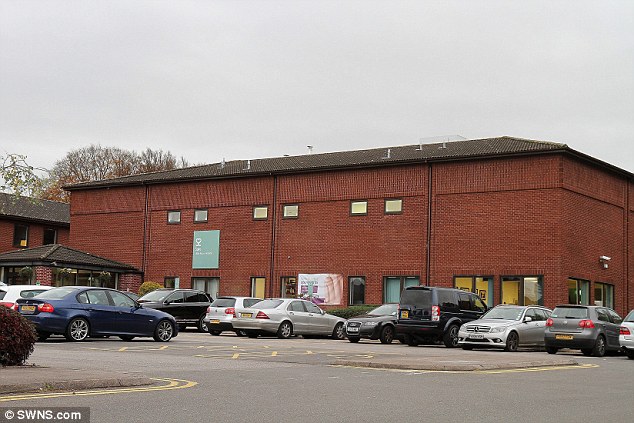 Paterson worked at Spire Little Aston Hospital in Sutton Coldfield (pictured)
It was said Mrs Joseph was terrified that her daughter may have a weak immune system because she was unable to breastfeed her.
Giving evidence, Mr Joseph said he found Paterson's details online after his wife suffered a brown discharge from her left nipple.
The couple went to see Paterson at Spire's Little Aston Hospital in Birmingham in October 2006 and Mrs Joseph underwent a scan of her left breast.
Mr Joseph told the court: 'We had to go back and get the results but he (Paterson) said it may be necessary to remove her milk ducts.
'He said she would be unable to use that breast to breastfeed but there shouldn't be a problem with the other breast.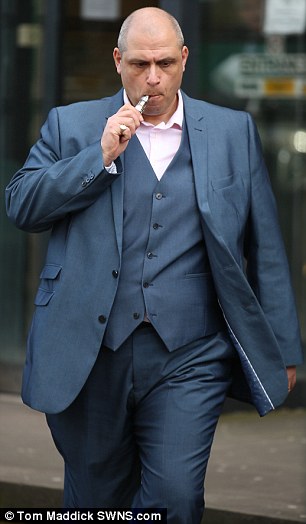 Mark Joseph told of the difficulty his wife suffered after being told by Paterson that she needed her milk ducts removed
'We went back a couple of weeks later. I went into the waiting room while my wife went to see Mr Paterson.
'When she came out she was very upset. She told me she had to have her milk ducts removed and that Mr Paterson wanted to perform surgery.
'She was upset because the sense of urgency that had been relayed to her meant she felt it was something serious and she was concerned about the money it would cost.
'We didn't have insurance.'
After surgery to remove the milk ducts in her left breast, Mr Joseph said Paterson told them the operation had been 'a success' and 'everything went well'.
Then the surgeon allegedly told her she would need the same procedure on her right breast and this was performed when she returned to have stitches removed days later.
Mr Joseph added: 'He said that the ducts in both breasts were connected and the same problem would occur at some point in the future.
'Leanne's breasts were very sensitive, she was in a lot of pain. We were led to believe this was due to excess scar tissue and was an unavoidable risk of the operation.'
The court heard a third operation to remove the excess tissue was carried out in March 2007.
After she became pregnant Mr Joseph said his wife had a discharge from her left breast which was unlike ones he had seen before.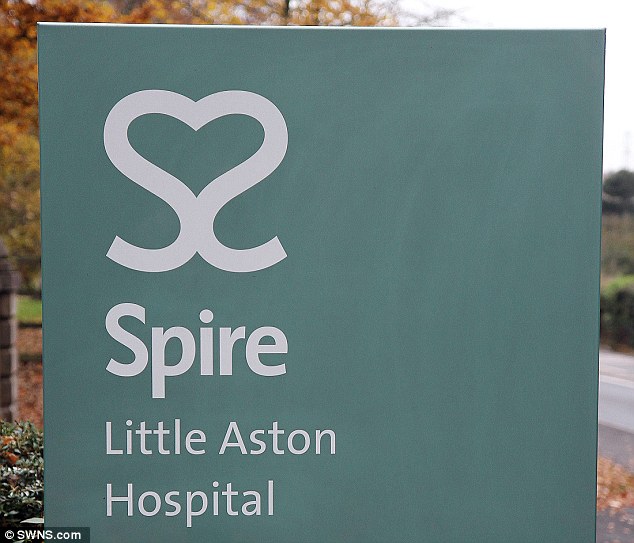 The couple went to see Paterson at Spire's Little Aston Hospital in Birmingham
He said: 'I looked at it and said 'that looks like it's milk'. It wasn't the same as the brown discharge like before.
'A midwife said she had never heard of the these procedures (performed by Paterson) and said there was no reason why my wife couldn't breastfeed.
'We went back to see Mr Paterson and he said it was impossible for Leanne to breastfeed because of the procedure that had been carried out.
'He said he would write a letter to the midwife to explain that. He said she should be given medication to stop milk being produced.
'Leanne was very concerned, almost to the point of paranoia that the baby was going to catch an illness off her, or me, or anyone she came into contact with.
'It was because she had been told by family and friends that breast milk was the best way to give a child a healthy immune system.'
Paterson, a Glaswegian father-of-three, was suspended by the General Medical Council in October 2012. He denies all charges. The trial continues.
GP was convinced to have 'unnecessary and unjustified' op
The case of another alleged victim was also read to the jury concerning GP Rosemary Platt, who was referred to Paterson in 1997 after the discovery of a lump in her right breast.
Then 47, Dr Platt went for a mammogram and had fluid removed, with the idea of further investigation being considered.
The court heard Paterson did not wait for a report conducted by a specialist breast pathologist - which ultimately did not recommend any surgery - to carry out two procedures on Dr Platt.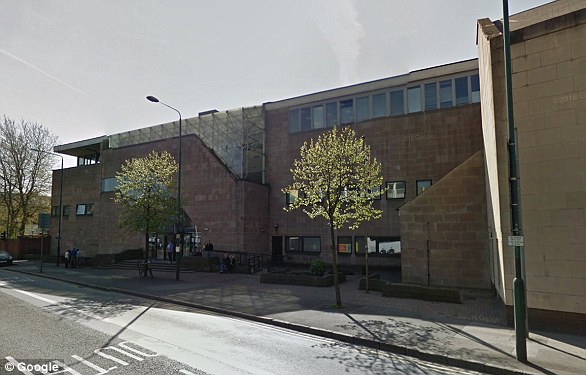 The case is being heard at Nottingham Crown Court. Paterson denies all charges
Prosecutor Mr Christopher told the court: 'It was quite unnecessary and unjustified by the facts as Mr Paterson knew them to be.
'Furthermore, it was carried out deliberately and intentionally by Mr Paterson and, by its very nature, caused really serious bodily harm as he must have intended.'
Dr Platt later underwent a full mastectomy following concerns of lumpiness in her right breast.
Mr Christopher said: 'Dr Platt did indeed undergo the full mastectomy and reconstruction. This was a six-hour operation, requiring blood transfusion and painful after effects.
'Plainly Dr Platt was wounded, it was unlawful and the harm which was done, quite intentionally, consisting in the removal of Dr Platt's right breast, was on any reasonable view really serious harm.
'All in all, Mr Paterson systematically misinterpreted time and time again Dr Platt's pathology results, thereby raising her anxiety, so that it is not surprising that she was apparently presenting with new concerns about possible lumps leading to excessive clinical visits and ultrasound examinations, and consenting to what in fact was a traumatic series of unnecessary operations.'
Surgeon 'needlessly cut into woman's breast 27 times after lying to her that she'd get cancer without the operation so he could get insurance payout'
Another of Paterson's patients, Frances Perks, was aged 35 when she was treated by him in 1994, after finding a lump on her right breast.
Nottingham Crown Court heard that despite Mrs Perks' mother and sister dying from breast cancer, the lump was benign.
However, Paterson is accused of telling Mrs Perks she would end up with 'full blown cancer' if she did not undergo a mastectomy.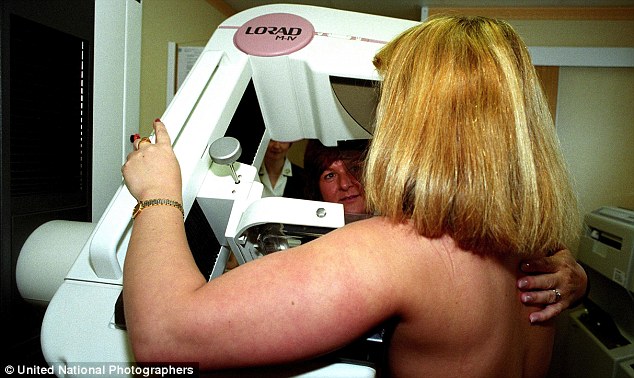 Paterson 'wrongly described unsuspicious mammogram results as "unstable". File photo
The jury also heard he cut into her healthy right breast 27 times in order to 'justify the insurance.'
Prosecutor Julian Christopher QC said: 'Mr Paterson told Mrs Perks that it was time to be thinking of having a mastectomy, and that if she didn't she would end up with full blown cancer.
'He said that, if it were him, he'd have a double mastectomy.... there was no need for further surgery.
'It may be that Mr Paterson was looking to justify the insurance covering the right breast as well.'
The court heard Ms Perks described getting over the second 'unjustified and unnecessary' operation as 'awful.'
The prosecutor said: 'For two weeks she had to sleep sitting up. It was extremely painful, and she had ongoing problems with the area of her stomach where tissue had been taken for the reconstruction.
'These were not put right until a further operation in 2012. She however had thought that all of this was necessary because otherwise her life was at risk.'
Woman 'significant deformity' with operations 'she did not need'
Another patient, Joanne Lowson, was left with a 'significant deformity' in the cleavage area after Paterson wrongly reported test results to her and her GP to carry out operations, the prosecution claimed.
Mrs Lowson was first referred to the surgeon in March 2009 after she found a lumpy area on her left breast - with a mammogram and ultrasound showing 'nothing suspicious', Mr Christopher said.
He told jurors Paterson said to her GP the results were 'largely' benign and that although there was 'nothing sinister going on', she was determined to have it removed as she previously had a malignant melanoma.
He said: 'To Mrs Lawson and her husband, he described the area as 'unstable but not cancerous at this stage', and that he could not guarantee that it would remain non-cancerous.
'Unsurprisingly, they understood that the area represented a risk and accepted Mr Paterson's suggestion that he should remove the lump. Mrs Lowson says she would not have done so had she known that the tests had shown no abnormality.'
The results of the operation were all clear, but Paterson told Mrs Lowson that she had to remain on top of it and have regular mammograms - which reinforced her impression that she had 'done the right thing' in having the lump removed, the court heard.
Mrs Lowson underwent another operation in 2010 after the surgeon claimed tests on a recurrence of the lump were 'a little suspicious', the court heard.
Mr Christopher said: 'Once again, it was unnecessary. Unfortunately, these two operations left Mrs Lowson with a significant deformity in the visible cleavage area of the left breast that required subsequent correction and thus a third operation.
'She has been left with numbness and very little feeling in her left breast. All three operations were the result of Mr Paterson having wrongly reported the test results to her, her husband and her GP and using language like 'unstable' when there was no evidence that there was ever any increased risk of the development of cancer.'


Read more: http://www.dailymail.co.uk/news/article-4271084/Surgeon-left-woman-deformed-unnecessary-operations.html#ixzz4aBv2gl6U
Follow us: @MailOnline on Twitter | DailyMail on Facebook