BARTON HILL ANIMAL CENTRE
Kentchurch, Hereford HR2 OBZ. Wendy Scudamore Tel: 01981 240 749 &
01981240125 E Mail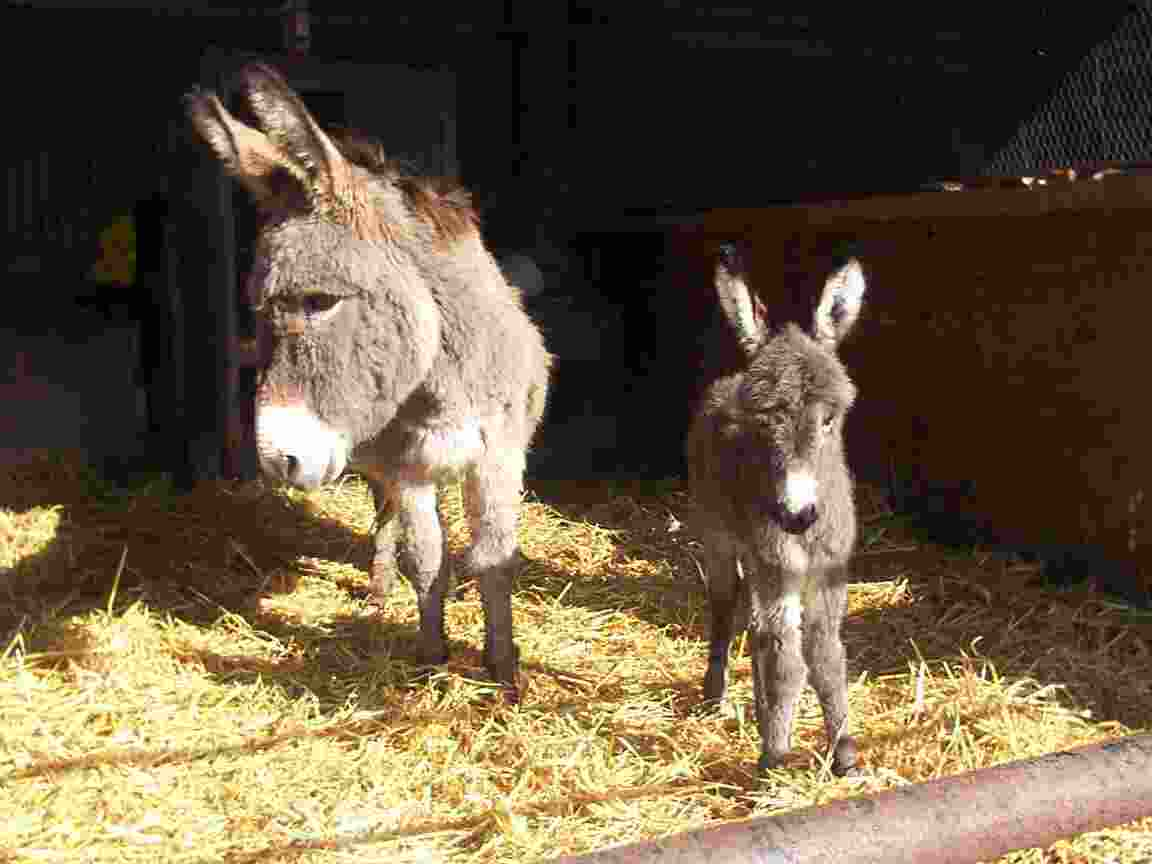 Pictured above: clockwise from top left, Joy on her headcollar, Gloucester Oldspot piglets, Jenny with her foal, Joy, Moonbeam as a calf, [now a very large cow!] Winnie the gloucester old spot pig.
Barton Hill Animal Centre
We are a small family run animal centre. Our animals have been rescued from the meat trade or taken on by us as babies to be reared at home. We pride ourselves on giving our animals a home for life, and a life which is as enjoyable and free roaming as possible.
19th August 2001
Our test results were negative and our D notice has now been lifted so all is well at last.We can now look forward to the future and plan our pre-Christmas opening.
We are making lots of changes around the place including a new indoor play area and improvements to our cafe and gift shop.
The guinea pigs are all getting bigger by the day and looking very expectant!
We have had some very kind response to Poddington's news article, and she is now on some medication which was kindly sent to us to try. She seems to love it and takes it from the spoon like all good piggies should!
7th August 2001 NEWS FLASH!
We have been in the news again this week, this time telling the story of Poddington our pygmy pig who has been feeling under the weather for so long since she lost her sister last spring and then her piglets in the autumn. She was featured on Midlands today on Monday and will possibly be in one of the papers this week - we'll let you know! We are hoping somebody will come up with a miraculous 'pick me up' for her very soon.
Animal News
The lambs and kid are all doing nicely, particularly Ronald who is a strapping lad now with little horns like his father. He is very friendly and still enjoys his walks on a lead.
Lilly and Borny were not so good on leads - Lilly was totally hopeless, but Borny will reluctantly play the game!
Baby rabbits have all done really well. Some have gone to new homes but most have stayed with us. We have had a small accident with guinea pigs and now have several expecting babies!!
Sadly we lost our deer. We have no idea why she died. She appeared to be in excellent health, had a glossy coat and was eating well, but alas one morning I found her curled up in her shed.
She was a beautiful addition to our centre and I shall miss seeing her every day.
Future Plans
Thinking of the future, I do not expect to be able to open now before the pre-christmas opening in December. There is still so much evidence of Foot and Mouth disease in this area that it would be a risk to the animals every day that we are open. I feel having survived so long it is just so important not to rush things, but to wait until we know it is safe.
I hope you will all understand
Pictures of the new arrivals
press release;

Hereford Times, April 19, 2001
(8 Aug 2001)
FastCounter by bCentral