Sentenced to death, the horses too dear to keep
Daily Mail, April 23, 2001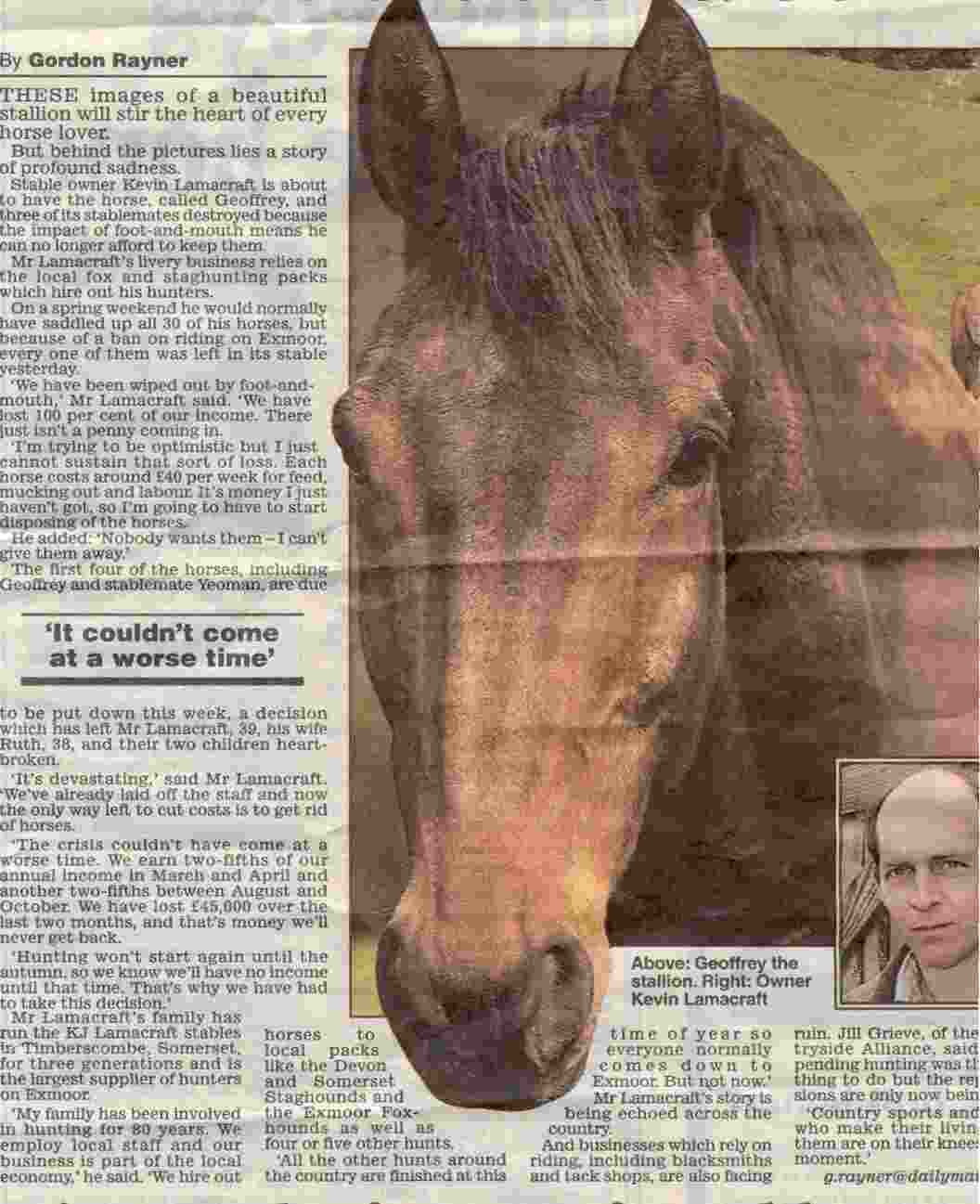 By Gordon Rayner
THESE images of a beautiful stallion will stir the heart of every horse lover.
But behind the pictures lies a story of profound sadness.
Stable owner Kevin Lamacraft is about to have the horse, called Geoffrey, and three of its stablemates destroyed because the impact of foot-and-mouth means he can no longer afford to keep them.
Mr Lamacraft's livery business relies on the local fox and staghunting packs which hire out his hunters.
On a spring weekend he would normally have saddled up all 30 of his horses, but because of a ban on riding on Exmoor, every one of them was left in its stable yesterday;
'We have been wiped out by foot-and-mouth,' Mr Larnacraft said. 'We have lost 100 per cent of our income. There just isn't a penny coming in.
'I'm trying to be optimistic but I just cannot sustain that sort of loss. Each horse costs around £40 per week for feed, mucking out and labout. It's money I just haven't got, so I'm going to have to start disposing of the horses.
He added: 'Nobody wants them - I can't give them away.'
The first four of the horses, including Geoffrey and stablemate Yeoman, are due to be put down this week, a decision which has left Mr Lamacraft, 39, his wife Ruth, 38, and their two children heartbroken.
'It's devastating,' said Mr Lamacraft. 'We've already laid off the staff and now the only way left to cut costs is to get rid of horses.
'The crisis couldn't have come at a worse time. We earn two-fifths of our annual income in March and April and another two-fifths between August and October. We have lost £45,000 over the last two months, and that's money we'll never get back.
'Hunting won't start again until the autumn, so we know we'll have no income until that time. That's why we have had to take this decision.'
Mr Lamacraft's family has run the KJ Lamacraft stables in Timberscombe, Somerset, for three generations and is the largest supplier of hunters on Exmoor.
'My family has been involved in hunting for 80 years. We employ local staff and our business is part of the local economy;' he said. 'We hire out horses to local packs like the Devon and Somerset staghounds and the Exmoor Foxhounds as well as four or five other hunts.
All the other hunts around the country are finished at this time of year so everyone normally comes down to Exmoor. But not now.' Mr Lamacraft's story is being echoed across the country.
And businesses which rely on riding, including blacksmiths and tack shops, are also facing ruin. Jill Grieve, of the Countryside Alliance, said: 'Suspending hunting was the right thing to do but the repercussions are only now being felt.
'Country sports and those who make their living from them are on their knees at the moment.'
Distraught farmer found hanged
A FARMER has been found hanged in his barn days after his cattle were slaughtered because of foot-and-mouth. Father-of-three Glyn Lewis, 59, was inconsolable when half of his herd was destroyed after coming into contact with infected animals. The remainder of his 40 cattle and 250 sheep were due to be killed this week. A road haulage business which he also ran had been crippled by restrictions on livestock movements. Friends said yesterday that Mr Lewis's death, which is being treated as suicide by ~o1ice, was a direct result of the epidemic. Fellow farmer Robert Thomas, 51, said: "If it hadn't been for foot-and-mouth Glyn would still be with us now."
Mr Lewis had taken over the farm at Llanfyllin, near Welshpool, Powys, from his father and had lived in the village all his life. His children, Steven, 30, Sadie, 27, and Gareth, 25, and his ex- wife Joyce, 57, were being comforted by relatives yesterday.
Mr Lewis's death came just three weeks after farmer John Bayliss was found dead in Kerry; 20 miles away. Friends said he had been worried about the disease.