ANIMAL SLAUGHTER WAS 'FALSE ALARM'
By PETE BLENCH
Hereford Journal, April 25, 2001 (01432 355353)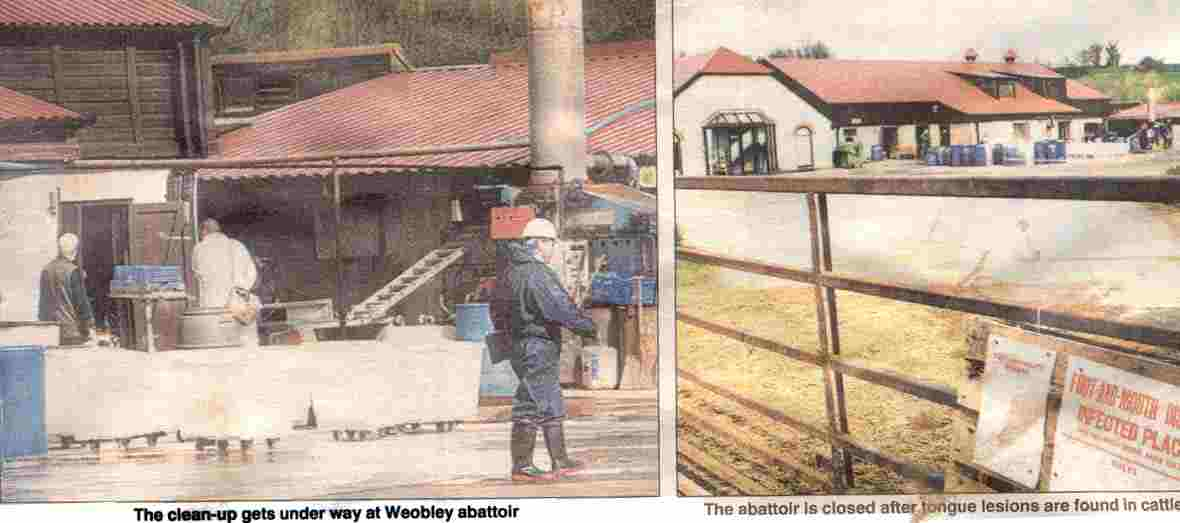 A foot and mouth false alarm led to the SLAUGHTER of a farm's 2,400 animals — including 1,000 lambs — the temporary CLOSURE of a North Herefordshlre abattoir and the DESTRUCTION of 30 tonnes of meat.
As the Journal went to press, staff at the Weobley abattoir of R.E.Williams and Sons had been given the "all clear" to re-open following the plant's closure by MAFF last Thursday, after blood samples from slaughtered cattle there later tested negative for FMD.
The grim chain of events was sparked off by a meat inspector's discovery of tongue lesions m three cattle, part of a batch of 12 from an Eardisland farm.
MAFF officials served an "A" Notice to close the abattoir which supplies shops in Herefordshire and neighbouring counties.
All wholesale meat stocks on the premises — about 30 tonnes — were taken away by the Army to be destroyed at a rendering plant at Widnes, Merseyside.
Most of Weobley's 34 meat workers were sent borne, with others launching a massive clean-up operation.
Abattoir boss David Williams, devastated by the hammer blow to his business said his worst fears had been realised.
"There has always been the fear that this could happen," he said.
Later, he was cautiously hopeful after tests proved negative and a MAFF vet was due to check if the Weobley plant could be given a clean bill of health.
Mr Williams, who earlier had been finding it difficult to sleep because of the blow to his business, was looking forward to reopening at the earliest opportunity."I would like to re-open Thesday if I can," he said on Monday.
His fear had been that the abattoir, having lost production, could lose customers. His men were anxious to get back to work, he said.
A team of eight worked long hours to blitz the abattoir at The Shambles, Weobley, with top to bottom steam cleaning and disinfecting while MAFF's verdict was awaited.
The result of blood tests on slaughtered stock at Home Farm, Earthsland, was still awaited as the Journal went to press.
On Sunday the farm's 650 cattle, 765 sheep and 1,000 lambs were killed "on suspicion" following the false alarm at the Weobley abattoir involving cattle from Home Farm.
A Worcester-based MAFF spokesman said plans for the disposal of the carcasses would be treated ass priority, adding that they would be removed for rendering "in the next day or so".
Meanwhile, stock was on the move in the county this week after restrictions were eased by legislation over the weekend, said a spokesman at Herefordshire Council's Environmental Health Department.
With the exception of foot and mouth contact farms served with a MAFF 'D' notice, and those farms within three kilometres of 'D' notice sites, stock could now be moved to abattoirs at Weobley and Leintwardine, and also those in Gloucestershire, Shrewsbury and the West Midlands.