An organic farm is celebrating after being told its healthy animals will not have to be slaughtered.
The Gloucestershire farm, which is part-staffed by people with learning disabilities, threatened a human blockade to prevent slaughtermen entering the premises.
Ministry of Agriculture vets were due to carry out a cull of its 60 dairy cattle and 100 sheep on Thursday after a case of foot-and-mouth disease was identified at a nearby farm.
But after a storm of protest highlighted by the BBC, Maff said on Thursday afternoon it would not force entry to Oaklands Park Farm nor seek a court injunction against the farm's blockade.
Vaccination demand
A Maff spokesman told BBC News Online that Oaklands had been deemed a "special case" and its circumstances would now be reviewed.
He added: "We would quite like to keep the animals under surveillance."
However, Maff did not tell Oaklands Park of its decision immediately.
When BBC News Online rang to break the news, farm administrator Andrew Thompson said it was a "great" first step but repeated appeals for vaccination.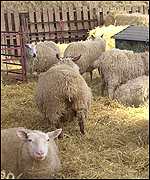 Oaklands sheep and cattle have been specially bred over 25 years
Within a week the farm will officially regain disease-free status as it will be 21 days since foot-and-mouth was diagnosed on the neighbour's property.
"But if there is another case [of foot-and-mouth] over the hill we will have to go through the whole thing again," said Mr Thompson.
"So we would like to have our animals vaccinated now."
The farm, near Newnham-On-Severn, is run by the Camphill Village Trust and supports a community of 116 people, including 48 with learning disabilities.
It is self-sufficient in producing organic meat and vegetables, and even runs its own school for five pupils.
'Docile breed'
Earlier, farm coordinator Pat Thompson told BBC Radio 4's Today programme that Oakland Park's animals had been bred over 25 years to be especially docile and able to eat the food produced at the farm.
"They are very precious breeding stock. We couldn't do our farming without them," she said.
She said that "every peaceable means possible" would be taken to prevent the cull.
About 100 supporters stood at the farm gates on Thursday morning to prevent Maff vets entering.