Dr Saul Ph.D
[back]

Web: http://doctoryourself.com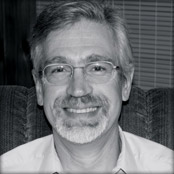 [2014 Feb] A Timeline of Vitamin Medicine by Andrew W. Saul, Editor Orthomolecular Medicine News Service
[2011 Oct] Half Truth is No Truth at All Overcoming Bias Against Nutritional Medicine by Andrew W. Saul An internet search for "orthomolecular medicine" can bring up some remarkably official-looking misinformation. A prime example is the American Cancer Society's webpage on orthomolecular medicine, which is incomplete, negative and fallacious.
[2010 Sept] Cancer and Vitamin C: Evidence-Based Censorship
[2010 April] Doctors Say, Reader's Digest is Wrong. Physicians and Researchers Set the Record Straight about Vitamins
[2010 Feb] RDA for Vitamin C is 10% of USDA Standard for Guinea Pigs
Review: Dr. Max Gerson: Healing the Hopeless, by Howard Straus
Review: The Gerson Therapy, by Charlotte Gerson and Morton Walker, DPM
JOURNAL OF ORTHOMOLECULAR MEDICINE ONLINE, BUT NOT ON MEDLINE The Journal of Orthomolecular Medicine, although in publication for 38 years, has never been listed on the government database MEDLINE.
Books
[2009] The Vitamin Cure For Alcoholism: How To Protect Against And Fight Alcoholism Using Nutrition And Vitamin Supplementation (Paperback - 2009) by Abram Hoffer, Andrew W. Saul
Food Matters is a feature length documentary film informing you on the best choices you can make for you and your family's health. In a collection of interviews with leading Nutritionists, Naturopaths, Scientists, M.D.'s and Medical Journalists you will discover.
Eyesight Months went by, and her eyesight got better and better. In the end, two near miracles happened: Terri's eyesight was restored nearly 100%, and she thanked me for what I'd made her do. I will never forget what a wonderful feeling it was to have been the educational and motivational link that stopped Terri from going blind.
[pdf] Taking the Cure: Irwin Stone: Orthomolecular Innovator and Educator by Andrew W. Saul, Ph.D.
The DOCTOR YOURSELF NEWSLETTER (Vol 3, No 3) December 18, 2002 (Vitamin E story)
The DOCTOR YOURSELF NEWSLETTER (Vol 3, No 24) October 20, 2002
The DOCTOR YOURSELF NEWSLETTER Vol 2, No 14, May 24, 2002
The DOCTOR YOURSELF (SM) NEWSLETTER Vol 1, No 19
The DOCTOR YOURSELF (SM) NEWSLETTER Vol 1, No 17
The DOCTOR YOURSELF (SM) NEWSLETTER Vol 1, No 15
The DOCTOR YOURSELF (SM) NEWSLETTER Vol 1, No 14
The DOCTOR YOURSELF (SM) NEWSLETTER Vol 1, No 13
TEN WAYS TO SPOT ANTI-VITAMIN BIASES IN A SCIENTIFIC STUDY by Andrew Saul
http://doctoryourself.com/informed_consent.html - Vaccinations: Coercion or Consent?- Dr. Saul
http://www.doctoryourself.com/vaccination.html - Vaccinations and Children - Dr. Saul
http://www.doctoryourself.com/vaccin_2.html - More on Vaccinations - Dr. Saul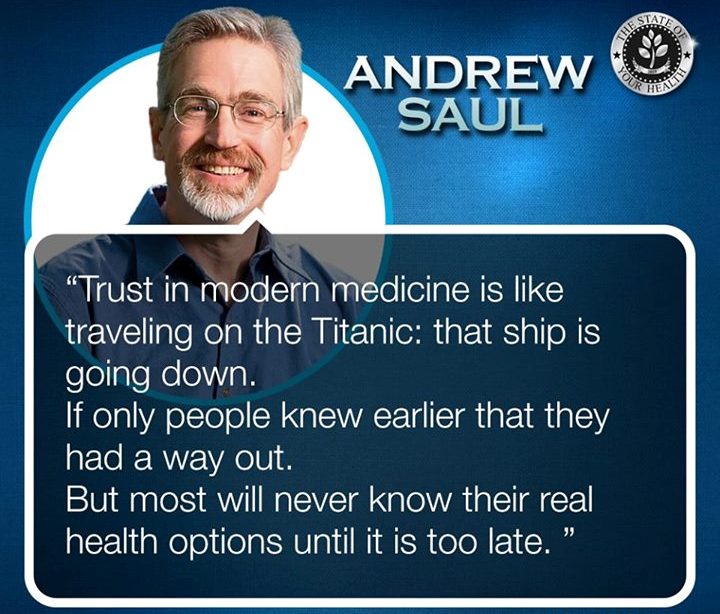 Medical Industrial Complex (Allopathy Inc)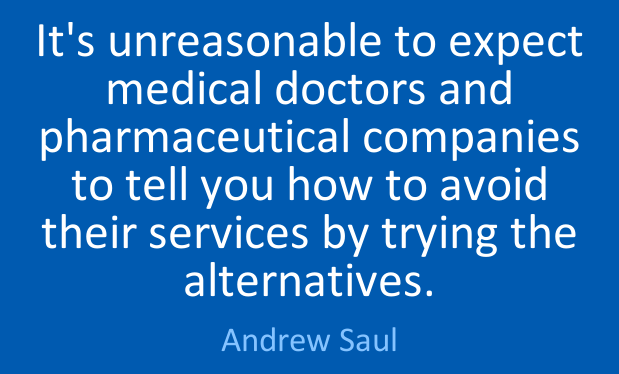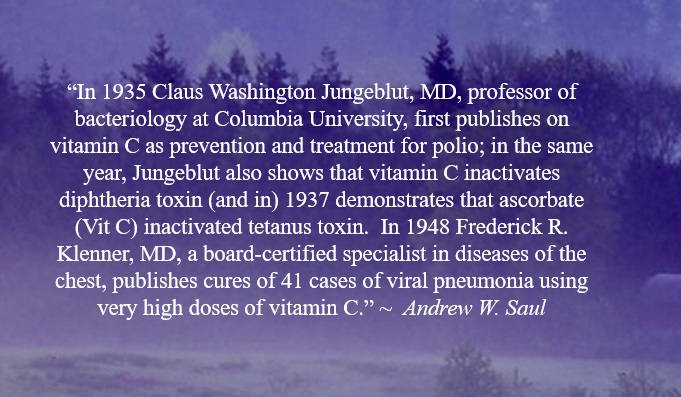 [2014 Feb] A Timeline of Vitamin Medicine by Andrew W. Saul, Editor Orthomolecular Medicine News Service