DEATH OF PESHALA
2009 Sri Lanka
Destiny or criminal negligence?
Mother's letter disregarded
Initial report points finger at MOH officials
Health officials concerned about the future generations
The manufacturer of the vaccine not on WHO certified list
Basic requirements about the make of the vaccine is not available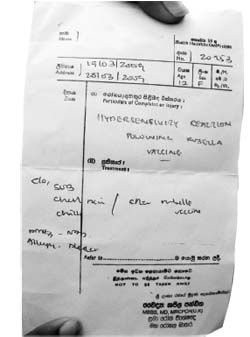 A diagnosis card issued by Matara hospital
By Gagani Weerakoon and Kushali Atukorale in Matara
Not in her wildest nightmares did Kalyani imagine her only child who waved her 'bye' near the school gate on Thursday (19) morning would return home in a coffin the next day.

Peshala Hansani, a 12-year-old student of S. Thomas' Girls School, Matara becoming a victim following a vaccination programme against Rubella, alarmed the entire nation posing a threat to the higher health standards maintained by the country as the tug of war between health authorities continues, even after a week, as to what caused the death of Peshala.

A concerned mother
Peshala's parents and relatives were preparing for an alms giving following seven days to her death on Wednesday (25) when The Nation went to meet them and learn what happened on that controversial day, after several attempts to speak to the Principal of the school failed.

"She was our only child and was precious to us. I even monitored the food she ate with such great concern and I can swear that she was not diagnosed for any serious illnesses. There were a few occasions she was given medicine for fever and the only health issue she had was the allergy to dairy products and the wheeze," said Kalyani fighting back the tears.
Kalyani went on to say that her daughter was a perfectly normal child though sometimes as a mother she was concerned about her extreme religious practices.

"She never went out to play with other children. This was something that she missed in life as she used to get the wheeze when was in contact with dust, so she stayed out of sports but she was very good in other extracurricular activities. She had won many prizes for her inborn talent in speech, poetry and literature. She even did batik and fabric painting in addition to drawing," Kalyani told us with sadness in her eyes.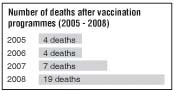 Recalling the incidents that took place before the tragic death of Peshala on March 19, Kalyani said that she took her daughter to their family doctor on Wednesday (18) when Peshala came after school and informed that they were asked to bring vaccination cards to school the next day as they were supposed to be vaccinated against Rubella.

"She was given Rubella vaccination when she was four and I wanted to clarify with her doctor whether she should be given a second shot. The doctor told me not to panic as she did not get any allergy against the vaccination the first time and said it is given again at the age of 12. He, however, emphasised that if I am scared to get my daughter vaccinated at the school I can always say no.

I was concerned about my only child and my maternal instincts somehow were not agreeable to the vaccination. So I put an appointment with the doctor for my daughter to be vaccinated against Rubella on the coming Sunday (22) at the MOH office in my presence," she said.

Since she was very worried about her daughter she had taken the child to another female doctor who assured her that not a single medical officer will vaccinate a child disregarding the child's health concerns.

"Finally, I wrote a letter to the medical officer citing all her health conditions and her allergies. I pleaded with him to take all those into consideration before deciding whether she should be vaccinated or not. I said it like that because I sent a similar letter to the medical officer who came to vaccinate school children against tetanus last year. She was given a shot against tetanus a week before the programme and that medical officer after reading my letter had told my daughter she need not get vaccinated. Unfortunately this time my daughter was forced to get vaccinated," she alleged.

Medical arrogance
A friend of Peshala who wished to be anonymous in fear that she will be ill-treated in school said that she was right throughout with Peshala until she was vaccinated because she was visibly worried.

"Peshala was right in front of the line we were in but she let others get vaccinated first and ultimately was the last to go to the doctor. I waited to accompany her to the classroom even though I was already vaccinated. She tried to give the letter which was clipped to her vaccination card but the doctor didn't pay much attention to it. Then Peshala said she got the wheeze but the doctor said it is not a big deal ("hathiyath ledakda lamayo.") Finally she said that she is allergic to dairy products. To this the doctor said if she is allergic to dairy products ask her mother to breast feed her when she returned home ("kiri kema allergic nam meka gahala gedara gihin mawkiri bonna.") and vaccinated her after pulling her near by her tie," the friend explained.

The friend also alleged that several other children who refused to get vaccinated because their parents had not wanted them to, were forced to get vaccinated.

Not rushed to hospital
Peshala's mother and several other parents alleged that she was not rushed to the hospital as soon as she complained of chest pains and breathing difficulties.

"Her friends who came for the funeral said that Pehala had walked back to the class room showing no signs of pain but after a moment she had crushed the vaccination card in pain and had pulled her friend's tie and complained that she was having chest pains. At that moment a medical officer had come and washed her face with water and told others not to worry as she might be feeling dizzy. Then he had gone upstairs to attend to two other students who had complained of similar discomforts. On his way back he had noticed that the condition of my daughter was not good and then only had the school authorities taken her to the hospital," Kalyani said.

According to the Director of the Matara General Hospital, Dr. Aruna Jayasekara, Peshala was admitted to the hospital around 11.15 in the morning in a critical condition.
"When she was taken into the hospital her brain was already dead and the pulsing and breathing too had stopped. Even though we attempted to give her artificial respiration and get her pulse back to normal, it was useless. She was not responding to any of the treatments," Dr. Jayasekara said.

When asked whether other children who were hospitalised were also given artificial respiration, the director said none of them were in need of serious treatment even though occasionally they had to be supported with oxygen masks.
"When you hear that a friend has fallen sick or is dead after getting the same vaccination one tends to panic. Most of the children were hospitalised simply because they were in panic," he said. And noted that had there been an emergency plan or equipment at the vaccination centre life of Peshala could have been saved.

While the Director maintained such a stance, several other medical officials attached to the Matara General hospital charged why the hospital was unable to rescue the life of an allergy patient.

Poor rapport
A group of parents whose children were also hospitalised following the vaccination and who had gathered near the school said that even though they wanted information about the incident the school authorities were not willing to talk.

"They are trying to hide things and it will only create more problems. There is a very poor rapport between the school authorities and parents and we hardly know even the class teachers of our children. Even though our children were hospitalized during school hours the school failed to inform most of us until 2.30 in the afternoon," they alleged.

Peshala's mother Kalyani too alleged that even though Peshala was admitted to the hospital before 12.00 noon, she got to know about the incident only when she went to pick her daughter around 1.30 pm.

Parents alleged that they were only allowed into the school premises to attend the annual school development meeting.
When asked about the response of Peshala's class teacher regarding the tragic incident Kalyani said: "I never met her in person. Even though the entire staff was there from the day Peshala's remains were brought to the house, I only saw her during the funeral at the cemetery. I am still wondering whether she was evading us," she assumed.

However, The Nation failed to contact the school authorities to clarify these allegations despite several attempts to meet the principal in person and to get through to her over the phone.

What went wrong?
As soon as Peshala's death was reported two teams were appointed to investigate and probe the incident.
While some alleged that the vaccine was administrated by a Assistant Medical Practitioner (AMP) who was not qualified to administer any vaccine, some find this statement ridiculous as vaccination programmes done throughout the country were not administered by MBBS qualified doctors.

However, according to preliminary investigations conducted by Health Services Deputy Director General Dr. P.G. Mahipala the vaccine was administered by an assistant medical practitioner who was not authorised to do so.
The Report further states that non-adherence to instructions by the medical team when administering the Rubella vaccine as the cause of the death of Peshala.

It also says that the Emergency Medical Trolley required to deal with any medical emergency was not available when the immunisation programme was underway.

Meanwhile, the GMOA charged that the Health Services Director General should take responsibility for the tragedy as there was a clear case of administrative breakdown at the Matara MOH office and in case the vaccine used was sub-standard.
GMOA acting General Secretary Dr. Upul Gunasekara said that on this particular day the MOH had to visit three clinics and that was why she could not attend the Rubella immunisation programme at the Matara School.

"We can't say what caused the death or who is responsible for this particular incident but we are definite that the Director General, the Health Ministry Drug Policy and the health administration are responsible for this catastrophe," he asserted.

"In Sri Lanka there is no clear cut policy on drug imports, distribution or purchase. There is no proper quality assurance programme for drugs imported to the country and there is no drug information centre, which is an essentiality," Dr. Gunasekara said.

The GMOA also charged that millions of rupees worth of drugs were destroyed annually as some of the drugs imported were of very low quality.
Meanwhile, the All Ceylon Government Medical Officers Association charged that the manufacturer of the Rubella Vaccine was not certified by the WHO.

"There is a WHO accepted list of companies where the Government can import the drugs and vaccines from but the manufacturer of this Rubella vaccine- Serum Institute of India is not in that particular list," charged the convener of the ACGMOA, Dr. Gishantha Dassanayake.

He further charged that the make of the vaccine had not even met the basic requirements.
"Normally any product in the market indicates the basic information such as the manufacturing date and the expiry date. But this does not even indicate a date of expiry even though the officials say that it is in November," he charged.
Dr. Dassanayake further said that normally when a vaccine was subjected to temperature change its effectiveness too will be changed.

"There is a colour indicator called Thermo Seal in every vaccine where it shows when a vaccine was subjected to a temperature change but this Rubella Vaccine was made without a thermo seal thus violating internationally accepted standards. The Epidemiology Unit of the Health Ministry says that they asked the manufacturer to make the vaccine without a thermo seal as it is costly. We see this as a very lame excuse as that clearly shows that both the vaccine and the manufacture are of low quality" he alleged.

According to the ACGMOA, the quality of the vaccine highly depends on the way they are maintained.
"In our country nothing has been maintained properly so far, let aside the Rubella Vaccine. Once the vaccine is subjected to temperature changes it is no longer effective and it could be toxic as chemical changes take place with the change in temperature. This could be the reason behind death of Peshala. But now the health authorities are attempting to hide this fact and find fault with those who administrated the vaccine," he added.
He also noted that so far Rubella Vaccine has not recorded severe allergies as its side effects even though there are minor side effects like low grade fever and skin rashes.

"There are only two occasions where Rubella Vaccine is not administered. That is when one is pregnant and if someone is lactating. Even when one is vaccinated against Rubella to prevent Cognitive Rubella Syndrome, medical advice is, not to get pregnant before a lapse of three months of being vaccinated,"Dr. Dissanayake said.

Clear faliure
While, noting that vaccination programmes in Sri Lanka was a huge success from the day it was started in 1978 by the UNICEF he charged that there is a clear failure in the vaccination programme in the 2008-2009 period.
"Until 1996, the UNICEF carried out the entire vaccination programme including the supply and maintenance of the vaccines. They handed over the programme to the Sri Lankan Government after evaluating the progress and training of local medical officials. However, none of the vaccination programmes recorded any adverse reactions until the year 2005" he said while noting that annual medical reports indicate that there were four deaths reported in 2005 following vaccination.

"In 2006 also there were four deaths and another seven deaths reported in the year of 2007. However, the numbers increased in 2008 recording 19 deaths following vaccination programmes, thereby indicating a failure in the vaccination programmes condcuted in 2008 and 2009" he noted.

Dr. Dissanayake also noted that deaths or any other adverse reactions to vaccinations carried out by private sector are not reported to the Government.

"The ultimate result would be public losing faith on vaccination programmes carried out by the Government. The Government is attempting to privatise the immunisation programme when all developed countries that had privatised the health sector still retain the authority of immunisation with the Government. The majority of the people in the country are not in a position to go for private clinics and get their children vaccinated. These will only result in bringing down the higher medical standards Sri Lanka maintained so far in the world," he alleged.

Meanwhile, the Head of the Nation Immunisation Programme, Dr. Sudath Pieris said that there was not a single fault with the Rubella Vaccine that was administered.

"I can assure of the quality of the injection and that it had not passed the date of expiry. This particular injection was manufactured in December 2007 and it expires in November 2009. Therefore, not a single authority can criticise the condition of the injection. This is the first case been reported since 1960," he said.

He further said that not a single RMO or AMP is to be blamed as they had discussed the letter given by Peshala's mother before administering the vaccine. According to the letter, it was said that the student was suffering from an allergy therefore to "consider" whether she should be vaccinate or not.

"The mother should have directly said not to vaccinate her daughter rather than writing the letter in such way," Dr.Pieris added.
Dr. Pieris also said that presently fatal illnesses like Smallpox, Polio, Rubella etc are being eradicated due to immunisation programmes, conducted since 1886. He also said that before 1960, around 50,000 infants died annually or were suffering from the diseases.

He firmly said that such incidents will only lead to misconception about the entire vaccination programme.
"If that happens we will be compelled to stop the immunisation programme which will risk the lives of more than 50,000 children by next year. Therefore the entire immunisation programme is not to be blamed just for a single incident," Dr. Pieris strongly asserted.