More trouble with Gardasil
December 03, 2009
By CYNTHIA McCORMICK, STAFF WRITER
http://www.capecodonline.com/apps/pbcs.dll/article?AID=/20091203/LIFE/912030301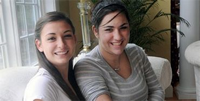 Sisters Brianna, left, and Annie Faiella of Sandwich
both have experienced possible negative side effects
from Gardasil shots. Annie has developed a rash and
Brianna bronchial problems.
Cape Cod Times/Ron Schloerb

The list of local teens who believe they have experienced adverse reactions to the Gardasil vaccine has grown, with two sisters from Sandwich reporting medical problems following their shots.

Brianna Faiella, 15, developed aches, fever and swelling a few hours after receiving a dose of Gardasil and the seasonal flu nasal spray vaccine Aug. 25.

"By midnight, Brianna was barely breathing," says her mother, Mary Beth O'Brien. "Every joint and muscle in her body ached."

O'Brien drove her daughter to Newton-Wellesley Hospital, where Brianna's Needham-based pediatrician met them.

"There was nothing they could do for her other than to give pain medications and make her comfortable," O'Brien says. She says the pediatrician and hospital employees told her they were reporting the reaction to the Centers for Disease Control's Vaccine Adverse Event Reporting System (VAERS).

It was Brianna's first Gardasil shot. She's had the flu vaccine in the past with no ill effects, O'Brien says.

She says Brianna's older sister Annie also developed health problems following a Gardasil shot, but doctors are less sure of a possible connection to the vaccine developed to prevent some types of human papillomavirus.

Annie, a cheerleader and volleyball player at Sacred Heart Academy in Kingston, already had a complicated health history by the time she received her first Gardasil dose in April, O'Brien says.

Annie has a digestive disorder that also suppresses her immune system. A couple of weeks after her shot, she had to have her gall bladder removed. Several days after surgery she developed a severe rash.

"It ended up taking over her entire body. She looked like a burn victim with open wounds, bleeding," O'Brien says. "They put her on steroids. It didn't even touch this rash."

Annie had her second Gardasil shot later in the summer and currently takes cyclosporin to keep the rash down to an eczema-like simmer.

"When I get off the medicine, it full blooms," Annie says.

O'Brien wonders whether this is a severe form of the "Gardasil rash" reported by many young women.

She says she has cancelled the rest of the Gardasil series for Brianna, Annie and even Brianna's twin, Bethany, who suffered no ill effects from her first dose. A fourth daughter, her oldest, had all three shots without experiencing side effects.

A growing number of young women are joining the ranks of "Gardasil Girls," young women who believe they have been injured by the Merck vaccine that was approved in 2006 and has been heavily marketed as a preventive for cervical cancer.

On Oct. 15, the Cape Cod Times ran a story about three teens, all of whom developed a rash and other symptoms — in one case, partial paralysis — after their vaccinations.

One of O'Brien's neighbors, knowing she was frustrated about Annie's rash and Brianna's lingering health issues, showed her the article, O'Brien says.

Barbara Loe Fisher of the nonprofit National Vaccine Information Center says there are enough adverse reactions to the Gardasil vaccine to warrant a federal investigation.

Fisher, who is a founder of the vaccine watchdog group, has asked Congress and federal health agencies to look into VAERS reports that more than 3,000 young women have been harmed by the vaccine and 48 have died.

So far, the Centers for Disease Control and Prevention and the FDA say the vaccine — given in three separate shots — is safe and effective, with side effects including pain at the injection site, risk of fainting and blood clots.

A CDC vaccine report, last updated Nov. 5, says 26 million doses of Gardasil were distributed in the United States as of Sept. 1. The agency says that, based on its reporting systems, it continues to recommend Gardasil vaccination.

Cape pediatrician Leif Norenberg says he thinks Gardasil is a good vaccine. Patients' mothers have died of cervical cancer, he said, adding that HPV also can cause hysterectomies and repeat gynecological visits.

Patients falling ill after getting the vaccine doesn't mean there's a connection to Gardasil, Norenberg said. "Bad things happen to people without vaccines. I'm not real concerned about it."

But Nancy St. George of Pembroke is convinced Gardasil has destroyed the health of her 25-year-old daughter, Danielle St. George.

Danielle got her first shot in June 2007 and shortly afterward a lymph node on her collar bone swelled up, her mother said.

The swelling had subsided by the time of Danielle's second shot in August, but one week later her symptoms returned — with a vengeance.

"Every lymph node in her body was swollen," St. George said, adding that her daughter developed a rash, sweats and headaches.

Danielle suffered such severe muscle spasms that at times she couldn't walk, St. George said. One spasm was so severe her daughter broke her back molar and had to get a root canal and cap.

"She gets hives. Her eyes would get out of focus. Her voice would go," St. George says. Danielle, who was studying biology at the University of Massachusetts-Boston in the hope of becoming a doctor, now lives on Social Security disability.

St. George says the physician assistant who works for Danielle's doctor told the family she was reporting Danielle's case to VAERS, and the doctor said they'd never seen anything like this.

St. George wonders whether Danielle should even have been considered a candidate for Gardasil, given her medical history of a metal allergy and cat scratch fever.

"I think the third shot would have killed her," St. George says.

Fisher, of the vaccine watchdog group, says what Danielle may have experienced is a phenomenon known as "rechallenge."

In rechallenge cases, second and third doses of a vaccine cause symptoms to reappear or become worse, she says.

"It becomes very important when there are symptoms to not take them lightly and assume they are a coincidence," Fisher says. "It would be better to assume causation. That's the precautionary principle."

Swelling of the lymph nodes in particular indicates an inflammation in the body, she says. "It is not something to be ignored. Most doctors don't know how to treat it and stop the inflammation."

Looking back on her series of Gardasil shots, 18-year-old Nicole Goodman of Pocasset believes the migraine-type headaches she experienced after her first two doses were a tip-off something was wrong.

The Bourne High School graduate and former cheerleader and gymnast, who was profiled in the Oct. 15 article, experienced fainting episodes, nausea, low muscle tone, muscle spasms and partial paralysis of her left leg after her third dose.

Despite seeing a stream of specialists, her symptoms are getting worse, Goodman says. The dystonia — low muscle tone — has moved up her back, her eye muscles are affected and she is now on a catheter.

Fisher said it's "ridiculous" that federal officials are not taking Gardasil complaints seriously. Fisher says. She said 89 percent of reports on adverse reactions filed by Merck were incomplete.

"That's shocking," Fisher said.

Stories such as Danielle's, Brianna's, Annie's and Nicole's are a reason why the NVIC and some doctors are questioning the necessity of the Gardasil vaccine, which the CDC recommends for girls starting at age 11, Fisher says.

The HPV vaccine was developed to guard against four types of human papillomavirus, including two types that cause about 70 percent of cervical cancer.

Cervical cancer, while a major killer of women in developing countries, does not make the top 10 list of fatal malignancies for women in America, where routine screening with the Pap test drove cervical cancer deaths rates down 74 percent between 1955 to 1992.

In the Journal of the American Medical Association, Dr. Charlotte Haug of Norway editorialized that the cervical cancer cure and detection rate indicates a woman "should be willing to accept only a small risk of harmful effects from the vaccine."

In Sandwich, Brianna Faiella mainly has recovered from her vaccine scare.

"I'm doing a lot better," she says. "It took a while."

The three-sport athlete at Sacred Heart Academy now relies on an inhaler to get through her runs, and she seems permanently congested, said her mother.

And while her daughter Annie's cyclosporin treatments are helping to control her mystery rash, the treatments can't go on forever since they can lead to kidney damage, O'Brien says.

"Nobody can tell you what it is," she says. "We've seen so many specialists."

It's frustrating that there's no way to test whether the Gardasil or some kind of toxin caused her daughters' misery, O'Brien says.

"They just put you through so many tests and they all come back negative," Nancy St. George says. She says her daughter Danielle now has a diagnosis of fibromyalgia, but that doesn't tell half the story.

"There's no test for Gardasil syndrome," St. George says. "That's what I call it."