The Sunday Times
October 4, 2009
What has cervical cancer drug done to our girls?
After one child's death, we talk to parents who blame the vaccination for serious illnesses in their daughters
Daniel Foggo, Rosie Millard
http://www.timesonline.co.uk/tol/life_and_style/health/article6860078.ece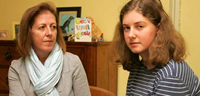 Clare Ramagge says her daughter Rebecca has
suffered from chronic fatigue since having the jab;
she is among pafrents taking legal action against
its maker

A year ago Rebecca Ramagge was a happy, sporty teenager, a high achiever at school and a tournament-level tennis player. Today she's a 13-year-old crippled with chronic fatigue syndrome who has been laid up in bed for seven months and needs her mother's help to tackle such basic tasks as brushing her hair and getting dressed.

Last September Rebecca, along with the rest of the girls in her class at St Bede's school in Redhill, Surrey, received the first of three inoculations of Cervarix, the cervical cancer vaccine. As part of a nationwide programme the jab is being offered to every girl in the UK aged 12 to 13 to try to prevent the spread of the sexually transmitted human papillomavirus, which is linked to most cases of cervical cancer. By 2011 every girl under 18 will have been offered the jab.

A few days later Rebecca "had quite severe joint pains", says her mother Clare who, with her husband John, runs a car sales business in Reigate. "We took her to see doctors, who asked me if anything different had happened in her life. The only thing that had changed was that she had had the jab."

After a second inoculation in November she felt worse and by March she was on crutches. Nevertheless, she was given a third dose that month. Within hours she was "extremely ill", says Clare: "She hasn't been to school for seven months. I have to help her do most things, sit up in bed, brush her teeth, tend to all her basic needs. I have become her carer. My husband is having to run the business alone."

Clare is now taking part in a class action suit against Glaxo Smith Kline, the maker of Cervarix, along with 10 other sets of parents whose daughters have suffered adverse reactions to the vaccine since the programme began last autumn.

"We are being contacted every day by new people," says Peter Todd, a solicitor of Hodge Jones and Allen in London, who is handling the case. "The basis of the claim is under the Consumer Protection Act, implemented after the thalidomide scandal. Consumers are entitled to redress if they suffered injury as a result of a defective product and this turns on a reasonable expectation of safety. As the manufacturers themselves give a big long list of adverse effects, presumably they accept that reactions will occur."

Cervarix burst into the headlines last week when Natalie Morton, 14, died two hours after being given the jab at the Blue Coat Church of England school in Coventry. After a post-mortem examination revealed that she had a previously undetected tumour in her chest which a Home Office pathologist described as "so severe that death could have arisen at any point", health officials in the city declared the vaccination programme would resume.




Natalie Morton, 14, died two hours after
being given the vaccine, though a post-mortem
examination showed she had an undetected tumour

Glaxo Smith Kline, it seemed, was off the hook. Yet privately some National Health Service doctors are of the view that the injection might well have been a catalyst. Certainly Clare Ramagge says that consultants who have examined Rebecca have indicated that the vaccination was a trigger for her collapse. "It is being made clear that in children who have got any condition that could be triggered by this jab, it will trigger it," says Clare, who points out that the consent letter Rebecca had brought home from school mentioned only the most common side effects.

Julie Jones, another of the parents who has joined the class action, thinks the vaccine is to blame for her daughter's deterioration. On May 16, Stacey, 18, went to the local sports centre in Ringsfield, West Midlands, for her third and final inoculation. It was the last day Julie would see her daughter behaving normally.

"That evening she went out with my sister and brother-in-law to a party. She was very agitated all night. The next night she had a panic attack. She kept saying she couldn't breathe, she was hyperventilating." Two days later she suffered an epileptic fit and was admitted to hospital. "They told us it was sleep deprivation. But the seizures continued. We took her straight back and she was admitted for eight weeks."

It is thought Stacey is suffering from encephalitis. She is now in a brain rehabilitation unit in Birmingham. "To me it's like looking at a shell," says Julie. "She has a sort of zombie look in her eyes. She walks with her head down and her arms pulled in. It's turned our lives around."

Paige Brennan, 13, from Telford, remains seriously ill at Birmingham children's hospital, six months after suffering brain damage within five days of being given the last vaccination in her course of three. She has been unable to speak or feed without a tube and has only recently been trying to communicate.

Her parents say they were not made aware of any side effects associated with Cervarix. If they had been, they would never have allowed her to have it.

"She had nothing wrong with her before. She was healthy. Soon after having this injection she collapsed with a seizure," says her mother Margaret Brennan, 46. "I'm there every day at the hospital. It can take two years for the brain to recover, so all we can do right now is hope."

Such stories are certain to alarm parents who otherwise might have been satisfied that their daughters were being properly protected against cervical cancer in later years. The death of Jade Goody, the reality TV star, led to a rise in young women wishing to have the vaccine. Now Natalie Morton's death — and emerging news of the other claims — is throwing that into doubt.

As with the MMR jab, Cervarix is not a one-shot treatment. It has to be administered on three separate occasions over six months. So parents whose daughters have had the first injection must now have two more moments of worry as their daughters go forward in the scheme.

Doctors want to vaccinate as many young girls as possible before they become sexually active, so they will be protected during their teenage years. It is thought the vaccine is effective for 10 years, thus potentially protecting women until they are 22 or 23, after which time sexual habits typically tend to calm down.

Should parents be worried? Jim Boddington, a GP in Hackney, east London, says that in his view Cervarix is a safe bet. "It's been widely trialled and produced excellent data," he says. "When you roll out a programme of vaccinations to millions, a minority will develop symptoms. Some would have developed those symptoms anyway and people are very quick to make causal affiliations."

This spring the Medicines and Healthcare Regulatory Agency showed that of the 700,000 schoolgirls vaccinated last year, more than 1,300 had officially reported an adverse reaction, ranging from convulsions and nausea to pain in the joints. That is a percentage of 0.2%. Peter Todd says he has seen slightly higher figures reported and acknowledges that the risk seems "relatively low" but points out that if you were one of the hundreds affected, you might feel differently.

Certainly some are now deciding it is a risk too far. Kirstene Glynn, 33, a community carer from Musselburgh, near Edinburgh, will not let her daughter Hayley, 15, have the vaccine: "I refused because when I found out online about the vaccine, all I found out was horrendous. And the more I discovered, the worse it got. There are all these side effects which we are not being told about." Such as? "Seizures. Migraine. Muscle pain. Obviously in Natalie Morton's case she was killed by her tumour, but in my view you shouldn't give it to children with underlying conditions. If she hadn't had the jab she might be alive now."

This is not to say that Kirstene is anti-vaccines per se. Her three daughters have all had the MMR jab "because the benefits outweigh the risk. And you are more likely to catch measles than cervical cancer, aren't you? I have talked to Hayley about her sexual health and she knows all about condoms and having regular smears. You still have to have smears, you know, whether you have been inoculated or not".

Yet Kirstene had her daughter at the age of 17. Surely she should know about the dangers posed for young women by having sex early: "I wouldn't recommend having a child at 17 and I certainly don't want it for Hayley. She's a clever girl and I want her to go to university. But girls are going to do what they are going to do, aren't they? They just do what they want."

Maybe that's the problem, says Richard Millard, a Hampshire GP. "There is a view that simply inoculating young women is taking the line of least resistance, a sort of liberal agenda which has been peddled since the 1960s with pretty disastrous effects," he says. "We have more teenage pregnancies than anywhere else in Europe, and the amount of STD [sexually transmitted disease] in this country now is frankly out of control."

Why not rethink the whole landscape of teenage sex, he suggests: "There are plenty of other things one could do which would reduce the risk of contracting cervical cancer, such as encouraging young women to start sexual activity later and discouraging promiscuity. A giant vaccination programme is a sort of tacit agreement that sexual activity for teenage girls is all right."

Julie Jones is in no doubt. Asked whether she would advise parents to let their daughter have the jab, she says: "I don't want it to happen to anyone else. I want the programme to be stopped in schools. They are only kids and they are being ushered into a scheme like cattle. And they are too young. It is ridiculous to expect that young girls of 12 or 13 will be having sex anyway. They are young and very vulnerable."

Vaccine figures

By 2011 all girls under 18 will have been offered the Cervarix vaccine

1.4m children have taken part in the vaccination programme since it began last September

The vaccine is delivered in three doses over six months nThe immunisation of 12- and 13-year-olds costs taxpayers £100m a year; the catch-up campaign for girls under 18 costs £200m a year

The vaccine protects against the two strains of HPV (16 and 18) that cause cervical cancer in seven out of 10 cases

Each year there are 899 deaths in the UK from cancer of the cervix