Vaccine Autism
Autism
[Autism was exceedingly rare (see: Autism rare, Leo Kanner, Vaccine autism proven) before mass Mercury containing (put in deliberately as a poison by Satanic Eli Lilly, see: Eli Lilly Documents Reveal Dangers of Thimerosal) DPT vaccines came on the market. Now with the additions of numerous other vaccines, especially MMR, it has increased to 1 in 100 children. Allopathy Inc is doing all it can to suppress it's main cause through Genetics & Diagnosis ploys along with numerous fraudulent 'Government' studies, along with the persecution and martyrdom of Dr. Andy Wakefield, as when the whole truth comes out it will destroy vaccination and Allopathy Inc and expose it as Psychopathic and Satanic.]
"I think that the biological case against Thimerosal is so dramatically overwhelming anymore that only a very foolish or a very dishonest person with the credentials to understand this research would say that Thimerosal wasn't most likely the cause of autism."--- Interview of Dr. Boyd E. Haley by Teri Small:
See: Vaccine autism proven [2010 Jan] Tylenol Linked to Increased Risk of Autism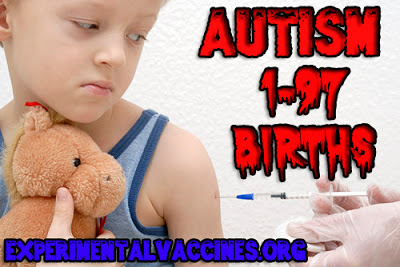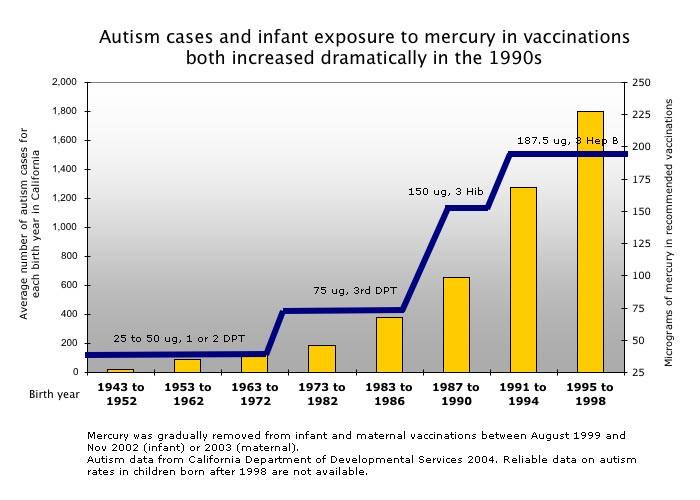 Thimerosal and Autism Timeline
Silenced Witnesses Volume II: The Parents' Story
[2010 April] Dr. Mercola Interviews Dr. Andrew Wakefield
[2010 April. Video transcripts] Dr Andrew Wakefield - In His own words
[2009 May FILM] Selective Hearing: Brian Deer and the GMC.
[2011 Jan]

Autism, Vaccination and Immigrants - Yet Another Clear Correlation by F. Edward Yazbak, MD, FAAP
Autism and Autistic Spectrum Disorders (ASD) seem more common among young Somalis in Minnesota and among immigrant communities in several western countries. At least as late as 2003, Ethiopian-born immigrants to Israel had no recorded cases of autism. [That is correct: Not a single one!]
[2009 Sept] David Kirby: New Study: Hepatitis B Vaccine Triples the Risk of Autism in Infant Boys
[2008 Dec] David Kirby on Autism and the Military: One Very Brave Captain
[2007] Jonny & Sierra: Vaccine-Induced Autism
Former UK Science Chief -- Vaccines Cause Autism: "What More Evidence is Needed?" "I have always thought since I first heard about the Somali children that this really proves the causal role of vaccines. The Amish children who have no vaccines have no autistic-like disorders and the Somali children who are newly exposed to aggressive vaccine programmes have exceptionally high levels! What more evidence is needed?"

[2008] Key realities about autism, vaccines, vaccine-injury compensation, Thimerosal, and autism-related research----Gary S. Goldman, Ph.D & P.G. King PhD.
SICK MONKEYS: RESEARCH LINKS VACCINE LOAD, AUTISM SIGNS
[2008] Unprovoked Seizures in First Year of Life May Signal Autism Spectrum Disorder
[NVIC 3/2006] Chelation for autism
CDC officials, who maintain autism is a genetic disorder and irreversible, cannot tolerate the existence of children whose autistic behaviors have disappeared after chelation therapy removes vaccine-related mercury and other toxins from their bodies.
[Media December 13, 2004] Gene flaw may link autism, vaccine additive
[Book] Mercury : The Winged Messenger by Courtney L. Zietzke
[Book] "EVIDENCE OF HARM" by New York Times writer David Kirby
[jan 2004] A Review of the Relationship between Thimerosal and Autism. David A. Geier and Mark R. Geier, MD

Experts: Redefine Autism as Systemic Illness
Autism Research Institute's Mercury Detoxification Consensus Conference February 9-11, 2001, Dallas, Texas
[Media July 22, 2001] New autism doubt on mercury in vaccines
Three Large Autism Organizations---Why Vaccines/Immunology and Autism are not looked into
[Media May 27 2001] Autism 'linked to mercury vaccine' (Melissa Wickens)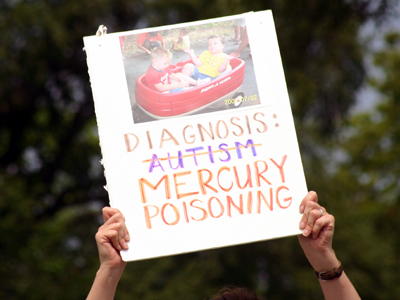 Autism Vaccine connection?--- Jaquelyn McCandless, M.D
Asking the Wrong Question By Lenny Schafer
FIRST MERCURY POISONING/VACCINE CASE FILED
CONGRESSMAN BURTON'S DAUGHTER RESPONDS TO WEBMD ARTICLE
TYPICAL COURSE OF AN AUTISTIC PATIENT--Dr Fudenberg
Shedding Light On 'Mind Blindness'
Electronic Resources on Autism from the NIH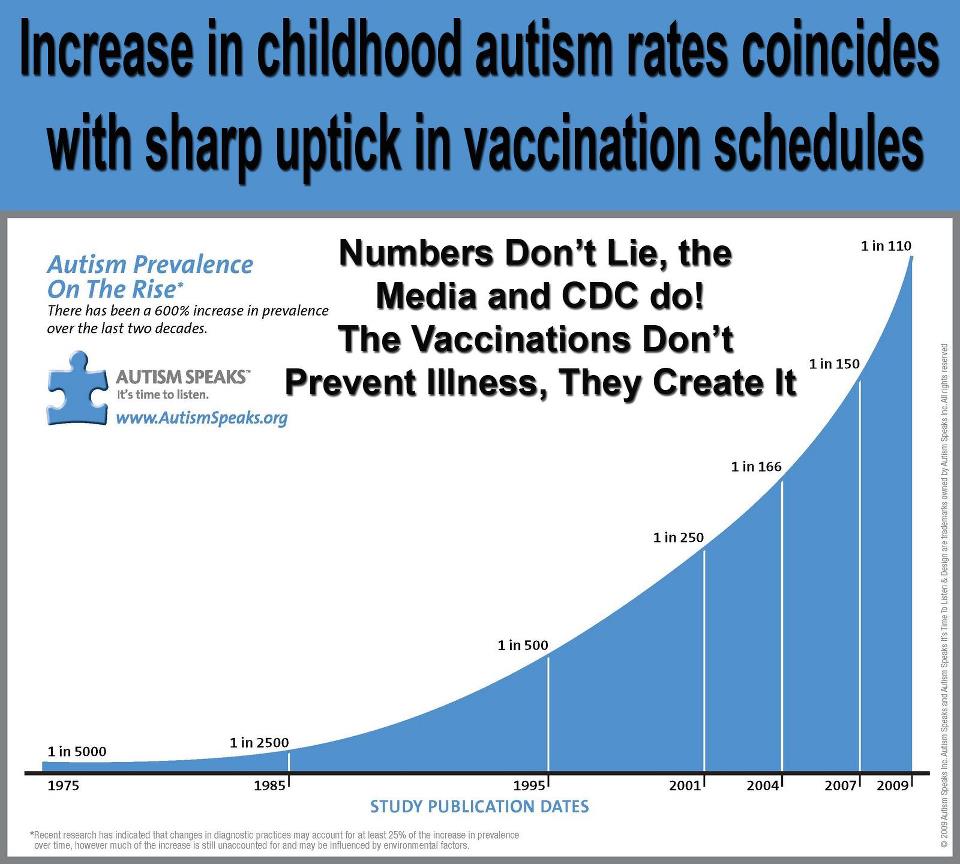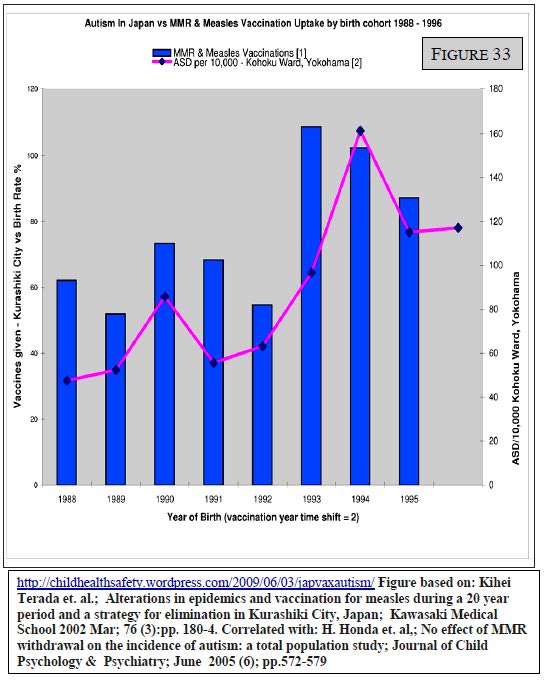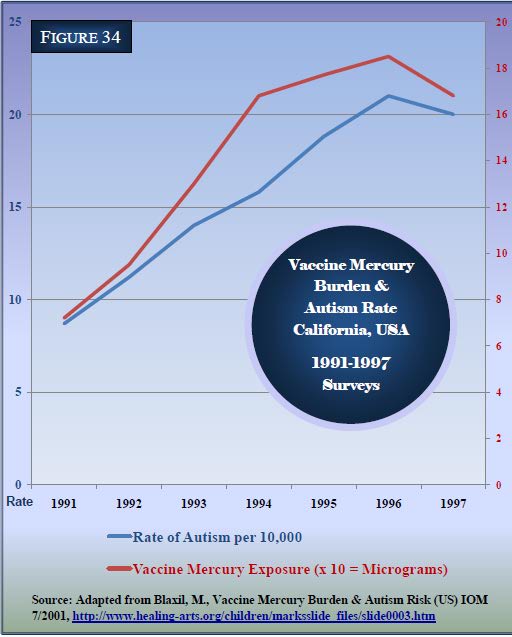 Proud Parents Of Unvaccinated Children