World Health Organisation (WHO)



[back] Allopathic Inc
Africa
Web: http://www.who.int/gpv/ http://www.africa2000.com/RNDX/rndx.htm

See: Disease statistics Africa Anthony Brink AZT Viramune (nevirapine)
See: UNICEF GAVI UN Pandemic definition EU NATO
[One example of the nefarious nature of the WHO is making sure mercury stays in vaccines, see: Thimerosal Containing Vaccines, Part II: WHO by F. Dr. Yazbak.]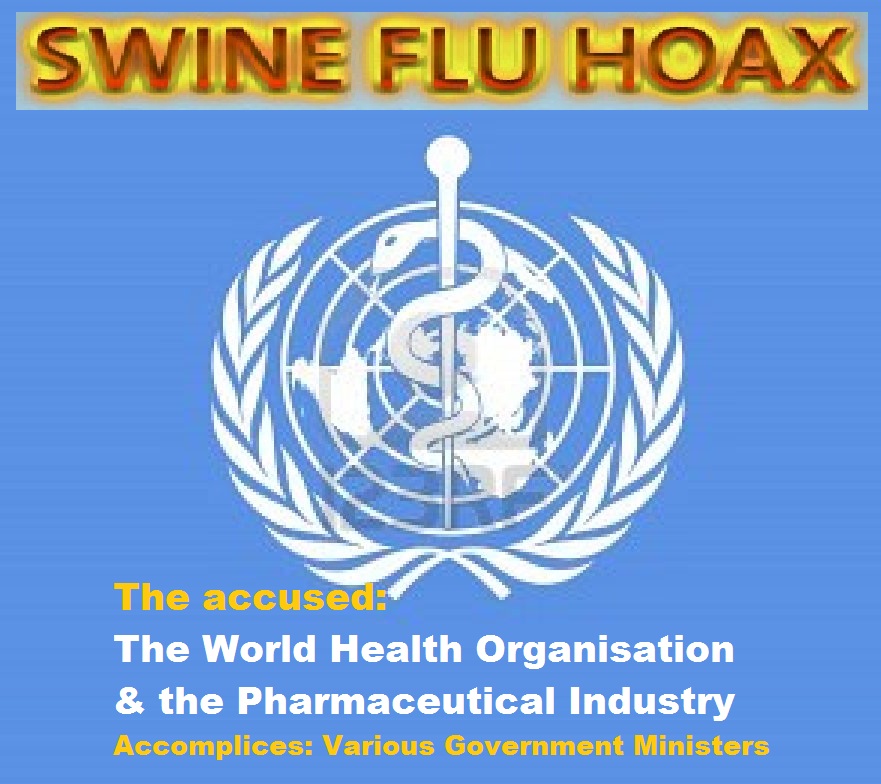 Functionary
Zsuzsanna Jakab
Osterhaus, Albert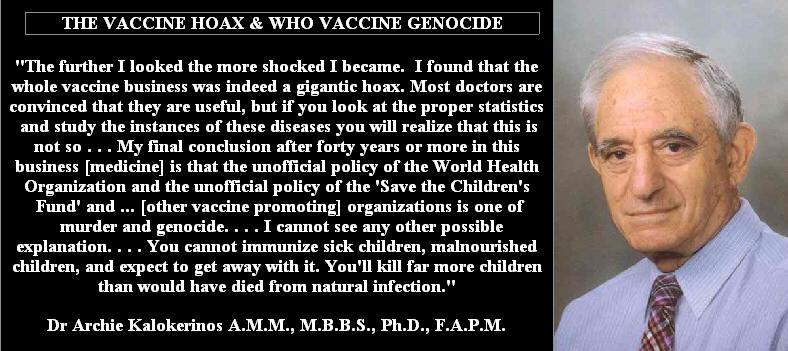 Archie Kalokerinos M.D The Vaccination Racket Vaccine genocide International Vaccine Newsletter June 1995


Jon Rappoport
[2013 April] WHO Reluctant to Suspend Vaccine After 26 Children Die in the Developing World By Christina England
[2013 Jan] Video Footage Shows Prime Minister Visits Paralyzed Children, Powerful Groups Involved in Vaccine Campaign By Christina England
[2013 Jan] Minimum of 40 Children Paralyzed After New Meningitis Vaccine By Christina England
[2012 Dec] The British Dimension - the WHO Mercury Cover-Up and the CDC By John Stone
[2012 June] U.S. Pediatricians Endorse Continued Injection of Mercury into Children in Developing Countries
[2010 Jan] WHO'S FUKUDA GRILLED AT COUNCIL OF EUROPE HEARING: START OF SUBSTANTIAL INVESTIGATION INTO THE SWINE FLU SCAM
[2010 Jan] When did WHO change the definition of pandemic? If the WHO is lying about changing the definition of the word "pandemic" in order to ramp up fear, so that Big Pharma farms even bigger profits, and WHO does too, what else are they lying about?
[2010 Jan] National governments must be investigated, not just WHO, says Le Temps Is WHO being set up to bear the brunt of the criticism of the swine flu scam in order that national governments can avoid drawing attention to their own complicity? This is the question posed by the headline in Le Temps.With the exception of the Polish health minister, every single health minister in Europe and every single government head backed the mass swine flu vaccination campaign in spite of the evidence that the jabs were untested and toxic.
[2010 Jan] Interview with Wolfgang Wodarg: Swine flu: "They organized the panic"
[2009 Dec Denmark] WHO ADVISER CONCEALS A DONATION OF MILLIONS FROM A PHARMACEUTICAL COMPANY A Finnish member of the WHO board, an advisor on vaccines, has received 46 million crowns (6 million euros) for his research centre from the vaccine manufactures, GlaxoSmithKline. ...Another 'WHO' vaccine advisor is withholding information concerning financial support from the pharmaceutical industry. ...Professor Juhani Eskola is the director of the Finnish research vaccine programme (THL) and a new member of the WHO group, 'Strategic Advisory Group of Experts' (SAGE), which gives advice to the WHO Director-General, Margaret Chan. 'SAGE' also recommend which vaccines - and how many - member countries should purchase for the pandemic.
[2009 Dec] World Health Organisation 'Mr Swine Flu' Under Investigation for Gross Conflict of Interest
[2009 Nov] World Health Organization 'Manufactured' The Global Swine Flu Scare – Suspected Of Corruption
WHO CAUGHT LYING IN PUBLIC OVER VACCINES
Genocide in a vaccine: Pantheism's moral Chemistry by Suzanne Rini
[Media Feb 2004] WHO 'suppressed' scientific study into depleted uranium cancer fears in Iraq
Nobody wants to know WHO killed half a million Iraqi children! by Elias Davidsson
Emerging Viruses: AIDS & Ebola. Nature, Accident or Intentional? Interview of Leonard G. Horowitz, D.M.D., M.A.., M.P.H. by Gary Null 1995.
[WHO document 2001 pdf] Delivering 20 vaccines by 14 weeks containing 187.5 micrograms of mercury (equivalent to say 3 grams scaled to adult weight) to immunologically vulnerable infants, surviving in conditions of poor sanitation, nutrition and housing.
[Jan 2007] The WHO's Blueprint for Genocide
The recommended AZT dose for African infants and small children is the same per kg of body weight as the original high-dose AZT that is widely acknowledged to have killed an entire generation of grown men, and which has not been administered for almost a decade.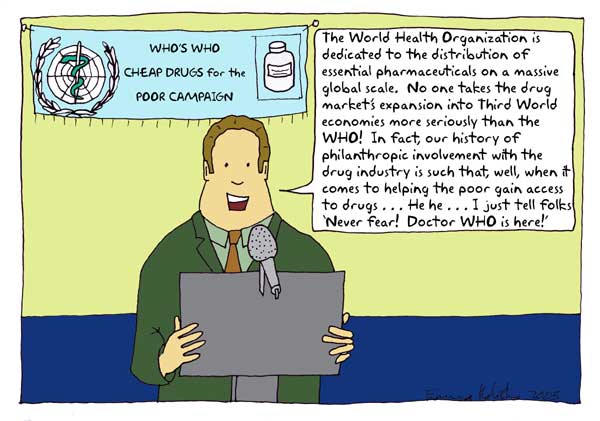 WHO & Vaccine http://www.techmgmt.com/restore/who.htm
Population control http://www.new-atlantean.com/global/birthcon.html
Ebola & AIDS in Africa http://www.tetrahedron.org/research.htm
WHO reproductive research http://www.trufax.org/vaccine/v7.html
Book: http://home.earthlink.net/~simultrek/tmwca.htm
EPI---Expanded Program on Immunization (commenced 1983)
UCI---Universal Childhood Immunization
HIV HYSTERIA LEADS UN TO LAUNCH ANTI-BREASTFEEDING CAMPAIGN