Medical Politics
[back] Books revealing the medical conspiracy Medical Politics
[2008] The Ultimate Conspiracy by James McCumiskey
[June 2006] HRT Licensed to Kill and Maim The unheard voices of women damaged by HRT by Martin J Walker
See: T h e D R U G S T O R Y By Morris A. Bealle Medical propaganda books
[2010] Diary of a Legal Drug Dealer by Kay Carlson
General
[2002] Politics in Healing: The Suppression and Manipulation of American Medicine by Daniel Haley
The Emperor has No Clothes by Dr. Peter Glidden
The Great White Hoax: The Suppressed Truth About The Pharmaceutical Industry by Robert Catalano
T h e D R U G S T O R Y By Morris A. Bealle
Politics in Healing: The suppression and manipulation of American Medicine -- Daniel Haley
Health Myths Exposed---Shane Ellison
[1995] The Medical Mafia by Guylaine Lanctot, M.D.
Murder By Injection: The Story Of The Medical Conspiracy Against America by Eustace Mullins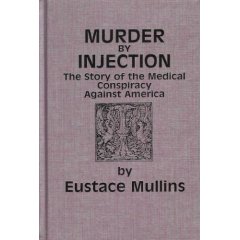 Dirty Medicine—Martin Walker
World Without Cancer—Edward Griffin
Naked Empress---Hans Ruesch
Confessions of A Medical Heretic---Dr Mendelsohn MD
Betrayal of Trust—Dr Vernon Coleman
Racketeering in Medicine—James P. Carter, M.D
Innocent Casualties: The FDA's War Against Humanity—Elaine Feuer
The Drug Story by Morris Bealle
The Health Scandal by Vernon Coleman MB
Third Party RAPE: The Conspiracy to Rob You of Health Care by C. Norman Shealy, M.D., Ph.D.:
Heart Fraud: Uncovering the Biggest Health Scam in History by Charles McGee, M.D
Innocent Casualties: the FDA's War Against Humanity---Elaine Feuer
[1984] The Medical Industrial Complex by Stanley Wohl, M.D.
[2006] Fight for Your Health: Exposing the FDA's Betrayal of America (Take Charge (Truth in Wellness)) by Byron J. Richards
FDA Working on behalf of drug companies Billions of dollars are wasted on needless drugs. Mind-control through "mental health" Cholesterol and bone drug truth. The true Codex story; health control Globalization at the expense of Americans Poisoning us with our food and water Your DNA in government computers. The real truth about cholesterol drugs. And much, much more......
Medical Dark Ages, circa 1984, Or, Cancer Alternative Therapies' Cure Rates by Ralph Hovnanian
[c.1994] The Assault On Medical Freedom - by P. Joseph Lisa
[1986] The Great Medical Monopoly Wars by P.J. LISA,
[1984] Are You a Target for Elimination - An Inside Look at the AMA Conspiracy Against Chiropractic and the Wholistic Healing Arts by LISA, P.J.
Cancer
The Cancer Industry---Ralph Moss PhD.
The Healing of Cancer---Barry Lynes
Greg Caton Online book: www.meditopia.org
Scientist/doctor persecution
The Burzynski Breakthrough and the Government's Campaign to Squelch it by Thomas D. Elias
[1991] The Persecution & Trial of Gaston Naessens: The True Story of the Efforts to Suppress an Alternative treatment for Cancer, AIDS, and Other Immunologically Based Diseases by Christopher Bird
The American Experience of Max Gerson—SJ Haught
The Trial of The Medical Mafia by Joachim Schafer
Forbidden Medicine--Ellen Brown
The CanCell Controversy: Why is a possible Cure For Cancer Being Suppressed?---Louis B. Trull
Vivisection
Slaughter of the Innocent---Hans Ruesch
(1993) Animal Research Takes Lives ISBN 0473018462 New Zealand ---Bette Overell
Women
Outrageous Practices---Leslie Laurence & Beth Weinhouse
The Hysterectomy Hoax: The Truth About Why Many Hysterectomies Are Unnecessary by Stanley West, Paula Dranov
No More Hysterectomies by Vicki G. Hufnagel, Susan K. Golant (Contributor)
Misinformed Consent: Women's Stories About Unnecessary Hysterectomy by Lise Cloutier-Steele
The Politics of Breastfeeding--Gabrielle Palmer
THE MENOPAUSE INDUSTRY How the Medical Establishment Exploits Women by Sandra Coney
Silent Knife: Caesarean Prevention & Vaginal Birth After Cesarian by Nancy Cohen & Lois Estner
No More Hysterectomies by Vicki G. Hufnagel, Susan K. Golant (Contributor)
Open Season: A Survival Guide for Natural Childbirth and VBAC (vaginal birth after Cesarean Section) in the 90's by Nancy Wainer Cohen