Chateaux Des Amerois (Mothers of Darkness Castle)
http://forum.davidicke.com/showthread.php?t=74309
Dutroux case and X-Dossier victim-witnesses Note of caution: with such notorious manipulative debunkers as Verhaeghen and Alvarez involved, together with evangelical conspiracy researchers as Fritz Springmeier and the Dutch Robin de Ruiter, this story has been rendered pretty much completely useless.
PV 100.403, January 14, 1997 (Eddy Verhaeghen): "Letter of a retired Gendarme officer (Mignon). In early April 1996, he sheltered a Mexican priest. The priest's Dutch friend came to see him. The Dutchman mentioned the castle of Amerois as a place where satanic and pedophilic evenings take place during which children are sacrificed. This information was given to him by an American from NATO who went back to the USA. This American participated in one of these evenings and had been disgusted by it. The priest left to Mexico and had telephone contact with the families Lejeune-Russo. Priest = Dizan Vasquez. Dutchman = Robin de Ruiter. Commandant Schmidt was informed on April 23-24, 1996. Maybe a connection with the hunting parties described by X1 [not to mention the other X witnesses].""
PV 150.048, February 12, 1997 (Baudouin Dernicourt): "Interview of Rene Mignon (20/02/38). He wrote to the Capt. Baulard to inform him of sacrifices of children in Chateau des Amerois. His wife and him knew a Spanish missionary working in Uganda. They paid a visit to him in Uganda where they met a Mexican priest. In April 1996, this Mexican priest has been sheltered some days at his place. The priest's Dutch friend came to see him [there]. This Dutchman spoke of Chateau des Amerois close to Bouillon that belongs to the Solvay family. The Dutchman said to know a man who held a post in NATO. This [NATO] man explained to the Dutchman to have been invited to an evening in Chateau des Amerois during which children were sacrificed. At the time, he gave the facts to Commandant Schmit. The facts would date 1994-1995. Three Americans would have participated in this kind of feasts, but probably not together. Fritz Springmeier would have inquired into these facts and written a book. In this book the Chateau des Amerois is termed 'Mothers of Darkness castle in Belgium'. The manager of the castle is Devogelaer (061/46.71.36). It is impossible to see the castle from the VP [gate?] - it is very well guarded (dogs). The Dutchman is willing to testify anonymously. The Dutchman confirmed the facts by telephone, but doesn't want to make himself known."
PV 150.311, February 19, 1997 (Eddy Verhaeghen): "Information: Chateau Amerois. Dutchman = R. de Ruiter from Almere. He writes to say that he doesn't know anything besides that his info comes from Springmeier. The info of this person would come from elder Satanists. He mentions "the top 13 Illuminati bloodlines" that make the satanic families the most powerful on earth and "the Illuminati formula uses to create an undetectable mind controlled slave [sic]" that goes about the programming and deprogramming of the victims. Fritz Springmeier of Oregon City (USA)."
PV 150.931, April 30, 1997 (Cerefino Alvarez): "Information Chateau d'Amerois. Telephone contact with Father Vasquez (Mexico), the "Dutchman." Reception of the video cassette of Springmeier, confirmation of seeing this video, Springmeier mentions the Chateau d'Amerois as being a place where sacrifices of children would be carried out in accordance with satanic rituals."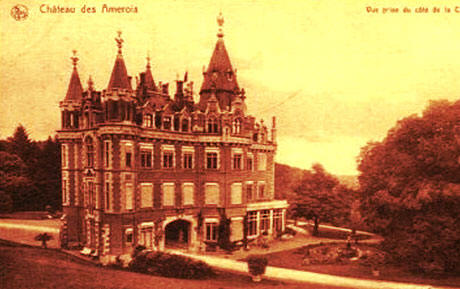 The Castle of Kings (Château des Amerois) in Belgium where reporters Jean Nicolas and Frédéric Lavachery
claim weird satanic sex rites are conducted by Bilderberg members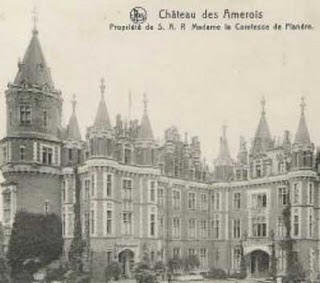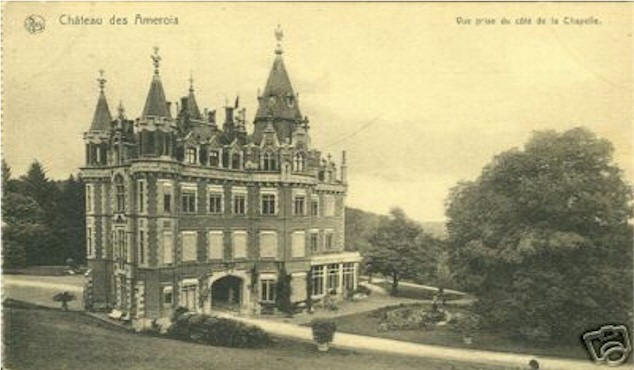 "Bloodlines of the Illuminati" ", p. 205) and his speeches Fritz Springmeier cites a secret castle situated near the village of Muno in Belgium. This castle according to Springmeier, is a center of the occult and has a cathedral with a dome containing 1000 lights. The castle is referred to as the Mothers-of-Darkness castle and Monarch programming is supposedly performed on children there. This castle is also known as the "Castle of Kings". Its real name is "Chateau des Amerois" and it is located in Bouillon (Belgium), near the village of Muno. This castle and its domain, the Muno forest once belonged to Prince Philippe of Saxe-Cobourg-Gotha, Count of Flanders and father of King Albert I. He purchased the property in 1869 to the Marquis van der Noot d'Assche.The castle of Romantic style was built in 1877 for Philippe of Saxe-Cobourg Gotha by the architect Gustave Saintenoy. It has 365 windows. This castle was later bought by Alice Solvay, niece of the Belgian scientist and industrialist Ernest Solvay and today is apparently still owned by the Solvay's.