Dunblane massacre
Paedophilia State Terror
See: Gun Control
[2010 Feb] Revealed: British Premier Gordon Brown Is A Paedophile By Mike James Malcolm Rifkind's friend and his then Chairman of his constituency party at Edinburgh Pentlands, Robert Bell, according to the front page lead of the Edinburgh Evening News on 23 March 1996, sold guns and ammunition to Thomas Hamilton only a few weeks before the Dunblane massacre, and it was reported he said he would sell him guns again.')
[2005]

Police, killer in child sex ring
[2003] Tony Blair Caught Protecting Elite Paedophile Ring By Mike James
[Media March 2003] Robertson considers action over web allegation George Robertson, the NATO secretary general, is considering legal action against the owners of the Sunday Herald, over internet allegations about his connection to Thomas Hamilton, the Dunblane killer.
[Media March 2003] Dunblane secret documents contain letters by Tory and Labour ministers Another document relates to correspondence between the clerk of the Dunblane inquiry, which was presided over by Lord Cullen, and a member of the public regarding 'possible affiliations of Thomas Hamilton with Freemasonry ... and copy letters from Thomas Hamilton'.
[Media Feb 2003] Call to lift veil of secrecy over Dunblane There have been allegations that the lengthy closure order was placed on the report after it linked Hamilton to figures in the Scottish establishment, including two senior politicians and a lawyer.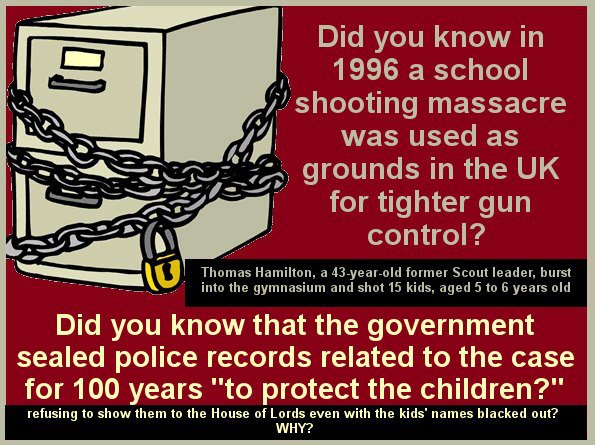 Quotes
"In order to get countries to support America in the Iraq war, Bush had the FBI pull out all the smut files on every political leader. Tony Blair, it was found, was covering for and promoting those involved in a paedophile ring involving knights and at least one prominent royal, a second cousin to the queen (the Dunblane massacre). "Britain's Tony Blair is now a fully-fledged puppet for the American military industrial complex, which is why he has been in power for so long. The media is the propaganda machine for the war machine. It's just as Winston Churchill said:
'The first casualty of war is the truth'.
All the war media are embedded
and the media is bound to tell the lies
the military industrial complex want told." Hitler was a British Agent by Greg Hallett
Lord Cullen (SS)-who had physically walked Thomas Hamilton to the massacre, and therefore an accomplice to the mass murder, and most likely his Manchurian Candidate controller-was then made the judge who conducted the inquiry into the Dunblane Massacre. To add insult to injury, it was known as The Cullen Inquiry (1996) and he was titled Lord Cullen for the duration. 12 years before he was actually elevated (2007/08). Named and implicated were: Attorney-General Lord Peter Henry Goldsmith"; Secretary of State for Scotland Michael Forsyth (SS)fS: George Robertson (SS); Secretary of State for Health Alan Milburn; Robert Bell (Chairman of the constituency party at Edinburgh Pentlands/ friend and associate of British Foreign Secretary Malcolm Rifkind); the flamboyant homosexual Peter Mandelson'6 (now Lord Mandelson/ paedophiles are elevated); Tony Blair'7; Gordon Brown (from at least 1986); and many of Gordon Brown's senior and junior ministers. They were given free licence to engage in paedophiliac activities, and were actually protected by the British intelligence services. This is on-going. [2010] THE SEX COLLECTORS - How the World is run on Shame - Vol. III, HEROIN TICKET by Greg Hallett
George Robertson was very close to Thomas Hamilton, and due to his association with paedophiles, he was elevated to Lord Robertson, and promoted to the Secretary General of NATO (11 October 1999-5 January 2004) where he excelled in heroin trafficking. Tony Blair and Gordon Brown had a vested interest in "wasting" the Dunblane paedophile victim children who were beginning to talk. So. at their request, the gun for Thomas Hamilton was organised by George Robertson. Michael Forsyth. and Robert Bell. Edinburgh Evening News. 23 March 1996. front page lead: "Chairman of British Foreign Secretary Malcolm Rifkind constituency party at Edinburgh Pentlands, Robert Bell, sold guns and ammunition to Thomas Hamilton only a few weeks before the Dunblane massacre. and it was reported he said he would sell him guns again." "Robert Bell supplied Thomas Hamilton with two .357 Magnum revolvers and two 9 mm Browning pistols with an alternating full metal-jacket and hollow point ammunition. This was despite Hamilton being a convicted child sex offender, and having close ties with a top policeman, etc.."'8 Conveniently the UK banned handguns soon after. This reeks of the Port Arthur Massacre in Tasmania, Australia (46 days later) where on 28 April 1996, 35 people were killed and 21 wounded. That was blamed on the retard. Martin Bryant (23). Two weeks later. Australia banned all sorts of guns. [2010] THE SEX COLLECTORS - How the World is run on Shame - Vol. III, HEROIN TICKET by Greg Hallett
External links
http://dunblane.50megs.com/ See
http://judicial-inc.biz/dunblane_school_massacre.htm
Cremation of Care: The New World Order and the Dunblane Shootings
www.cremationofcare.com/the_nwo_dunblane.htm