[back]
Hitler was a British Agent
a book by Greg Hallett.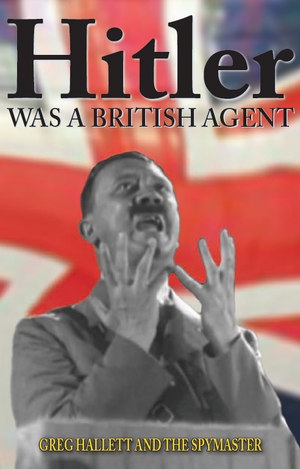 ---
http://www.theworldoftruth.net
Covers Hitler's psychological training in Britain during his missing year (1912) and how this was used to steer him as a puppet of British intelligence, carrying out the Anglo empire's plan to destroy the European powers, particularly France, Germany and Russia. Based on KGB sources.
Was Hitler an Illuminati Agent ? (Encore) By Henry Makow Ph.D. March 23, 2008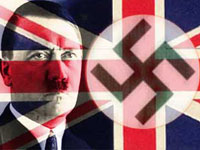 [pdf] Greg_Hallett___Hitler_was_a_British_Agent__excerpt_.pdf
[2008] Was Hitler an Illuminati Agent ? By Henry Makow Ph.D
[vid] Hitler Was a British Agent (Greg Hallett) part 1of 6
[vid] Hitler Was a British Agent (Greg Hallett) part 2of 6
[vid] Hitler Was a British Agent (Greg Hallett) part 3of 6
[vid] Hitler Was a British Agent (Greg Hallett)
part 4of 6
[vid]

Hitler Was a British Agent

(Greg Hallett)

part 5 of 6
[vid]

Hitler Was a British Agent

(Greg Hallett)

part 6 of 6
[whale]
This book covers Hitler's incestuous parentage, his training in Britain, his sex with men, his bizarre sexual habits with women, including fake suicides and murders made to look like suicides. It delves into Hitler's psychiatric condition and how, during his missing year, he was manipulated by 'deconstruction' to perform as a British Agent, that is, an agent for the British war machine. The book covers Hess and doppelgänger Hess' simultaneous flight to Britain, Anthony Blunt's conception by a royal, Wallis Simpson's sexual practises with King Edward VIII and how she leaked British secrets to Hitler.

Hitler was a British Agent covers Operation JAMES BOND to remove Martin Bormann out of Berlin and exposes for the first time Operation WINNIE THE POOH to remove Hitler out of Berlin. It reveals that the origins of the Cold War were in the hunt for the missing Hitler from 1 May 1945 and this became the excuse for surveillance in virtually every country in the world. Hitler was a British Agent leaves an air that everything that happens now, happens because of 1945.

In the 18 chapters it covers the masterful deceptions of war, the creation of war, the training of top level double agents, the repeated faking of their deaths and their escapes, making this book something of an illusion-buster with applications to the analysis of war now and formulas for the time in between wars. The book explains how the 'real' history applies to the 'real' present. Many intelligence officers were interviewed in writing this book and they have given the low-down on what really happened in the many wars from 1936. In some cases, they, or their fathers, were the main players in the vignettes. These personal histories date back to the Spanish Civil War with George Orwell and redefine the origins of Animal Farm.
1. Living Libraries
2. Adolf Hitler – The Incestuous Catholic Jew
3. Adolf Hitler in Britain
4. Hitler's Sexuality
5. Hitler's Psychiatric Condition
6. Hitler's Deconstruction
7. Body Doubles
8. Hess and Hess Fly to Britain
9. Crashing the Duke of Kent
10. Dunkirk
11. James Bond
12. Pearl Harbor
13. Dieppe
14. Anthony Blunt
15. Wallis Simpson and King Edward VIII
16. Operation james bond
17. Operation winnie the pooh
18. Lost Leaders
19. Churchill, Hitler and Stalin Work Together
Quotes
Feminism was invented in Russia as a method of war, and during the Cold War feminists in Russia were deported to the west. Feminists break down the family, reduce breeding and create infighting. p.153
'When you hear the words "The United Nations said...." hear "Communism and the NKVD/KGB/FSB said..." Through intelligence eyes, the UN and the Red Cross are: "...the biggest bunch of intelligence sluts the world has ever seen". '---Hitler was a British Agent by Greg Hallett p.474.
When he died his nose was broken and his cyanide capsule was still intact. Churchill did not want Himmler interviewed by the Americans and refused to allow him to reveal what he knew at trial. This removed one of the most troublesome witnesses to Hitler's survival and Churchill's part in it.
The 14th Duke of Hamilton, Douglas Douglas-Hamilton was a homosexual and a lover of the transvestite, cocaine and morphine addict, the Duke of Kent. He was also the occultist 'Brandon' and used the surviving Duke of Kent as the Holy Ghost in all Golden Dawn coven occult rituals.
Early on in the war, it was evident that Goering and Hitler were both British agents, although they may not have known each other were. Doentiz, Raeder, Milch, Canaris and Oster were also British agents, as was Rosenbaud who was codenamed 'The Griffen'. Most of them were accessed after WWI when they were POWs in British hands. Canaris had many heart-to-hearts with British Interrogating Officers as did Doenitz, who was under psychiatric care in Manchester (October 1918-July 1919).
Rosenbaud was an Austrian Army Officer captured by the British. He was turned around by a lowly British Regimental I.O. in Italy at the end of WWI. Rosenbaud went on to report to British Control Officers right through the 20s, 30s and 40s and was ultimately taken over by the Americans. At the end of WWII Rosenbaud was awarded the American Medal of Freedom, while his ex-wife became the chief of the Stasi. Whoever said spying wasn't in the family.
A huge number of other German officers would rewrite reports, fudge documents and not work in Germany's interests. Defeatism was rampant right through the entire German Armed Forces and played a part in nearly all battlefield loses, including Dunkirk. The loss of the four German battleships is a case in point.
Hitler is everywhere now. There are parts of him in every leader in the world. Governments are occult organisations dedicated to the destruction of their citizens' lives by whatever means is most profitable. We live in a Mafia State. You do in your country too. New Zealand is ruled by a mafia of paedophiles. What we are witnessing is the transfer of control from national governments to the Shadow World Government and from there to the One World Order where heterosexual male individuality is treated with the utmost suspicion - as virtual treason.Patriotism is now treasonous. All that defined yesterday's heroes is now under attack.
Whenever you have a high-ranking homosexual fronting as a married heterosexual, you have a malleable spy who will go to any treasonous lengths and use all their resources just to maintain one or all of their positions. Many homosexual Freemasons use Freemasonry and marriage as a form of cover. Freemasons have a high rate of child-sex abuse, paedophilia and incest, with accounts suggesting that Freemasons sexually abuse a third of their daughters and granddaughters.
Paedophiles control Freemasons, because Freemasons consider paedophiles to be close to royals. Royals use their illegitimate children for supply and control for paedophiles. Police are a Freemasonry organisation and serve the British Crown. Thus Police cover for paedophiles and expect promotions when they do so. Freemasons admire paedophiles and a Freemason will do anything a paedophile asks them to do. This does not exclude dropping the Berlin Wall.
Because the Freemasons control the police and judiciary, Freemasons are rarely charged for their incest, child-sex abuse and paedophilia. When they are discovered, the first step is to cover up. When it becomes too obvious they are often murdered. Sometimes these murders are real and other times they are fake with new identities established elsewhere. p.205
Leslie Howard was also a homosexual who had a flat in Chelsea, London. He was caught in a sexually compromising act in a public toilet in London and arrested for homosexual behaviour. Instead of charged he was taken to a military base where he spent the next three months learning to imitate Winston Churchill. He was not told it was for a canned meat operation, but then again, they never told their flight crews either. The military then dressed Leslie Howard as Winston Churchill and leaked it out through known double agents that Churchill was going to fly to Cyprus. The plane was then shot down by the Germans 40 km off the English coast on 1 June 1943 and Leslie Howard was killed. Meanwhile Churchill went by another route to the Middle East and for the next 10 days the Germans thought Churchill was dead (1-11 June 1943). Officially Leslie Howard was killed on a special mission flight from Lisbon to London. Winston Churchill had doppelgangers for voice and transport and probably went through them with alarming regularity.
Thomas Edward Lawrence (1888-1935) was George Bernard Shaw's illegitimate with one of Renoir's models. Turks interrogated him by sodomy with no new information forthcoming. The Colonel of MI-5 took him to a disused post office, iced him on the large mailing table, jumped on his head till his neck broke, then iced the body beside his motorcycle - officially an accident to this day.
Hitler was a sexual deviant who would do anything to hide his sexual proclivities from the public. This made him a puppet to any foreign country or ideology with the knowledge on him. This is known as "the wood" on a person and anyone with 'the wood' has control over that person. ......Hans Mend: "In 1915 we were billeted in a brewery and slept in the hay. Hitler was bedded down at night with Schmidtl, his male whore. We heard a rustling in the hay. Then someone switched on his electric flashlight and growled 'look at those two faggots'.....Many of the highest-placed leaders in the Nazi party, including Hitler, Roehm, Forster, von Schirach and almost all of his bodyguards were gay. Hitler surrounded himself with homosexuals and even retrieved Roehm from Bolivia, making him Deputy Fuhrer. This knowledge enabled outside countries like Britain and ideologies like the Freemasons to control Hitler, his high command and his bodyguards. Hitler and his band of merry bandits became puppets with wooden strings. In this way, any foreign society can be destroyed with a leader hiding their sexuality. Hitler, Roehm, Forster and von Schirach took part in destroying their own societies while enjoying the power it gave them. Hitler was a double agent prime minister. He worked for a foreign country (Britain) and a foreign ideology (the Freemasons). The formula proved so effective it is still used today, in politics and the media, especially with TV personalities, radio announcers, prime ministers and presidents, both male and female.
"In order to get countries to support America in the Iraq war, Bush had the FBI pull out all the smut files on every political leader. Tony Blair, it was found, was covering for and promoting those involved in a paedophile ring involving knights and at least one prominent royal, a second cousin to the queen. (the Dunblane massacre) "Britain's Tony Blair is now a fully-fledged puppet for the American military industrial complex, which is why he has been in power for so long. The media is the propaganda machine for the war machine. It's just as Winston Churchill said:
'The first casualty of war is the truth'.
All the war media are embedded
and the media is bound to tell the lies
the military industrial complex want told."
Osama Bin Laden has been an American agent for the last 30 years and his CIA copde name is Tim Osman. He was educated in Britain and is described by a former school buddy as 'Harry bin Laden'. ASIO officer: "I have seen Bin Laden in a safe house in London." James Bond III: "Bin Laden is in on the oil scam. The 007, 7 July 2005 London Tube bombing was arranged by the Americans and Israelis."