[back]
THE IDAHO OBSERVER

From the April, 2008 issue of The Idaho Observer newspaper
The three Stooges go to Washington
By Don Nicoloff
---
Note to readers: This is Part 1, posted as it appears on four pages of the April issue. The second half, Part 2 will be posted after the newspaper publication in the May issue.
Among the many lies we are taught in school is "Anyone can become president." On the surface, that may seem true: Bill Clinton was the bastard son of a prostitute from Little Rock, Arkansas and; GW Bush is a phenomenally inarticulate man with no skills or personal accomplishments to his credit. However, when we look past the phony public personas and media cover stories, we find that, without exception, those who find their way to the pinnacles of political power in America are not who they are pretended to be.
Out of the starting gate for the primary round of Election 2008 was a large field of Democrats and Republicans vying for their party's nomination for president. Quickly, the field narrowed to two Democrats and two Republicans. Only Ron Paul's genealogy, history, words and deeds add up to the man named Ron Paul running for president of the United States. The other three, when you look past the veneer, are not just regular folks whose exemplary careers in public service have qualified them to be elected our nation's 44th president. We actually find that we don't know what they are.
Part 1 in this series by intuitive researcher extraordinaire Don Nicoloff will take a close look at the curious ancestry of Sen. John McCain (or is it McCann?). Part 2 will bring us up to date on what the senator from Arizona really is.

Senator John Sidney McCain III
John Sidney McCain, III, according to traditional biographical sources, was "born at the Coco Solo Naval Base, Panama Canal Zone on August 29, 1936." He is third in a succession of U.S. naval officers cultivated from the same family.

One would think that these two sentences, the first which states where he was born and the second which describes the legacy he inherited, would be easy to check and prove. But they are not. So we must go backward in time to either prove he was born into a naval family at Coco Solo—or not.

John Sidney McCain, Sr. [McCain, III's grandfather]: The Official Story

John Sidney McCain, Sr. (JS McCain I), was born August 9, 1884, in Carroll County, Miss., to John Sidney and Elizabeth Ann Young McCain. JS McCain I was attending the University of Mississippi when he met his future wife, Katherine Davey Vaulx (Katherine was born January 9, 1876 in Fayetteville, Arkansas), a Greek and Latin teacher eight years his senior.

He then transferred to the U.S. Naval Academy at Annapolis where he graduated 79th in a class of 116 in 1906. The U.S. Navy career of JS McCain I began by taking part in the World Cruise of the "Great White Fleet," from December 16, 1907 to February 22, 1909.

JS McCain I and Katherine were married August 9, 1909 at Colorado Springs, Colorado. The McCains had one child, John Sidney McCain, Jr. (JS McCain II), who was born in Council Bluffs, Iowa, on January 17, 1911.

JS McCain I came up through the ranks and was promoted to rear admiral in 1941.

Rear Admiral JS McCain I died of a heart attack on September 6, 1945 at his home in Coronado, California—four days after witnessing the Japanese surrender at Tokyo Bay. He was posthumously awarded the rank of full admiral and is buried at Arlington National Cemetery.

Katherine died in San Diego May 29, 1959 and is buried next to her husband.

JS McCain I had an older brother, William Alexander McCain, who also attended the University of Mississippi before transferring to the United States Military Academy; he retired as a brigadier general.

JS McCain I: The unofficial story

According to official biographies, "John Sidney McCain, Sr." was born to "John Sidney and Elizabeth Ann Young McCain" at Teoc, in Carroll County, Mississippi on August 9, 1884 and died on September 6, 1945 at the age of 61.

There is no information on the birth or parentage of JS McCain I or Elizabeth Ann available through traditional sources (claims that "they just didn't keep good records back then" are excusive. People and cultures, particularly prominent families and governments, have been keeping "good records" for thousands of years).

After attending the University of Mississippi for a year, McCain enrolled in the U.S. Naval Academy, where he graduated 79th out of a class of 116. Despite his meteoric rise as an unremarkable, even incompetent naval officer, the Annapolis Naval Academy does not list "Admiral John Sidney McCain, Sr.," as a "notable" graduate from the Class of 1906.

The first anomaly in the ancestry of John McCain, Sr. appears in his "wikipedia" biography. Though the author of this particular historical account of Admiral McCain is unknown, the article is consistent with other genealogical accounts of the McCain family in that the first "John Sidney McCain"—the presumed father of JS McCain I, was not called "Sr.," or "I" which are the customary designations for fathers who name sons after themselves.

This elder McCain is claimed to have been born in "Mississippi" in 1851 (no birth date or place indicated). Regarding the death of this patriarch, we are only given the year, "1934," with no date and no location. The same is true for Elizabeth Ann—birth year (1855) and state (Mississippi) and death year (1922) and state (Mississippi) only.

Genealogical databases and public records are devoid of specific information legitimizing "the McCains from Mississippi." The deaths of a decorated U.S. Navy admiral's father and mother should have at least prompted the publishing of obituaries in the local newspaper that would reveal more clues for future genealogists, but that is not the case.

The McCain family history dead ends at this point.

[We have now stumbled onto a clue that the Senator from Arizona (JS McCain III) is not who he pretends to be. Like we learned when attempting to trace the genealogy of the "George Herbert Walker Bush" clan (The IO, April—June, 2007), these people don't just appear out of a vacuum. They came from somewhere, usually from Europe and, in those days, by ship.]

A single maritime record dated April 26, 1924, from Ellis Island shows that a "John McCain," a "British" citizen of "Scotch" origin (yes, the document says "Scotch"), "age 59," claimed he had been sailing as a crew member with the "Wandsworth [Gas] Works" shipping company for "10 years" as an "A.B." (able boatsman). That claim would place his birth date closer to 1865, not "1884," The recorded physical descriptions of this McCain match what is revealed in later photographs of JS McCain I. He was not a large man, his weight fluctuated from 130-145 lbs. throughout his career with Wandsworth Works and, if this is the same man, the U.S. Navy. He was also short in stature, his declared height ranging from 5'-5" to 5'-8".

A review of public records does not reveal a "John McCain" having been born in England or Scotland in 1865. So, where might this "John McCain" have been born? Certainly not in Teoc, Mississippi. And what is the significance of this 59-year-old "John McCain" arriving in New York as a foreign national working on a foreign ship? The answer will be found in photographs taken during and near the conclusion of World War II.

Naval historian E.B. Potter noted that, "John Sidney McCain defied the image of the senior naval officer. Bony, wizened, with a hooked nose and sunken cheeks, he turned sixty during World War II and looked at least ten years older."

Other accounts agreed, though most blamed his weathered appearance on "the stress of years at sea."

Left: Rear Admiral John Sydney McCain, Sr., the grandfather of presidential candidate SenatorJohn Sydney McCain III (R-Arizona). Right: Admiral John Sydney McCain, Jr., Senator McCain's father.

Considering their rank and the high-profile nature of their occupations, there are very few photos of these two men. There is also an amazing number of conflicts between their public records, official documents and genealogical data.

Upon viewing several U.S. Navy photographs of McCain, one assumes he is looking at images of an 80-year-old man, an opinion shared by many others who have viewed the same photographs. The most logical explanation for the age discrepancy is the Ellis Island ship crew's manifest that recorded John McCain's age—and likely his alias—in 1924.

During further attempts to determine a more accurate birth date for JS McCain I, another discrepancy was discovered in the Social Security Death Index. Entering John Sidney McCain's name into the main search engine produces a "No Results" warning. However, when entering McCain's Social Security number (found in an "Individual Record" on the Family Search web site), a singular entry appeared with "1874" listed under the "Birth" column. The same document also states that "October, 1945" is the date of death. So, in which year was he born; 1884, 1874, or 1865? When did he die—September or October, 1945?

Adding the 19-year difference to the death of JS McCain I, officially proclaimed to be at age 61, would mean he died at age 80, not 61 and was born in 1865—not 1884.

From these clues, one can reasonably conclude that "Admiral John Sidney McCain, Sr." was not born in the United States and was illegally, though purposefully, "inserted" into the U.S. Navy.

The next question becomes, "Why would this unremarkable seaman with limited skills and experience be inserted into the U.S. Navy?

Another Ellis Island "Passenger Record" documents the arrival of "John McCain," "age 33," from "Ireland" on "March 26, 1892." On this trip, McCain, a crew member of the "City of Chicago S.S.," (an Irish liner built in Glasgow, Scotland in 1883) was listed on Manifest Line Number 0014. Unfortunately, the crew's manifest does not appear on the Ellis Island page, having been intentionally replaced by a completely unrelated document. In fact, most of the "John McCain-related" passenger manifests have been surreptitiously replaced with unrelated documents.



After viewing hundreds of records while searching for the origins of JS McCain I, the following record was found (quite by surprise) on the FamilySearch.org web site. As previously mentioned, a specific search for McCain's Social Security number yielded no results, yet this record reveals some remarkable similarities. This McCain's birth date, "August 22, 1874," is more representative of the photographic anomalies because it is a closer approximation of his actual birth date being only 13 days after the August 9 references found in biographical accounts. The S.S. number reveals the same data on the Social Security Death Index. The same search without this number yields: "No Results" (This anomaly is a clue. Many foreign spies, including those from Operation Paperclip, were issued S.S. numbers, many originating in Florida and New Jersey. Nazi spies Otto Skorzeny, Reinhard Gehlen, Martin Bormann and Josef Mengele received S.S. numbers and aliases courtesy of the CIA).


John MCCAIN

Birth Date:22 Aug 1874
Death Date:Oct 1945
Social Security Number: 265-28-5976
State or Territory Where
Number Was Issued: Florida

First Name:John
Last Name:McCain
Ethnicity:Ireland
Last Place of Residence:
Date of Arrival:Mar 26, 1892
Age at Arrival: 33
Gender: M
Marital Status:
Ship of Travel:City of Chicago
Port of Departure:Liverpool & Queenstown
Manifest Line Number:0014
(From FamilySearch, U.S. Social Security Death Index)

Katherine Davey (Daisy) Vaulx McCain

Katherine Davey Vaulx, the grandmother of JS McCain III, was born in Fayetteville, Arkansas January 9, 1876 and died May 22, 1959, according to the Arlington National Cemetery website and wikipedia. Independent genealogical accounts vary, however, making it difficult to sort fact from fiction. For example, many amateur and professional genealogists incorrectly spelled "Katherine" with a "C," sometimes transcribing her middle name from "Davey" to "Daisy." These seemingly incidental types of errors and omissions, commonly discovered while researching the genealogies of certain families, effectively prevent the American people from discovering the true identities of key players in their contemporary political midst.

There also remains confusion about Katherine's birth and death dates. Some guess her birth to have occurred in 1884, likely confusing that date with the incorrect (but published) year of JS McCain I's birth. Still, others claim she was born in 1877.

A photo of the Arlington Cemetery tombstone for JS and Katherine Vaulx McCain shows Katherine's birth date of January 9, 1878 and the death date of May 29, 1959. It also shows that JS McCain I was born Aug. 8, 1884 and died Sept. 6, 1945.

Historically, stonecutters/engravers do not make mistakes and only etch into stone, for all time, exactly what they were told to etch. Though we now know that Katherine was six years older than her husband and not "eight years his senior" as noted by wikipedia, we are still left with the previously unknown details about McCain's admission that, in 1924, he was 59 years old.

After reviewing all of the records and comparing the patterns to other genealogical studies I have conducted, my sense is that the original records are all inconsistent with one another because they are all false.

An exhaustive search of the Social Security Death Index for Katherine also concludes with "No Results." Katherine was spared the inconvenience of a Social Security number. There remains no reliable method to substantiate claims of her birth "in Arkansas," nor claims that she had a "sister in Council Bluffs, Iowa" whom she supposedly visited when giving birth to her only child JS McCain II while her husband JS McCain I was at sea.

John McCann (aka John Sidney McCain, Sr./JS McCain I)

A crew's list index from Port of Seattle passenger records included, once again, the name of "John McCain." Beneath this single entry were numerous entries with the name, "John McCann."

Who was John McCann? The name had appeared frequently in genealogical records on countless web sites in conjunction with this research, but it was not the name we were searching for. The official crew's list provides clues indicating that JS McCain I and John McCann are the same man.

John McCann had also sailed on the "SS Old North State," a ship that belonged to the United States Lines, a company in operation during the 1920s and early 1930s. The United States Lines was founded by Kermit Roosevelt, the son of President Teddy Roosevelt. Kermit had also previously founded the Roosevelt Lines with two partners, John M. Franklin and Basil Harris. Franklin's father headed International Mercantile Marine Company (I.M.M.), originally owned by JP Morgan, purchaser of the famed British White Star Line. McCann's name appeared on numerous White Star crew's lists as a "steward," "mechanic," and "able boatsman."

In 1941, the SS America, another ship in the US Lines fleet, harbored the infamous "Duquesne Spy Ring" and two German spies, Franz Joseph Stigler and Erwin Wilheim Siegler, who obtained intelligence on military defense preparations and ship movements at the Panama Canal for the Nazis. The two spies eventually served 16-year and 10-year prison sentences, though the connection to "John McCann," through his documented employment with both shipping lines, had never previously been disclosed.

The genealogy of John McCann

(aka John Sidney McCain, Sr.)



The following birth record appears at the LDS web site at www.familysearch.org:



JOHN MC CANNPedigree

Male

Birth: 06 OCT 1865
Renfrew, Scotland
Christening:
Death:
Burial:
Father: PETER MC CANN
Mother: SUSAN BROWN

This record is a significant find for several reasons. We now have a birth date and a place of birth for a man from Scotland born in 1865. Not surprisingly, Peter McCann and his wife Susan Brown had no parents, no birth dates, no places of birth, no death dates, nor any places of death. So how and to whom was John McCann born?

The answer to this question lies partially within his place of birth. "John Sidney McCain, Sr.," his son "John Sidney McCain, Jr." and his grandson "John Sidney McCain, III" have all erred at least once when describing a citizen from Scotland as "Scotch."

Scotch is a distilled spirit—a man from Scotland is not "Scotch." The faux pas was made numerous times and is even documented in writing by the Immigration and Naturalization Service at Ellis Island.

The eldest "McCain" began using that name circa 1924. Prior to that time, he had repeatedly identified himself as "John McCann." He was sometimes from Scotland and on other occasions, from Ireland, England and even the United States. John McCann was peculiarly honest about his age, though. On every arrival at Ellis Island, his age, when compared to the date of his arrival, calculates to him having been born in 1865. Three arrivals were documented in 1907 (age 42), 1912 (age 47), and 1921 (age 56).

The reader may recall the April 26, 1924 arrival while sailing on the Wandsworth Works, where "John McCain" stated his age was "59." He also stated that he was "Scotch from Britain" and had been sailing for "10 years," which is also included in the same document. The only discrepancies in the information he supplied to the INS agent were his name, which was not John McCain, it was John McCann who had been sailing for far longer than 10 years.

According to the LDS genealogical pedigree mentioned above, John McCann was born on October 6, 1865 at Renfrew, Scotland. Renfrew is six miles west of Glasgow, on the western coast of Scotland, where many of the ships he rode were built. Shipbuilding was the primary business in Renfrew until the early 1960s. Renfrew is also "the Cradle of the Royal Stewarts," of royal burgh status since 1397. The heir to the British Crown was historically the Duke of Cornwall and the Prince of Wales, ruler over both Scotland and Northern Ireland. Who would that have been in 1865? Prince Albert Edward, Duke of Cornwall, Duke of Rothesay and Prince of Wales.

Prince Albert Edward, born in 1841, served in the Royal Navy at age 12 and developed a reputation as a philanderer and a playboy. The son of Queen Victoria and Prince Albert of Saxe-Coburg and Gotha, the young prince had gotten himself into hot water over rumors of an affair with actress Nellie Clifden while participating in army maneuvers in Ireland. Prince Albert was married to Princess Alexandra of Denmark in 1863.

The list of mistresses grew during his marriage to Alexandra, including Lillie Langtry, Daisy Greville, Sarah Bernhardt, Alice Keppel, Lady Randoph Churchill (Winston's mother), the Countess of Warwick and humanitarian Agnes Keyser.

It was rumored at the time that his adulterous liaisons produced several bastard children. Though it is impossible to prove it conclusively, we can circumstantially determine that John McCann, born in 1865, was the bastard son of Prince Albert. JS McCain III is on record as claiming familial ties to British royal bloodlines. Since there is no such link demonstrated in the "official" McCain family story, our working theory that JS McCain I is the son of Prince Albert is supported.

Prince Albert eventually went on to inherit the throne, becoming King Edward VII, from 1901 until his death in 1910. John McCann was Albert Edward's third son. His second, son, George Frederick Ernest Albert, was born on June 3, 1865, some four months prior to the birth of his younger (step) brother. Obviously, Prince George and John McCann had different mothers. Albert Edward's eldest son, Albert Victor, born in 1864, himself having been born two months prematurely, died from pneumonia in 1892.

It is clear that Prince Albert's wife Alexandra could not have had a third child, four months after giving birth to her second child. That is why John McCann had no "pedigree"—the Royal family wanted to avoid another adulterous, princely scandal.

John McCann's mother could have been any of Prince Albert's mistresses but the timing suggests that it was Lady Randolf Churchill—an American who was beautiful, popular and respected in British high society even though she was notoriously adulterous. Her husband, Lord Randolf, reportedly encouraged his Lady to have affairs with key individuals to advance his social and commercial ambitions.


Pictured is King Edward VII of England and Lady Randolf Churchill. Before King Edward's coronation, he was Prince Albert. As a prince, he was a notorious philanderer while married to Princes Alexandra of Denmark. Among his consorts was Lady Randolf, originally Jennie Jerome, the mother of Winston Churchill.

(Note on Lady Randolf). According to "official" biographical accounts, Lady Randoph Churchill (Jeanette "Jennie" Jerome) was born January 9, 1854, in Pompey, New York. Jennie was the second of four daughters born to financier, sportsman and speculator Leonard Jerome and Clarissa Hall, daughter of New York Assemblyman Ambrose Hall.

Had Jennie given birth to John McCann on October 6, 1865, she would have done so two months before her 12th birthday. Though it is possible, it's highly unlikely (Note: The youngest mother on record was a Peruvian girl who, in 1938, at age five years, seven months and 21 days, gave birth to a healthy, six-pound boy via cesarean delivery).

To further complicate the mystery of Lady Randolf, two records which dispute the birth date's accuracy and her birthplace were found.

1. On September 12, 1896, a 50-year-old Jennie Jerome, "married" and a "U.S. citizen," arrived on the SS Umbria, which sailed from Liverpool. This disclosure places her birth sometime in 1846. She would have given birth to John McCann at age 19, which is certainly more plausible.



2. A birth record at the LDS genealogy site FamilySearch.org, places her birth at "Blenheim Palace, Oxford Co., England in 1854." Curiously, Blenheim Palace is where she later gave birth to Winston Churchill in 1874—less than eight months after her marriage to Lord Randolf Spencer Churchill.

Though she married two more times after Lord Randolf died in 1900, Jennie Jerome, traveling as Jennie Jerome, made frequent trips to Bermuda, declaring Swiss, British, and French roots. Her age, which varied, was usually more flattering than that which was recorded on her arrival in 1896.

Jennie's father was Leonard Jerome, a wealthy financier and stockbroker who was known as "The King of Wall Street. He had interests in many companies and was especially interested in railways, the arts and thoroughbred horseracing. One of his best friends and business associates was William K. Vanderbilt who was married to Anne Harriman, daughter of railroad tycoon Oliver Harriman.

[On a curious note, Lady Randolf reportedly had a snake tattoo on her wrist which she kept covered with bracelets].

The plot is hatched

After schooling in Great Britain, Edward, himself a less-than-stellar student, visited Canada and the United States in an 1860 tour that featured a three-day stay at the White House with President James Buchanan. The plan to create the "McCain" clan was likely hatched during this visit; Mississippi, a slave state, was chosen as the clan's "birthplace." The manufactured McCain lineage featured "(Admiral) John Sidney McCain" and "(General) William Alexander McCain."

Other names that appear in genealogical records for the impromptu McCain clan during this time are "Benjamin Franklin McCain, "Alexander Hamilton McCain" and "James McCain"—an interesting collection of patriotic American names with no public records to indicate that they ever actually existed in the flesh. These sources also claim the McCains owned no fewer than 52 slaves on a 2,000-acre plantation in Carroll County, Mississippi.

At least two U.S. presidents, James Buchanan and Theodore Roosevelt, had assisted in the plot to create the McCain clan in America. Buchanan aided in setting up the bogus ancestry and Teddy Roosevelt, through his son Kermit, gave McCann/McCain unrestricted access to U.S. ships, ports, and cities across the continental United States.

In essence, Prince Albert Edward/King Edward VII had sent his illegitimate son, "John McCann," to infiltrate the U.S. Navy, through his own bloodline, so that a descendant could be cultivated, over several generations, to one day become president of the United States.

Based on ship manifests and passenger records, both at Ellis Island and the Port of Seattle, John McCann infiltrated the country as a "royal spy" until his alter ego, "John McCain," took his place, no later than April 26, 1924.

A 1907 passenger record from Ellis Island, shows that John McCann claimed (it appears truthfully) that he was born in 1865. On this record, his declared ethnicity was "U.S.," and his last place of residence was "New York." Unfortunately, the passenger manifest reads: "No Image Available."

This is one year after JS McCain I was supposedly traveling with the U.S. Navy after his graduation from the U.S. Naval Academy at Annapolis, in 1906.

Something appears missing from the passenger manifest. Whatever it was—a photo, perhaps—was probably very damning.

McCann also indicated marital status as "M" for married.

JS McCain I supposedly married Katherine Davey Vaulx in Colorado Springs August 9, 1909. Yet the Ellis Island document referred to above clearly indicates John McCann (aka "John McCain") was married when he arrived in New York on the S.S.Furnessia in 1907. His wife is alternately referred to as "Mrs. John McCann" and "Mrs. McCann" on several transatlantic voyages, including one in 1893 and another in 1895. Both McCanns, upon each arrival, stated they were "U.S. citizens of Irish descent living in New York City."

On April 24, 1893, "Mrs. John McCann," age 28, declared her "Irish" heritage, though she stated she lived in New York City. On April 29, 1895, "Mrs. McCann," age 30, again declared her origin as "Irish." In either case, she would have been born in 1865.

One wonders what special dispensation "Mrs. McCann" was afforded that permitted her to enter the United States without declaring her first name.

John McCann's name does not appear in the master index in 1893, though his name does appear on the passenger manifest.

On a subsequent arrival at Ellis Island some five years later, more incriminating evidence appeared on a document which again substantiated his birthdate as 1865.

Two additional birth records of "John McCann" in Renfrew, Scotland, named his parents as "Peter McCann" and "Bridget." In another birth record for "John McCann," also in 1865, his parents are "Patrick McCann" and "Bridget Graves."

Both records serve to obfuscate the father's identity, while stretching the limits of plausibility. What are the odds that both "Peter" and "Patrick" McCann of Renfrew are married to "Bridget" and have a son named "John McCann" born in 1865?

Both records are attempts at further obscuring the identity of the real parents, Prince Albert/Edward VII and one of his mistresses, most likely Lady Randolph Churchill.

As of 1924, no additional references to this John McCann or his wife Mrs. John McCann have surfaced in passenger manifests or public records. These birth anomalies, coupled with the crew's list records and passenger manifests from 1892-1924, show that "John McCann" and JS McCain I were the same person, but could not have attended school in the U.S. or gotten married in Colorado Springs.

We have also established that the true birth dates for JS McCain I and Katherine Davey Vaulx McCain are significantly different than those declared in falsified, duplicitous documents and biographies.

Next month, we will pick up the story with the father of JS McCain III and continue through to the birth of a future senator and his "heroic" military career.
From the June 2008 Idaho Observer:
---
The Three Stooges go to Washington: Part 2
Last month we determined beyond a reasonable doubt that the Republican choice to be the 44th president is not who he says he is. Like the Bush clan, the McCains' genealogical records, passenger manifests and other public records, or the suspicious lack thereof, are inconsistent with family biographies. Don Nicoloff has hit upon a model of research that reveals what these people really are not, where they came from and with whom they are associated. This month we conclude our peek into the truth and lies that surround the genealogical records and public persona of JS McCain III by picking up where we left off.
By Don Nicoloff
John Sidney McCain, Jr.
(JS McCain II): The "official" story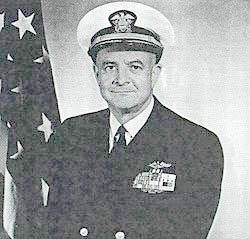 JS McCain II, the father of Senator John Sidney McCain III (JS McCain III), was born in "Council Bluffs, Iowa" on January 17, 1911. Like his father JS McCain I before him and his son JS McCain III after, JS McCain II graduated near the bottom of his class at the U.S. Naval Academy, class of 1931. JS McCain II had disciplinary problems and was "consistently in trouble with the authorities."
JS McCain II married oil fortune heiress Roberta Wright at Caesar's Bar in Tijuana, Mexico, on January 21, 1933.
Despite educational and behavioral shortcomings, "Jack," as he preferred to be called, was brought up through the ranks and given command of the submarine "Gunnel" in 1943. His five patrols in the Pacific theatre during World War II have been described as "slight" successes.
After WWII through the 1950s, JS McCain II was assigned to numerous administrative posts at the Pentagon. Throughout the 1960s, JS McCain II held a series of posts in the Atlantic naval command and was promoted to full admiral May 1, 1967.
"Admiral" JS McCain II reached his pinnacle as Commander in Chief, U.S. Forces in the Pacific, from 1968-72. JS McCain II was involved in the investigations following the June 8, 1967 attack on the USS Liberty. The truth about Israel's involvement and President Lyndon Johnson's complicity in Israel's unprovoked attack on a U.S. naval vessel—that killed 34 American sailors and wounded another 175—has only recently surfaced.
Roberta Wright McCain
The future wife of JS McCain II was born in Fayetteville, Arkansas, on February 7, 1912, to Archibald Wright of Mississippi—a wealthy Los Angeles oil wildcatter—and Myrtle Fletcher of Texas.
Roberta would travel to Colorado Springs, Colorado, to marry JS McCain II in 1933. It is claimed that her parents "were vehemently against the marriage" and thus the elopement to Tijuana.
Like the McCains, the millionaire Wrights were able to avoid the Social Security system. No tax records exist for either parent. In fact, no traceable birth records exist in Arkansas, nor in Texas, outside of biographical and amateur genealogical accounts. Those accounts reveal the same obfuscation techniques we have seen with the Bush family (The IO, April-June, 2007), the first part of this article (The IO, May, 2007) and other ongoing genealogical investigations of key people ascending to positions of political power.
The alleged farmer father of Archibald Wright, "Franklin Alexander Wright," is yet another fictitious character. Note that "Franklin" and "Alexander" ("Benjamin Franklin McCain" and "William Alexander McCain"—see part one) were two names also appearing as the "ancestors" of the "McCain" clan (the odds against these names being random coincidence, under these circumstances, are staggering).
Family biographies claim that, in 1933, Roberta's alleged twin sister Rowena Wright married John Luther Maddox, an airline maverick whose company became part of TWA. No tax, social security, or birth records exist for Maddox. The only references to his unnamed airline are in family biographies; no references to a John Luther Maddox or his airline company are found in TWA historical accounts or in reference to Transcontinental Air Transport/Western Air Express—the airlines that merged to form TWA in 1933.
Needle in a haystack: Albert McCann, aka JS McCain II
Albert McCann's name appears on crew's lists, particularly on ships owned by the same lines. Like his "father," John McCann/JS McCain I, Albert was confused about his age on more than one occasion. His declared citizenship and places of birth were "Ireland" and "America."
[Note: Boldface indicates data excerpted from original documents].
Albert's first documented arrival was on April 27, 1908. On line 0001 of the "SS Caledonia" passenger manifest, Albert McCann, age 21 and a weaver from Belfast, Ireland, was on his way to Brooklyn, N.Y. He had previously been living with his father, Thomas McCann.
One cannot assume that this Albert McCann was the one being sought, though it is significant that his name appears on line one.
Arriving at Ellis Island on the SS Vasari, November 15, 1917, Albert McCann, Irish, age 28, 5'-7" and 140 lb., was an assistant steward.
On March 13, 1919, Albert McCann, crew member of the "SS Vasari," was age 30, 5'-3" tall, and weighed 126 lb.
By May 22, 1919, Albert L.J. McCann, sailing on the "SS Lake Lesa," which he had boarded in the British Isles, had grown 4 inches taller and weighed 135 lb. Albert, now age 20, had become a full-blooded American citizen.
Sailing on the "SS Santa Ana," December 13, 1919, Albert J. McCann, age 20, now 5'-6", was promoted to wiper. He was still an American, though no weight was recorded.
The significance of this voyage pertained to the ownership of the ship—the U.S. Navy.
The "Santa Ana" had sailed from Colon, Panama CZ (canal zone), the future location of Coco Solo Naval Submarine Base and the "McCain" clan.
The "SS Sinsinawa" sailed from Valencia, Spain, arriving in New York on May 6, 1924. Able Boatsman (A.B.) Albert McCann, now 24, had reached the height of 5'-8". Coincidentally, 1924 was the year that "John McCain" first appeared on crew's lists.
Genealogical records for "Albert McCann" are devoid of crucial information, though one record revealed a curious result. This author deduced that McCann might have been born in 1898.
There exists a record of "Albert McCann," born May 8, 1898 in Mulladry, Armagh, Ireland. His parents? "John McCann" and "Ellen Dillworth." Was this the "Mrs. McCann" found on several Ellis Island passenger manifests (see part 1)? And why was the name "Albert" chosen?
Edward VII, King of England, was originally named "Prince Albert Edward." Having determined the likelihood that John McCann was Albert's son in part 1, would it be a further stretch of the imagination to assume that Albert had also been sired by the future king?
Albert McCann, like his father, was also older than admitted. Stranger things have happened and the purpose for the obfuscation surrounding the fictitious "McCain" ancestry in the U.S. now becomes clearer.
The official accounts of Edward's own scholastic disabilities mirror those of all three "John Sidney McCains." Why should the U.S. Navy tolerate such ineptness? None were considered especially "bright" in class and were just as incompetent in battle. Their own biographies, those of the U.S. Navy and those of other historians, agree on both points. Records can be created out of thin air and they were in this case.
The "feel-good stories" about the "McCain" family of military "heroes" portray the very elements of brainwashing born out of the Tavistock Institute in London, England. Tavistock, formerly Wellington House, was funded by the British monarchy and the Rockefeller banking dynasty to advance the science of mass brainwashing and mind control.
What reasoning justifies such promotion to the rank of admiral? The only logical explanation is that King Edward VII and his son George V, the half-brother of "John McCann," were pulling the strings of the American government from 1860-1936. The plot was hatched and facilitated during Prince Albert Edward's visit to Canada and the U.S. in 1860 (see part 1), before being implemented in 1892 and continued, at least, to the conclusion of George V's reign as "king-emperor" on January 20, 1936.
George's reign also experienced a rise in socialism, fascism and Irish republicanism. And it was George V who hid the origins of the British royal family by changing his family's German name, "Battenberg" to "Mountbatten" upon his creation of the "House of Windsor."
Three U.S. presidents were assassinated after Albert Edward's visit in 1860: Abraham Lincoln, 1865; James A. Garfield, 1881; and William McKinley, 1901 (Prince Albert Edward was crowned King of England on January 22, 1901). McKinley's death opened the door to the presidency of Teddy Roosevelt, whose son was complicit in secreting the "McCann-McCain" clan into the U.S. via his United States and Roosevelt Lines and then the U.S. Navy (see part 1).
A quote from Teddy Roosevelt during the trial of "presidential assassin" Leon Czoglosz asked, "McKinley was not a captain of industry but a lifelong public servant. Why target him?"
Exactly. The infusion of the king's bloodline into American politics and the military/industrial complex would fix that reality. The Roosevelts were more than happy to oblige.
Senator JS McCain III:
The "official" story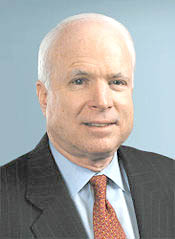 As mentioned at the outset, JS McCain III was born on August 29, 1936, at the Coco Solo Naval Hospital, Colon, Panama Canal Zone. His father and grandfather were reportedly "stationed at the base during this time."
In 1951, JS McCain III "attended Episcopal High School, a private preparatory school in Alexandria, Virginia," after his family moved to Northern Virginia. McCain's graduation from the U.S. Naval Academy in 1958 revealed a class rank of "894/899 graduates." He was known for defending his friends against bullies and he became a lightweight boxer. Like his father, JS McCain III also had frequent run-ins with authorities and was known for his explosive temper.
JS McCain III was commissioned as an ensign, began two and one-half years of training to become a naval aviator at Pensacola and graduated from flight school in 1960, despite his reputation as a "party man."
Prior to his assignment on the USS Forrestal in 1966, he served with A-1 Skyraider squadrons on the USS Intrepid and USS Enterprise. JS McCain III also "survived two plane crashes and an encounter with power lines."
On July 29, 1967, JS McCain III was almost killed "when he was at the epicenter of the USS Forrestal fire." While "helping another pilot escape when a bomb exploded," he received shrapnel in both legs and his chest. One-hundred, thirty-four sailors were killed in the "accident," and "Lt. Commander McCain" volunteered for duty on the USS Oriskany.
JS McCain III's 4E Skyhawk was shot down by a missile over Hanoi on October 26, 1967, during his 23rd bombing mission over North Vietnam. With two fractured arms and one fractured leg, JS McCain III nearly drowned after parachuting into Truc Bach Lake. He was attacked by a mob, receiving a "crushed shoulder" and bayonet wounds.
At Hoa Loa Prison, JS McCain III was tortured by his captors and received no medical attention until they learned he was the son of an admiral. He then received medical attention and was treated more properly until his release on March 14, 1972. JS McCain III returned to the U.S. a war hero, resigning from the Navy in 1981.
By 1982, JS McCain III entered politics, first in the U.S. House of Representatives and was elected to the U.S. Senate in 1986.
Senator John Sidney McCain, III:
The real story
From the beginning, the story of JS McCain III's birth is suspect. The argument that he is not qualified to be president because he was not born on sovereign U.S. territory has merit. Additionally, as this research reveals, both of his parents may have been foreign nationals and the same controversies surround the true identities of JS McCain I and JS McCain II—his "grandfather" and "father."
Recall that no substantial records exist for any legitimate "McCain" lineage outside of biographical accounts, though the records for a "McCann" lineage have been proven beyond a reasonable doubt via the discovery and cross-referencing and examination of shipping manifests, crew's lists, and military records. Both the "McCains" and the "McCanns" lied about who they are/were, and any admissions or denials by them are suspect and should be subjected to objective scrutiny.
The birth records of the "McCanns" in Scotland are also fictitious.The birth and marriage records of Katherine Davey Vaulx (wife of JS McCain I), Roberta Wright (wife of JS McCain II) and Rowena Wright (Roberta's twin sister) are equally suspect. The "Wright" clan is fictitious—birth, marriage, death and Social Security records of Archibald Wright, Myrtle Fletcher and John Luther Maddox being virtually nonexistent.
JS McCain III has been portrayed to be a war hero. He crashed four airplanes (not two) prior to being shot down over Hanoi. "Official" accounts of the USS Forrestal fire on July 29, 1967, claim that "an electrical malfunction on the ship" caused the deaths of 134 sailors and injured another 161. JS McCain III was one of the injured.
Witnesses swear that, while assigned to the aircraft carrier USS Forrestal, JS McCain III "wet started" his A-4E Skyhawk as a prank on the pilot of the F-4 Phantom parked behind him. The resultant flame dislodged the F-4's bombs, touching off explosions and a massive fire (footage of this event is still used as a navy training film). JS McCain III's injuries were due to shrapnel. The F-4 pilot was reportedly killed in the incident.
JS McCain III's negligence resulted in the deaths of 168 sailors (not the reported "134") and at least another 167 (not 161) were injured.
The "mishap" cost taxpayers an estimated $72 million. JS McCain III was the only man immediately transferred to another vessel. McCain's transfer to the USS Oriskany was probably to forestall retaliation by surviving sailors.
JS McCain III's capture by the North Vietnamese in 1967 after his plane was shot down over Hanoi was tragic, as was any possible torture or other mistreatment he may have suffered.
Pain and suffering notwithstanding, absent from his—or any official account—are the claims of fellow prisoners who describe "38 propaganda radio broadcasts for Radio Hanoi."
JS McCain III's "breaking point" reportedly included limousine trips to Hanoi restaurants with a Vietnamese general, a hotel room with complimentary prostitutes and a general disregard for his "buddies."
More than one "Hanoi Hilton" survivor has come forward with damning accounts of JS McCain III's treasonous behavior, debunking his claims of "solitary confinement." These charges by witnesses were documented on film (see ad for Missing, Presumed Dead page 16).
Detailed eyewitness accounts of (now retired) U.S. Air Force personnel stationed in Vietnam during JS McCain III's POW detainment reveal that photos of JS McCain III were "plastered on the walls of their SOG (Special Operations Group) headquarters" as a grim reminder of his treasonous complicity with North Vietnamese military personnel. The photographs depicted JS McCain III, "in street clothes, getting out of a general's staff car before entering a restaurant in Hanoi. Some former POWs claim they "had not seen Capt. JS McCain III for one year."
Upon the release of hundreds of POWs on March 14, 1973, at least 16 arrest warrants for treason were served (by FBI agents) upon some of the former detainees, including JS McCain III, as they boarded their transport plane. The warrants were subsequently quashed, likely by President Lyndon Baines Johnson.
In 1991, (Senator) JS McCain III sponsored a bill that was signed into law by President GHW Bush that effectively sealed, in perpetuity, the records of Vietnam-era POWs. As a senator, JS McCain III has repeatedly used his office to deny public and congressional access to those records. Decades of attempts by members of Congress and private parties to "unseal" those records, including JS McCain III's POW records, have thus far been fruitless.
Several incidents, available on YouTube, demonstrate a pattern of conduct that would prove to reasonable people that JS McCain III is an unstable man prone to outbursts of anger and profanity.
In December, 2007, a soldier based in Iraq described a chance encounter with (Sen.) JS McCain III. The soldier claims to have seen JS McCain III "talking to the walls, the ceiling and to the table where he sat." He seemed "disoriented, confused, and non-responsive."
Upon leaving the room where JS McCain III was seated, an officer who entered the room had suggested that the senator follow him so he could "change his pants." McCain was oblivious to the fact that he had "wet himself."
Who (what) is this guy?
The birth records from the Panama Department of Health do not contain the name of John Sidney McCain, III. Those records (in book form) are retained by the National Archives.
The omission cannot be dismissed as a simple, bureaucratic "snafu" for several reasons. The U.S. Naval Hospital at Coco Solo, Panama, could not have been the "birthplace" of JS McCain III, who was purportedly born in 1936. President Franklin D. Roosevelt's "Executive Order 8981 - Navy Hospital Area, Coco Solo, Canal Zone," was signed December 17, 1941. It authorized the creation of the base hospital boundaries entitled, "Boundary Map of Navy Hospital Area, Coco Solo, Canal Zone."
The land surveys for the hospital construction had been completed in May, 1941, nearly five years after the birth of JS McCain III. The base had no hospital in 1936, so McCain could not have been born on U.S. sovereign territory, even if the base was leased.
So, where was JS McCain III born? Who were his parents? Who were his grandparents? Who were his great grandparents? A sufficient lack of evidence proves that four generations of "McCains" cannot prove that they are McCains.
The evidence shows that JS McCain III, through his father and grandfather, is directly connected to the British Crown via Prince Albert/Edward VII.
Historical accounts about Edward VII and his sons, Albert Victor, who himself was involved in a case of 'Illegitimacy', and George Fredrick Ernest Albert (George V) included the recurring descriptions of "inferior scholastic ability" and "little or no interest in learning." Both sons were enrolled in the Royal Navy. The same traits were mirrored by all three generations of the "McCain" family.
And so, as promised, we have learned about some 'dirty little secrets' which add up to one big secret. There are no limits to what those in power will do in order to acquire all the power.
John McCain is correct in claiming "bloodlines traceable to British royalty," but he is incorrect in his account of how that happened.
Americans deserve better—or do we?
http://web.mac.com/donnicoloff/directlightproductions.com/Articles/Entries/2008/9/15_The_Three_Stooges_go_to_Washington:_Part_3Barack_Hussein_Obama.html