[back] Swietochlowice camp Salomon Morel
Israelis Protect Concentration Camp Boss
Adam LeBor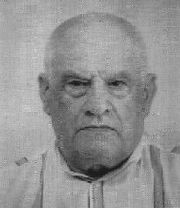 The Indepedent | December 29, 1998
An extradition request by Polish authorities for an alleged former commander of a Stalinist-era detention camp now living in Tel Aviv has been rejected by Israel.
Salomon Morel is wanted by the prosecutor's office in the southern Polish city of Katowice. He is charged with crimes against humanity while he was commander of the Swietochlowice camp where more than 3,000 prisoners, mainly Germans, but also including several citizens of allied and neutral nations, were held during 1945.
A reply sent to the Polish Justice Ministry from Israeli authorities said that Israel would not extradite Mr Morel. Officials said the crimes with which he is charged are not perceived in Israel as genocide, and so are subject to the statute of limitations, the Polish news agency PAP reported.
The demand by Polish authorities for Mr Morel's extradition is the second attempt this month to bring back former Communist officials. The Polish military prosecutor in Warsaw recently issued an arrest warrant for Helena Brus, formerly Wolinska, now married to an Oxford don.
During the 1950s Ms Wolinska worked as a military prosecutor in Warsaw, issuing arrest warrants. Many of those detained under her orders were later hanged. Both Mr Morel and Mrs Brus are Jewish.
Swietochlowice was set up by the Soviet NKVD - forerunner of the KGB - after the Red Army's liberation of southern Poland. The camp was later handed over to the Polish secret service, the notorious UB.
Stalin's policy was to put Jews in charge of camps. Their experiences during the Nazi Holocaust would mean that Germans and Poles held there could expect little mercy. More than half of the 3,000 prisoners at Swietochlowice were murdered or died there, according to PAP.
Dorota Boriczek, a camp survivor, remembers Salomon Morel as a barbaric and cruel man who, with his colleagues, was responsible for many killings of inmates. "I knew Morel in the camp. He was a very brutal man. He was young then. He would come in at night. We could hear the cries of the men then. They would beat them and throw the bodies out of the window," Mrs Boriczek, now 68 andliving in Ludswigberg, Germany, told The Independent.
"I was taken there when I was 14, with my mother. I still don't know why we were there and I still want to know. They told us when we arrived, 'You are here, and you are here to die, although nobody will shoot you, because ammunition is too expensive'."
Conditions in the camp were horrific, said Mrs Boriczek, who has begun a legal process in Katowice to try to find out why she was sent to the camp.
"There was nothing to eat, a hunger that you cannot imagine. We were lucky to have a piece of bread once a day, nothing else, and water. Both my mother and I had typhus. We were separated and I didn't know she was alive. I had a high fever and when I opened my eyes, I was sleeping next to a lady from Switzerland. I slept with her under one blanket. I was happy that she was dead, because that meant I could have her blanket."
Mr Morel, born in 1919, lost much of his family in the Holocaust before joining the partisans, in his case a Jewish military unit, according to John Sack, the American author of An Eye for An Eye: The Untold Story of Jewish Revenge Against Germans in 1945.
In 1995, 50 years after her imprisonment at Swietochlowice, Mrs Boriczek saw Mr Morel in the Katowice prosecutor's office. She said she felt more pity than hatred.
"I hated him all my life and then when I saw him I saw an old, fat man. I could see he was ill. I would even have given him my hand. I asked him why he did these crimes. He told me I was lying and everybody loved him."
Mr Morel refused to speak to The Independent. A man in Tel Aviv who identified himself as Mr Morel's son said his father did not talk to journalists.