Clive Davis
Music
Pandora's Box, Ray J-Little Lucifer, Young Buck, Clive Davis & the Assassination of Whitney Houston
[2012 Feb] Whitney Houston, the Devil in the Details & The Satanic Sacrifice of the Symbolic Black Diva Clive Davis born in 1932 in New York is an elite music industry executive made and maintained by privilege, class, race and oligarchy. In 1966, Columbia Broadcasting System (CBS) reorganized its corporate structure which made CBS Records a separate-special unit of CBS controlled by Clive Davis.
Davis was born and rose from the Columbian ILLUMINATI of New York.[9] According to the late investigative reporter Eustace Mullins, Clive Davis' benefactor in 1966, CBS's late Founder and Chairman of Board William S. Paley, was both a conduit and operative for the CIA. Many directors of CBS had CIA ties.[10]
The CIA learned the art of deception by overlaying its inner core group with members of elite secret blood oath societies from the country's fore fathers and most recently from the Nazis. Whereas, their primary duties become maintaining secrecy instead of the U.S. Constitution....The CBS Records Group was led by Clive Davis until his dismissal in 1972, after it was discovered that he had used CBS funds to finance his personal life, including an expensive bar mitzvah party for his son. We call it elite white collar corporate felony embezzlement with criminal impunity.[12]
...In June 2011 on L.A. radio station KOST 103.5′s morning show, Davis admitted that he had lost interest in Whitney Houston. Davis flat out said he would never get back on the bandwagon with Whitney unless her graceful voice returned. Davis said "Whitney has admitted that she's had to conquer a drug addiction. That takes all of her energy. She also has had a very difficult time giving up cigarettes. In comparison, it sounds slight. But if you do have a cigarette problem in this instance, you can't give it up. It is taking all of her energy. I know that she's committed to do it. I know that she loves music. Right now she's dealing with that situation and we're not going to make another record or an album until that golden voice is there and is fully capable to knock everyone out."[15]
.......Clive Davis is not interested in Whitney Houston as a human being and friend, or her music for the sake of uplifting, healing and spiritual inspiration. His concern is mass media manipulation, regulation and control. He is a Luciferian/ILLUMINATI regulator that conspires in all things in a secret paradigm shift to ruthlessly control the flow, content and message of Black Music and artists, and the minds of the masses, globally.
The late beautiful and spiritual Phyllis Hyman had an extraordinary voice and remarkable stunning 6' 2" presence. Phyllis was signed to Buddha Records who came under Arista's ownership while Clive Davis was president of the label. During the four years that Hyman was under Davis' mentorship, she came to loathe him. According to some, Phyllis was a very proud and opinionated woman who irked Davis, who was rumored to be a closeted homosexual pedophile.
Reportedly, Hyman became stunned that Clive Davis would not consider giving her R & B ballads a chance. Hyman remade the hit of the Stylistics "Betcha By Golly Wow". She thought that its success would demonstrate a continuous trend of the success of R&B for the future. However, Davis had a different global agenda that they could manipulate and control through Pop Music. He wanted to control Hyman's music, content and message. Davis demanded that she drop R&B and Jazz Genres with its deep African roots and influences; crossover and sell and promote corporate controlled Pop music.
Queen Divine as she knew that she had been, Hyman rebelled and was left deliberately unrecorded for four years to quell her message. Due to contractual obligations to Clive Davis and Arista, she couldn't sign with another label. Like Michael Jackson and Sony-Arista records tried to destroy Hyman's career by deleting her key albums and CDs. They also conspired to prevent her from recording full length albums elsewhere. During Phyllis' legal battles with Arista, Clive Davis promoted Dionne Warwick, Aretha Franklin, Angelea Bofill and 22 year old Whitney Houston in 1985.
In June 1995, 46 year old Phyllis Hyman was found dead in her New York apartment. The coroner listed the cause of death as an intentional overdose of pentobarbital and secobarbital (sleeping pills).[20] Five months after her death, Clive Davis released her last album, "I Refuse to Be Lonely." The album reached #12 in the Billboard R&B album chart, and peaked at #67 in the Billboard 200.[21] In regards to Phyllis Hyman, nobody seemed to have questioned her death and looked for the Devil in the Details. If anyone wanted her dead, it was Clive Davis. Queen Diva had been extremely vocal and public in exposing Clive Davis as a high level pedophile.
[2012 Feb] Sacrifice of Whitney Houston
Clive Davis: Satan's Son (Part-1)
Clive Davis: Satan's Son (Part-2)
Clive Davis: Satan's Son (Part-3)
Clive Davis: Satan's Son (Part-4)
Clive Davis: Satan's Son (Part-5)
Clive Davis: Satan's Son (Part-6)
Clive Davis: Satan's Son (The Finale)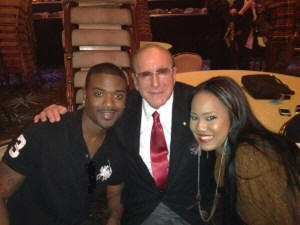 Ray J
Music Legend Reveals Secrets About Artists and His Sexuality

By Cynthia McFadden | ABC News – 23 hrs ago.

Clive Davis is a force of nature.

His musical enthusiasms are legendary - as is his break-neck schedule - and those so-called "golden ears."

Not only did he discover talent as wide-ranging as Janis Joplin, Santana, Whitney Houston and Alicia Keys, he has recorded everyone from Bob Dylan and Bruce Springsteen to Dionne Warwick and Aretha Franklin. There were the Grateful Dead and Aerosmith. Did I mention, Barry Manilow, Jennifer Hudson and Kelly Clarkson? He formed a company with L.A. Reid and Babyface, which became home base for Usher and Pink. With Sean "Puffy" Combs he founded Bad Boy Records and recorded Notorious B.I.G. The list does go on and on.

Nearly 50 years after the one-time lawyer became the president of CBS Records, he remains a vital force in the music industry. Davis, now 80, reigns as the chief creative officer of Sony Music Entertainment and just last week he appeared on the cover of Billboard Magazine's power issue.

Now comes his autobiography, "The Sound Track of My Life," in which he chronicles a childhood in Brooklyn, the loss of his parents when he was still a teen and his triumphant, scholarship-supported march through New York University and then Harvard Law School.

The over 500-page book is filled with the often juicy behind-the-scenes stories of some of the best known artists of our time: How Janice Joplin suggested she perform a sexual act with him to seal their deal, how John Lennon offered him insight to the creative process, the false accusations of embezzlement that ended his career at CBS.

And there are deeply personal revelations: The end of his two marriages, and in the final chapter, Davis discusses his sexuality. He is bisexual, he told me. Since the end of his second marriage in 1985, he has been sexually involved with men. At first with both men and women, Davis said, but for the past 20 years with two male partners: A doctor for 13 years and for the past seven, with another man he does not name.

He tells me bisexuality is "maligned and misunderstood" but that it is his truth and he decided it was time for him to say so publicly. I asked Davis about the old adage that people are "either gay, straight or lying."

"I'm not lying," Davis said. "[Bisexuality] does exist. For over 50 years I never had sex with a male. It wasn't repressed. I had very good sexual relationships with women."

When pressed about why he doesn't name the men he has had relationships with, he said it is their privacy he is protecting, not his own.

We have followed Davis around for much of the past month - trying to keep up. From his extraordinary office at the top of New York's Sony Building, to his stunning, art-filled New York duplex and finally to his bungalow at the Beverly Hills Hotel, Davis is fun to be around. Something is always happening. New young composers want to meet with him, senior citizen superstars need his ear. He is always unruffled. Has time for everyone. The necktie and handkerchief always match.

And music, there is always more music.

http://news.yahoo.com/music-legend-r...lebrities.html