It stinks! Art critic Julian Spalding was banned from Damien Hirst's Tate exhibition after calling him a talentless conman... but we smuggled him in - and here's his verdict
PUBLISHED: 22:10, 7 April 2012 | UPDATED: 22:11, 7 April 2012
There is no party more tantalising than one you're banned from. It was in that spirit that I joined the 100-strong throng outside the Tate Modern art gallery in London on Thursday to see the Damien Hirst exhibition. But while my fellow queuers were buzzing in anticipation of Hirst's dots, pills and those dead animals, I was just relieved I hadn't been barred by the bouncers.
That's exactly what happened when I tried to visit the exhibition earlier this week with a BBC camera crew in tow. Dozens of reporters and cameramen swept into the press screening, but my film crew and I weren't allowed past the door.
As former Director of the Glasgow Museums and author of five art books, I've been welcomed into hundreds of galleries around the world, but a feature I wrote for last week's Mail on Sunday must have touched a nerve with the Tate's bosses and earned me a place on their blacklist.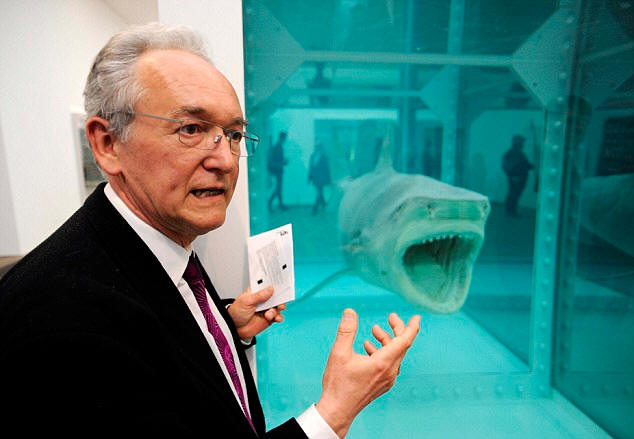 Sinking feeling: Julian Spalding contemplates Hirst's shark in formaldehyde at the Tate Modern
I had dared to say what many of my colleagues secretly think: Con Art, the so-called Conceptual Art movement, is little more than a money-spinning con, rather like the emperor's new clothes. That goes for the 'artist' Carl Andre who sold a stack of bricks for £2,297. It goes for Marcel Duchamp, whose old 'urinal' was bought by the Tate for $500,000 (about £300,000). It goes for Tracey Emin's grubby old bed. And, of course, it goes for Damien Hirst.
I was determined to set aside my preconceptions and experience the Damien Hirst retrospective, which opened on Wednesday and will close in September. I've long believed him to be a money-hungry charlatan but as the richest living artist at the age of 46, he must be doing something right.
He was worth £215 million in 2010, according to the Sunday Times Rich List, and he pulls in visitor numbers each day that many galleries would be lucky to draw in a month, so surely I've been unfair.
Yet four hours later I emerged from the exhibition weary, miserable and desperate to clear the lingering stench of rotten cow from my nose. Were there not a Tate fatwa stamped on my head, I might have stood in front of the hundreds still queuing to pay the £14 admission and shouted: 'Stop.'
Of course, people should decide for themselves. But judging by the surly expressions of those dripping out, I wasn't the only one left feeling drained – and conned.
In a series of conversations, I found out what propels people, many of whom rarely visit art galleries, to queue for 60 minutes for this marketing circus. 'Is it art?' I asked and pointed at a shark preserved in formaldehyde, a wall of dots, and flies feasting on a dead cow's head.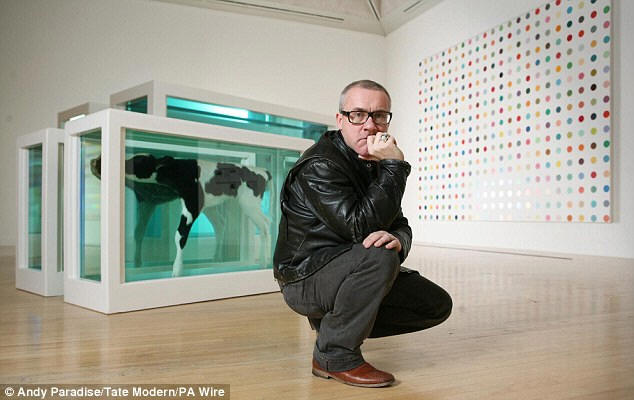 Defining work: The artist with Mother and Child Divided, which comprises a cow and a calf cut in half and preserved in formaldehyde. The work is part of the Damien Hirst exhibition at Tate Modern, London, which runs from April 5 to September 9
'Of course it is, it's a Damien Hirst.' One plummy-voiced blonde accompanied by a gaggle of children looked offended that I'd dared to ask. But why is it art? 'Because it makes you feel something.' When I asked what it makes them feel, most referred me to the guidebook explanations.
What quickly becomes apparent is that it is like a religion. Everyone is strangely committed to the cult of Hirst – but few can articulate what is fantastic about a soggy, sad-looking shark, preserved in a vitrine with all the menace of a sagging sofa.
Created by a Turner Prize winning artist, the dead tiger shark, grandly named The Physical Impossibility Of Death In The Mind Of Someone Living, should be one of the great artworks of the last century, yet most visitors spent less than three seconds looking at it.
What is also striking is the way disoriented visitors drift around the gallery. Traditionally, in exhibitions of 'real art', visitors cluster around the paintings or sculptures while the rest of the gallery is empty.
The Hirst exhibition is another matter. People mill about like unmagnetised iron filings. Why? Nobody is engaged. One enormous spot painting is half hidden behind a formaldehyde-preserved cow.
Smaller vitrines containing skulls are dumped on the floor at random. A young boy trips over one and stops to look at it. 'Why are you looking at that? It's revolting,' I say.
'It is, isn't it?' the boy's mother replies. 'I have strange children.'
In fact, the only exhibit in the main exhibition (for the diamond skull is shown separately) drawing a large crowd is a cordoned-off room called In And Out Of Love, which contains exotic butterflies and bowls of fruit. Nobody in the 40-deep queue looks at the spot paintings on the nearby wall or the Ikea-style desk with an overflowing ashtray on it.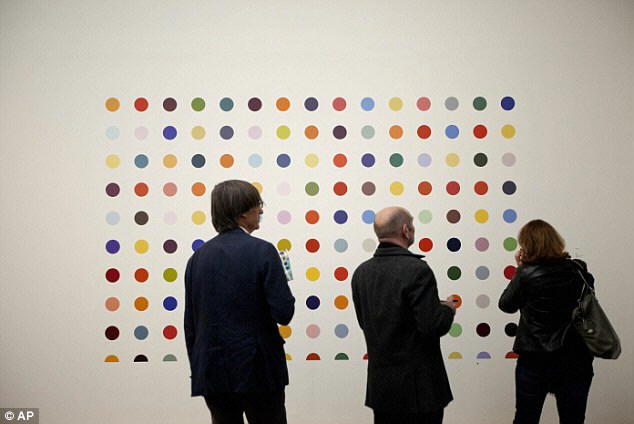 'Is it art?': Hirst's 1986 piece Spot Painting, household gloss on board. Julian Spalding says those he spoke to struggled to explain what was so special about the works on show
Thirty minutes later, we reach the front, and are granted two minutes' access to a small humid room of butterflies, a lot less impressive than the Butterfly House at Berkeley Castle – which costs only £3.50 to visit.
This confusion begins in the first room. Few people notice the first exhibit, Kitchen Cupboard, a shiny orange Formica unit made in 1987. 'Is it a fire extinguisher case or part of the show?' asks one baffled man. Nobody answers because nobody else is looking at it.
Few pause at the grubby spot painting leaning carelessly against a wall. Worse, the glass case containing a string of limp sausages, imaginatively entitled 'Sausages', is held together with grubby gaffer tape.
Whoever was responsible for refreshing the paintings with butterflies didn't notice that a butterfly's abdomen has fallen away and the wings disintegrated.
One of the only exhibits to sustain visitors' attention for more than a couple of seconds is a grotesque black-and-white photograph taken in 1981. In it, Hirst grins and holds up a severed head with an uncanny resemblance to Sir Winston Churchill. Back then, Hirst was a sixth-form student. He scored an E-grade in A-level art and later wormed his way on to the Fine Art course at Goldsmiths, University of London, after first being rejected. Tellingly, the Tate has excluded Hirst's paintings. Quite simply, Hirst can't paint.
It was at Goldsmiths that he met Charles Saatchi, who would propel him from chancer to millionaire before they parted company in 2003 after a disagreement over the way Hirst's works were staged at Saatchi's gallery.
Around that time, Hirst admitted: 'I can't wait to get into a position to make really bad art and get away with it.' Which raises the question: is he consciously playing us for fools?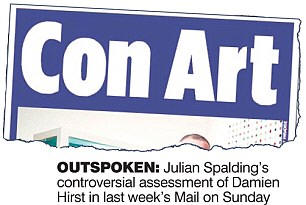 I put this to an accountant from Norwich, who was gazing intently at a wall of preserved fish that could have been plucked from the Natural History Museum. 'I like the fact that Hirst put the skinned animal skulls next to the fish, which have skin,' says Giles Kerkham.
When I inform him that Hirst has amassed £215 million from such juxtapositions, he concedes, 'No one's worth that.'
'Think of all the hungry people in the world you could feed with that,' says teaching assistant Kathryn Gynn as we stand in front of For The Love Of God, a skull encrusted with 8,601 diamonds that was reportedly sold for £50 million.
But it is the rotting cow head, called A Thousand Years, that I can't bear to look at. Blood trickles out of it, swarms of flies feast on it and the horrific stench is pumped into the gallery. 'It's very macabre,' says Craig Thurlby. What an understatement. 'I interpret the flies and cow as life and death, so I guess it has meaning and stuff,' says Craig.
'Isn't Hirst just playing us for fools?' I explode.
'Probably,' agrees Craig. 'If he is, he's doing a bloody good job of it.'
Standing next to him, two young men shake their heads. 'I don't like any of it,' one says. So why did they come? 'We just wanted to see what everyone's raving about.'
The same goes for a Moroccan tourist who hadn't heard of Hirst until today. His reaction? 'It's not very nice.'
I bump into the same two young men at the sausages. 'What's Hirst's meaning?' I ask them.
'Maybe he was hungry.' I can't imagine a more accurate answer.
One wonders why Hirst even agreed to be shown in the Tate. After all, in an interview in 1996, he said: 'Museums are for dead artists. I'd never show my work in the Tate.'
Dead artists, indeed. For Hirst's most loyal cult followers might champion this exhibition as his mid-career celebration, but the shrewder ones can see through his nonsensical cons. They see the truth: that Hirst, at 46, has reached the realms of dead artists. And this exhibition is his grubby, inglorious obituary.
Julian Spalding is an independent curator and museums consultant. His book Con Art – Why You Ought To Sell Your Damien Hirsts While You Can is available via Amazon Kindle.