Robert Kardashian
Robert George Kardashian (February 22, 1944 – September 30, 2003) was an American attorney and businessman. He gained national recognition as O. J. Simpson's friend and defense attorney during the latter's 1995 murder trial. Kardashian was also the father of celebrity socialites Kim Kardashian, Khloe Kardashian and Kourtney Kardashian.
Kardashian, Kim
Kardashian, Khloe
Lawyer to: O.J. Simpson
[THE O.J. COVER-UP] BRESNAHAN SERIES IN WORLDNETDAILY
[1999]

Why

Kardashian

got free ride. Attorney cooperating with feds in major investigation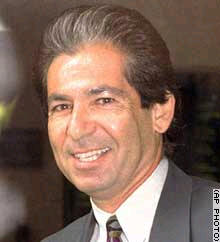 Robert Kardashian (February 22, 1944 - September 30, 2003) was a defense lawyer in the trial of O.J. Simpson. When O.J. & AC returned from Chicago following the murder of his wife, Robert Kardashian met him at the airport and handled his luggage, some of which was never seen again. In the days following the murder, O. J. Simpson stayed in Kardashian's house.
When O.J. Simpson failed to turn himself in at 11 a.m. on June 17, Kardashian, a friend of Simpson, then read a rambling letter by Simpson to the collected media. In the letter Simpson said, "First everyone understand I had nothing to do with Nicole's murder.... Don't feel sorry for me. I've had a great life." To many this sounded like a suicide note and the reporters then actively joined the search for Simpson.
Kardashian and O.J. first met while playing tennis, nearly 30 years ago. They were close friends ever since. When O.J. was sued for murder, it was 20 years after Kardashian was last in a courtroom. Kardashian's license to practice law had expired three years before. He reactivated his license to aid in O.J.'s defense, as a volunteer on his legal team. He sat by O.J. throughout the trial.
Cocaine dealer William Wasz claimed that he sold cocaine to Kardashian, O.J. Simpson and Nicole Simpson, but that Kardashian gave the drugs to clients and didn't use the drugs himself. Wasz also said that Kardashian and O.J. were involved in money laundering, prostitution, pornography, sports betting, and point shaving. In January 1994, Kardashian hired Wasz to follow Nicole and take pictures of other men she might be with, to prove her unfaithfulness to O.J., said Wasz.
Some time after the trial, Kardashian expressed doubts about O.J. Simpsons innocence in a way which lead to a California bar investigation1. Although this strained his relationship with O.J. Simpson at the time, by the time of his death they had "put it aside" and after his death, Simpson said "Bob was there when I needed him most." Kardashian died of esophageal cancer on September 30, 2003.