[2012 June] EU should 'undermine national homogeneity' says UN migration chief
[2012 May] Robert Mugabe asked to be UN 'leader for tourism' The Zimbabwe president, accused of ethnic cleansing and bankrupting his country, asked to champion tourism
[2012 April] Is the UN Redefining Pedophilia?
[vid] EPA a tool for UN Agenda 21
[2012 Jan] Has the UN learned lessons of Bosnian sex slavery revealed in Rachel Weisz film? everything in the film is true. The film deals with enslavement and rape in Bosnia, not during wartime 20 years ago but during the peace. Worse, not only were the enslaved women's "clients" soldiers and police officers – so too were the traffickers, protected at the top of the United Nations operation in Bosnia. Such was the crisis sparked by the ensuing film last year that the UN secretary general, Ban Ki-moon, was obliged in October to stage a special screening and to pledge action. But now it emerges that senior UN officials tried to belittle the film and play it down, while the whistleblower herself warns that, for all the UN's professed resolve, "unfortunately, the widespread horror is already there. This is not going to be simple or a quick fix." Moreover, the UN has shut down effective anti-trafficking initiatives by its own gender affairs chief in Bosnia.
[2012 Jan] Manipulation of the UN Security Council in support of the US-NATO Military Agenda By Carla Stea
[vid 2012 Jan] U.N. study is 'fabricated' pretext for war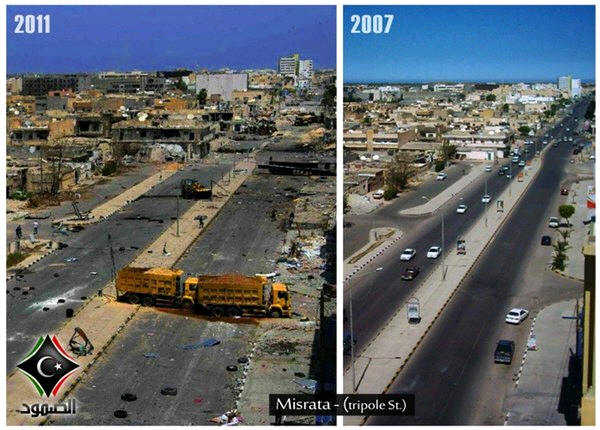 [2011 Oct] Libya Before and After Image Shows What a NATO/UN Humanitarian Mission Looks Like
[2011 Sept] Libya and the Big Lie: Using Human Rights Organizations to Launch Wars by Mahdi Darius Nazemroaya. The war against Libya is built on fraud. The UN Security Council passed two resolutions against Libya on the basis of unproven claims that Qaddafi was killing his own people in Benghazi.
[2010] U.S./U.N. cover-up of Kagame's genocide in Rwanda and Congo by Juan Carrero
[2010] The Rwandan Patriotic Front's Bloody Record and the History of UN Cover-Ups by Christopher Black the Kagame dictatorship is a client of the United States and "acts as a mercenary for U.S. interests in Africa," as Glen Ford observes; the current conflict between this dictatorship and the UN "threatens to reveal the United States' role as enabler in the deaths of as many as six million people while Washington's allies occupied and looted the eastern regions of the Democratic Republic of Congo."
[2010] THE TRUTH ABOUT RWANDA by Christopher Black As far back as December 1993, UN reports document the massive build-up of men and weapons coming into Rwanda from Uganda. The UN force that was deployed supposedly to ensure a peaceful transition, in fact, was a cover for the U.S. and its allies to assist in this build-up. General Roméo Dallaire, the Canadian general in charge of the UN force, hid this build-up from the Rwandan army and the President. The build-up was accompanied by death threats against President Habyarimana. In October 1993, according to an account of Habyarimana's last conversation with Zairian president Mobutu just two days before the Rwandan president was murdered, U.S. State Dept. representative Herman Cohen told President Habyarimana that unless he ceded all power to the RPF, they would kill him and drag his body through the streets. He received the same threat from the Belgians and the Canadians through General Dallaire. These threats were punctuated by the murder of the Hutu president of Burundi by Tutsi officers in October 1993, another assassination in which Kagame and the RPF had a hand. In the aftermath of that murder, 250,000 Hutus were massacred by the Tutsi army of Burundi, and hundreds of thousands of Hutus fled to Rwanda.
........The RPF was directly assisted in this offensive by the U.S., which set up the UN Rwanda Emergency Office in Nairobi, manning it with U.S. Army officers and acting as the operational headquarters of the RPF to give them intelligence on Rwandan Army troop movements, actions and directions. Prudence Bushnell, Deputy Assistant Secretary of State for African Affairs under Ambassador George Moose, telephoned the Rwandan Army chief of staff in May 1994 and told him that, unless he surrendered, he must know that he would be fighting the United States of America and would be defeated. U.S. Special Forces fought along side the RPF. There is also evidence of the Belgian UN forces involvement from an intercepted radio message sent by Kagame to his forces in the field and referring to the help the RPF had received from the Belgians.
[2011 Sept] Wikileaks Exposes UN Eritrean Sanction Lies by Thomas C. Mountain
[2010] The Rwandan Patriotic Front's Bloody Record and the History of UN Cover-Ups by Christopher Black
[2009] The U.N. IN CONGO : WATCHDOG OF THE GREAT MINING INTERESTS by Juan Carrero
[2009] A LARGE INTERNATIONAL MAFIA NETWORK Its powerful ally: the widespread ignorance worldwide about the events in Sub-Saharan Africa by Juan Carrero Saralegui
[2008] The Great Rwanda "Genocide Coverup" by Prof. Peter Erlinder According to sworn affidavits placed in the ICTR record in early 2006, more than 10 years ago, ICTR Lead Investigative Prosecutor, well-respected Australian QC Michael Hourigan, recommended that Kagame, himself, be prosecuted for the assassination of Habyarimana. But, in 1997, then-Chief UN Prosecutor Louise Arbour of Canada ordered him to drop the Kagame investigation; to forget it ever happened; and, to burn his notes ! Hourigan resigned rather than comply and copies of his original notes are now part of the ICTR public record for all to see.
The Hourigan affidavit makes clear that the "Rwanda Genocide"-- Cover-up has been going on for at least a decade....but the reasons for the cover-up did not become clear until late 2007, when a senior Clinton Administration diplomat, Brian Atwood, was confronted with UN documents describing a 1994 "cover-up" meeting with the Rwandan Foreign Minister in Kigali and the UN's Kofi Annan. According to the UN documents, U.S.-sponsored human rights reports by investigator, Robert Gersony, had documented massive military-style executions of civilians by Kagame's troops, during and after the final 90-days of the four-year Rwanda War.
The former Rwandan Foreign Minister at the meeting, Jean Marie Ndagiyimana, testified at the ICTR that, rather than participate in the proposed "cover-up," he resigned and went into exile where he remains today. His ICTR testimony confirmed that Clinton's USAID Chief for Africa, Brian Atwood, and the chief of the UN Department of Peace Keeping Operations Kofi Annan, were both in his office in late October 1994 urging him to assist in the "cover-up" the war-crimes committed by Kagame's forces.
[2007] UN staff accused of raping children in Sudan Members of the United Nations peacekeeping forces in southern Sudan are facing allegations of raping and abusing children as young as 12.....more than 20 victims' accounts claiming that some peacekeeping and civilian staff based in the town are regularly picking up young children in their UN vehicles and forcing them to have sex. It is thought that hundreds of children may have been abused.
[2004] Sex and Drugs at the UN "Almost a million civilians [whom] our peacekeepers were supposed to protect died in two genocides,"
[2004] Nato force 'feeds Kosovo sex trade' Amnesty said Nato soldiers, UN police, and western aid workers operated with near impunity in exploiting the victims of the sex traffickers.
[2003] UN ship 'carried child prostitutes'
[2003] Peacekeeper jailed for porn films In an interview from her prison cell, she said the soldier had told her he was making the video for "remembrance" and would marry her and bring her to Ireland, where he said he owned a hotel.
[2003] UN troops accused of 'systematic' rape in Sierra Leone Rebels, government troops and United Nations peacekeepers were all guilty of raping women on a systematic scale throughout Sierra Leone's brutal civil war, a leading international human rights group reported yesterday.
[2002] U.N. Finally Forced to Probe Its Pedophilia Scandal "Agency workers from the international and local NGOs as well as U.N. agencies were ranked as among the worst sex exploiters of children, often using the very humanitarian aid and services intended to benefit the refugee population as a tool of exploitation." ...So let's see: Senior U.N. officials knew of the widespread pedophilia. Not only did they not take action against the perpetrators, they covered up the atrocities. And even after the scandal comes to light, most media give this major news event little or no coverage. Imagine the screaming headlines and worldwide outrage if the Catholic Church or any other church allowed sexual abuse of children on such a massive scale. Could the media establishment's pro-U.N., anti-religious bias have anything to do with the stunning discrepancy?
[2002] U.N. Slammed for Refugee Sex Scandal
[2002] Child sex book given out at U.N. summit
[2002] Teenagers 'used for sex by UN in Bosnia' A HUMAN rights investigator who claims she was sacked for exposing the sexual abuse of Bosnian women by her United Nations colleagues, told a tribunal yesterday that girls as young as 15 were offered for sex.
[2002] UN 'ignored' abuse at Kosovo mental homes Patients at United Nations mental institutions in Kosovo have been raped and physically attacked under the eyes of UN staff, held in "filthy and degrading" conditions, and threatened with punishment if they report the abuses, according to a damning investigation published in New York yesterday.