Prostate Cancer
Cancer
"Most medical doctors won't tell you that conventional treatments alone are not sufficient to solve prostate problems. In fact, of men who have had prostate surgery, 35% require retreatment within 5 years and 75% require additional treatment in 10 years! "---Larry Clapp
PROSTATE CANCER Ryke Geerd Hamer, M.D.
Stage 4 prostate cancer -- 100% remission after only using the oil for 3 weeks.
Prostate surgery ruins sex for men by Sam Biser & Richard Shulze, N.D., M.H.
[2012 May] Healed My (Prostate) Cancer, Now What?
[2011 March] 'I'm a ladies' man who can never make love': Andrew Lloyd Webber reveals prostate cancer battle has left him impotent
[2011 April] 20 year trial shows prostate cancer test not worth having.
Book: Prostate Health In 90 Days by Larry Clapp
[2008] Could vitamin C jabs cure cancer? This man says it's put his prostate tumour into reverse
Vitamin D, NSAIDS provide double whammy against prostate cancer
A Tape Transcription by Clifford Beckwith --Advanced prostate cancer
Miracle Mineral Supplement (MMS)
Shirleys Wellness Cafe http://www.shirleys-wellness-cafe.com/men.htm
Dr Rath MD (Cellular medicine) http://www.stopping-cancer-naturally.org/
Prostate Cancer http://www.savvypatients.com/proscanc.htm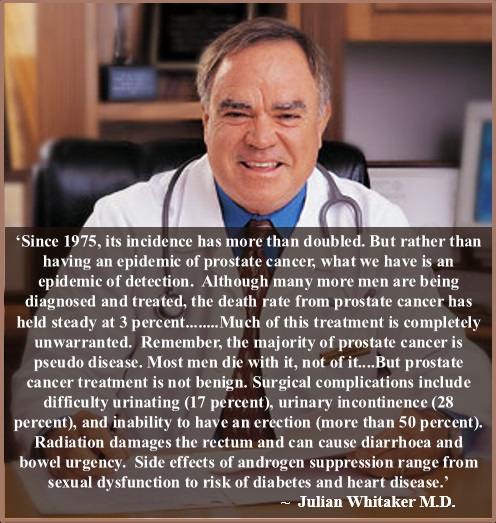 Whitaker, Julian M.D.
Whitaker, Julian M.D.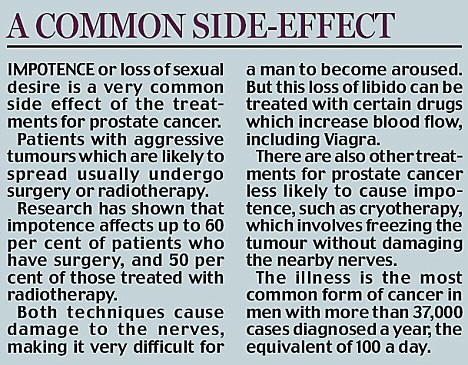 Simpson, Rick "Tom, I used this oil 3 yrs ago to kill stage 4 prostate cancer. I used hormone therapy to start with, and then found out about RSO. It works. I personally know dozens of people who use it everyday for many ailments. It is huge help for cancer patients, but I think my most astounding revelation has been curing someones severe psoriasis that they had over 90% of their body. By ingesting 1/4 to 1/2 gram of the oil a day for 6 weeks, this person has literally cured themselves of a condition they had suffered from since a child. I could go one for hrs of the things I have seen this oil do. You will see, keep your mind open, and do as Rick instructs, you will not be sorry." Dan Johnson
Larry Clapp:
I strongly recommend the Power Color Doppler Sonogram , to really see what
is going on in the prostate. When properly done, it shows on a take home
video and/or print out, every detail in the prostate, seminal vesicles and
bladder. It shows degrees of prostatitis, BPH, calcification, inflamation
and any tumor(s). Because it shows real time blood flow, it detects
abnormal flows that indicate that a tumor may be forming. Blood flow also
shows the agressivity, or lack of it, of any tumor.

The procedure is non-invasive, takes less than 10 minutes, is inexpensive,
compared to a biopsy and has no side effects.

Dr. Robert Bard, MD, Highly Credentialed Radiologist, in NYC, 212 355 7017,
is the only one I have found that has the technology and the protocol for
this examination.

BIOPSIES ARE UNRELIABLE, VERY RISKY, WEAKEN THE PROSTATE FURTHER BY INJURY
AND SCAR TISSUE, AGGRAVATE PROSTATITIS, CAUSE AND SPREAD CANCER, RISK
INCREASING DRAMATICALLY WITH EACH REPEAT BIOPSY.

SEE Dr. Robert Bard's site www.traumascan.com. That is my prostate there,
showing where the cancer was and a now healthy prostate, with normal blood
flow. This latest Sonogram technology shows every detail (even prostatitis)
in the prostate, every blood vessel, any tumor, calcification, scar tissue
and by examining the blood supply, how aggressive/regressive any tumor is,
far more information and reliability than any/many biopsies. Also a 5
minute, risk free, comfortable, inexpensive ($500 or most insurance),
noninvasive (small rectal probe) procedure, with a take home video of your
prostate.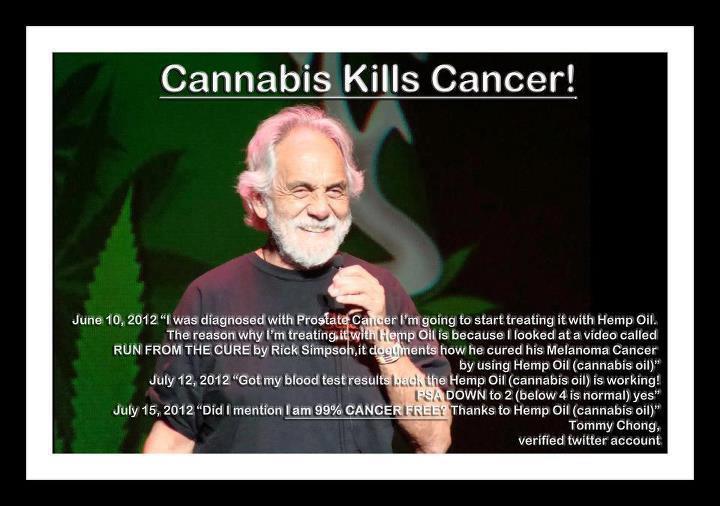 Cannabis & Hemp