Antibiotics
Drugs
"Gut flora is responsible for 70% of your immune system.....when you take antibiotics you napalm the whole of your body, the consequences of which can be long term." Hilary Butler
'There have been no deaths from vitamins in 27 years. Antibiotics cause 700,000 emergency room visits per year, just in the US.'----Andrew W. Saul
See: Dr Orian Truss Gut flora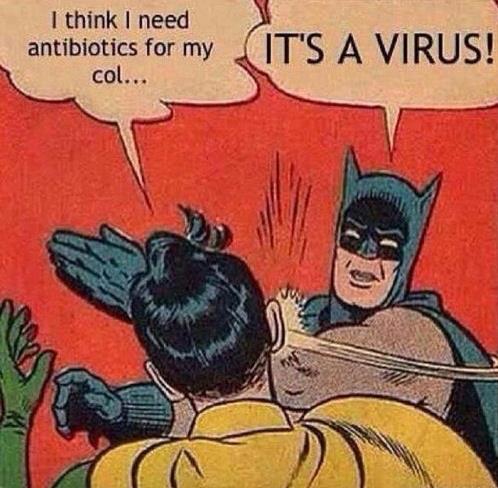 [2012] Antibiotics Make You Fat
[2012 Oct] Secret Papers Reveal Funding Refused to Researchers Looking Into Link Between Chronic Fatigue Syndrome and Vaccinations By Christina England Although Jones appeared to supply the MRC with sufficient documented evidence for funding to be granted, she was turned down in favor of other research projects that supplied less evidence to support their application. At the time of her application, ME/CFS was being portrayed as a psychiatric disorder and Jones wished to dispel this myth, proving that ME/CFS was in fact a physical disorder caused by vaccinations, in particular the tetanus vaccination and/or antibiotics.
[2012 Aug] Are antibiotics making your kids obese?
[2012 June] Whooping cough treatment by Hilary Butler Mainstream medical treatment of whooping cough is using antibiotics and "palliative" care. First up...., it doesn't work. They know that..., I know that..., but they won't tell you that, for the simple reason that... they have NOTHING else to offer you....If you use antibiotics, you can just about guarantee your child WILL BE sicker.
[2012 March] Unvaccinated people a public health threat? Nope, people who take antibiotics are the real danger
[2011 Oct] In Some Cases, Even Bad Bacteria May Be Good some researchers are exploring an equally unsettling possibility: Antibiotic abuse may also be contributing to the increasing incidence of obesity, as well as allergies, inflammatory bowel disease, asthma and gastroesophageal reflux.
[2011 Oct] Report: Antibiotics can permanently destroy gut flora balance, leading to lifelong illness
[2011 Aug] Pfizer pays out to Nigerian families of meningitis drug trial victims Pfizer was sued after 11 children died in a clinical trial.....A hundred children were given an experimental oral antibiotic called Trovan, while a further hundred received ceftriaxone, the "gold-standard" treatment of modern medicine. Five children died on Trovan and six on ceftriaxone.
[2011 May] Adverse reactions lead US patients to ask 'just how safe are antibiotics?' he was prescribed a toxic combination of drugs to treat lingering symptoms of what his doctor thought was prostatitis. Ten years later, he suffers from permanent brain damage, is on disability and has lost more than $3 million in medical costs and income. Grozier was prescribed a combination of ciprofloxacin and vioxx, a nonsteroidal anti-inflammatory drug.
[2009 Dec] Solution to killer superbug found in Norway
[2009 Nov] Study Links Some Antibiotics With Birth Defects; Others Appear Safe For Fetus
[2002] Two Out of Three Babies Receive Antibiotics by First Birthday
[July 2009] Antibiotics linked to recurrent ear infections by Michael Woodhead
[2009 Feb Minocin] Teen dies after taking acne pills
[2008 nov] Study shows antibiotics disrupt gut
[2008] Cerebral palsy link to antibiotics given during premature birth
The Post-Antibiotic Age: Germ Theory by Tim O'Shea
Chloramphenicol
Ciprofloxacin
Erythromycin
Neomycin
Telithromycin (KetekŪ)
Drug Induced Meningitis (DIAM)
Infant Antibiotic (erythromycin) Can Cause Severe Stomach Disorder
AIDS [See: Pharmaceutical AIDS]
[2001] The role of antibiotics in the emergence of AIDS by the Study group AIDS therapy (08.05.01)
Chemoantibiotics, a principal cause of AIDS defining illnesses in developed and developing countries
Meningitis
[Media UK, 1996] Meningitis clusters linked to antibiotics (erythromycin)
Asthma
Antibiotics can cause asthma by Lisa Landymore-Lim
[Media May 2002] Disease link to antibiotics in pregnancy
Animal
Warning over frozen seafood (2001) (chloramphenicol)
Salinomycin (animal)


Aajonus Vonderplanitz