Pfizer Pays $14.5M To Settle Detrol Off-Label Suit
20 Oct 2011
Five years ago, a pair of former Pfizer sales reps accused Pfizer of illegally marketing its Detrol pill as a salve for enlarged prostates, even though the pill had only been approved to treat overactive bladders. Now, the drugmaker has agreed to pay $14.5 million to settle the charges in what is only the latest in a string of cases in which Pfizer engaged in off-label marketing.
The lawsuit, which the US Department of Justice declined to join, was brought by David Wetherholt and Marci Drimer, who also claim they suffered retaliation and wrongful termination for pursuing the whistleblower charges. However, their attorney, Tom Greene, declined to comment on whether claims concerning wrongful termination were settled.
Why did Pfizer covet the enlarged prostate crowd? Detrol was largely prescribed to women, but sales would grow if a way could be found to market the pill to men. And since the prevalence of enlarged prostates rises steadily as men grow older, "the sharply increasing prevalence of benign prostate hyperplasia after age 40 points to a veritable gold mine," according to the lawsuit.
And so, Pfizer sought to boost Detrol by paying illegal kickbacks to doctors who prescribed large amounts of Detrol for off-label purposes; offering raises and bonuses to Pfizer employees who promoted off-label uses and denying salary increases and promotions to employees who refused, and actively trained employees on ways to avoid being caught by the FDA, according to the lawsuit
There's more. Pfizer, the lawsuit charges, paid a medical writing firm to compose ghostwritten articles that appeared in such medical journals as the Journal of the American Medical Association; distributed studies to reps that lacked evidence Detrol could treat enlarged prostates; and funded and controlled content in continuing medical education programs.
As an example of the alleged shenanigans, Wetherhold claimed at a February 2004 plan of action, or POA, meeting, his district manager was conducting a training session that involved videotaping sales reps as they made their Detrol presentations. He declined to include the off-label information and she publicly chastised him. She also instructed reps to target military accounts, such as the Veterans Administration, because these are "filled with middle aged men with enlarged prostates."
"Pfizer intentionally embarked on a course of unlawful conduct that it knew would lead to the submission by physicians and pharmacists of thousands of Medicaid claims for Detrol uses that were not covered by Medicaid and for which the drug was ineffective," according to the lawsuit, which was joined by 22 states that charged their Medicaid programs were defrauded. Between 1998 and 2008, Medicaid reimbursements totaled about $1.4 billion, and the amounts rose steadily each year as a result of the alleged off-label promotion (here is the lawsuit).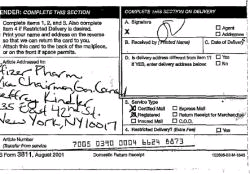 And here is an interesting wrinkle. Remember Jeff Kindler? The former Pfizer ceo was general counsel at the time that Drimer blew the whistle on the off-label marketing and complained internally about retaliation. She wrote a letter to Kindler that mentioned illegal promotion of Detrol and the Bextrol painkiller, but the lawsuit alleges he did nothing, which contradicted the requirements of a Corporate Integrity Agreement that was already in place as a result of illegally marketing Neurontin (see this).
"The illegal promotion of Bextra for acute pain, and Detrol LA for the BPH patient, is documented in the enclosed business plan, which was emailed to the entire district on February 24, 2004," she wrote in her May 2005 letter to Kindler and also to a senior vp of human resources. I understand from attending Pfizer's ethics/compliance training that these reported practices violate federal law (you can read her letter here).
A Pfizer spokesman sent us this statement: "We are pleased to report that the company has settled these qui tam allegations on favorable terms. This settlement allows Pfizer to avoid the cost and distraction of litigation and put this matter behind us." Pfizer, he adds, has a compliance program that includes a "dedicated chief compliance officer, corporate compliance committee, code of conduct, extensive compliance training, policies and procedures regarding the appropriate promotion of Pfizer's products, auditing and monitoring, a compliance hotline and extensive procedures to investigate and remediate potential issues of non-compliance with company policy or applicable legal requirements."
Presumably, this effort has improved since Kindler received her letter.
"Marketing fraud is profitable, even when you get caught," says Greene, the attorney for the whistleblowers. "When the marketing teams of pharmaceutical companies like Pfizer are given an opening to increase sales off-label, they seem to take it ten times out of ten." Meanwhile, the whistleblowers will receive 27 percent of the portion of the $14.5 settlement that goes to the federal government, or a total of $3.3 million, which they will have to divide. Their share of the proceeds to be received by the states has not yet been calculated, according to Greene.
http://www.pharmalot.com/2011/10/pfizer-pays-145m-to-settle-detrol-off-label-suit/