Jab that damaged our child
Letter, Daily Mail Aug 20, 1996
AFTER reading with interest the Good Health Debate on vaccination (Mail), I looked up and watched my vaccine-damaged son Andrew being cared for in Rachel House, the children's hospice.
I'm one of a small number of parents who have proved the dangerous reactions of DPT immunisation, the third dose of which. left my son badly brain-damaged. Neither contributor to the debate details the risks, and Dr Mayon-White — as a professional — could at least have explained what happens when reactions do not settle in a day or two.
My son has cerebral ataxia, leaving him with no balance and very poor muscle tone. He has uncontrollable epilepsy, with a minimum of ten severe seizures a day. We provide the necessary round-the-clock care, feeding, dressing and bathing him and moving him from wheelchair to chair to bed.
At eight years old Andrew can press a button and throw a ball— nothing else. This is a bad reaction to a vaccine, not a rash, a wheeze or a bit of a temperature.
In the U.S., the government has paid out more than $650 million to vaccine-damaged children. In the UK, the current rate of compensation is £30,000 — a one-off payment for a ruined life. The annual pay rise for a Cabinet Minister is greater than this, which shows just how much my son is valued by this Government.
JANNE BARRAS, Alexandria, Dunbartonshire.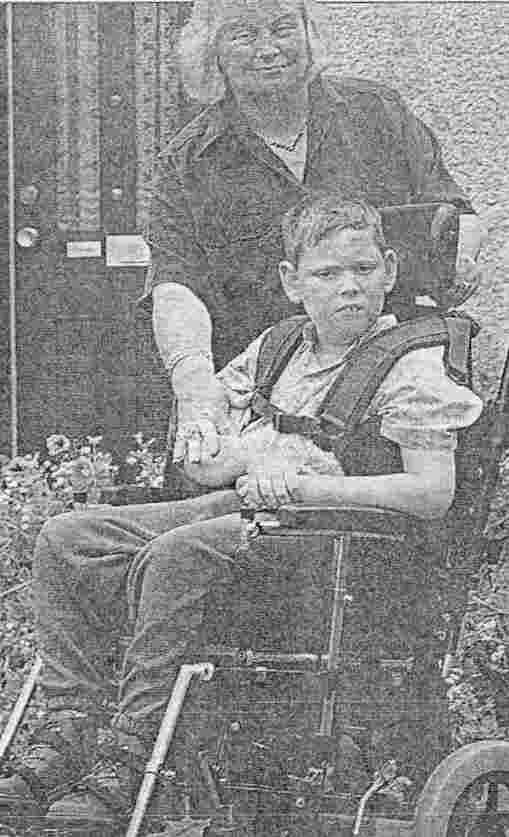 Tragic dose: Janne's son Andrew needs constant care
[Home] [Autism] [MMR/MR vaccines] [DPT vaccines]