Dr George Kassianos
[back] Experts
[Immunisation spokesperson for the Royal College of GPs. Wants to vaccinate under 5s with flu vaccine to protect old people! Every year! Flu vaccine must head the list of vaccine cons. See his letter with the usual lies over measles and MMR dangers.]
[Aug 2008] All children under five should get flu jab to cut infection rate by 70%, says study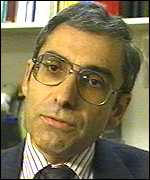 [re MMR] The Ringmead Medical Practice
See:
Flu vaccine
[Letter BMJ 2006] Can influenza vaccine overcome vitamin D deficiency? If flu shots are effective - and if more older Americans have been getting them - why have more older Americans been dying of the flu?.....Perhaps the elderly, virtually all of whom are vitamin D deficient, would be better off getting an injection of vitamin D in the fall, rather than a flu shot?
[2005] Vaccinate Johnny To Protect Grammy - And Other Wild Ideas ---- F. Edward Yazbak, MD In an interview, the lead author stated that the dramatic increase in vaccination coverage among the elderly should have led to a dramatic drop in flu deaths. "This is not what we found … So the mortality benefits are probably very much overestimated," she said.
[Aug 2008] Flu jab doesn't work in healthy elderly--Hilary Butler Obviously the flu vaccine is a dud, so can we toss it out now?....Life is certainly not boring when you are an influenza vaccine expert, trying to justify your existence.