'Perfect' baby's autism
LAST week the parents of Holly Lewis were told the devastating news they had been dreading - that their daughter is suffering from autism.
The doctor's words came almost a year to the day that the bright and bubbly baby was inoculated with the MMR vaccine.
Although experts will not confirm their worst fear Robert Lewis and Christine Hunter, of Bishops Tachbrook, near Leamington Spa, Warwickshire, are certain their daughter's condition is linked to the injection. Mr Lewis, 45, said:
"No one is saying that is the definitive cause but if it is, then that has destroyed the whole of the rest of her life."
Holly, now almost two, was 12 months old when she was given the MMR vaccination along with a jab for meningitis.
"She was perfect," Mr Lewis said. "She looked gorgeous, she was as good as gold. She was the perfect baby."
Holly was given the jabs in the middle of the afternoon, and by 11.30pm she had stopped breathing. 'She had a massive fit, she stopped breathing, she was blue, and we thought we were going to lose her'.' Lewis said. Holly has continued to have fits, more or less daily, and then last week she was diagnosed as showing signs of autism.
"She has severe 1earning disabilities," said her father. "She can only walk if you hold her hands and she can't talk. Yet 12 months ago she was perfect."
The sales director added: "Let's not make this next BSE crisis, where all they do is deny, deny, deny."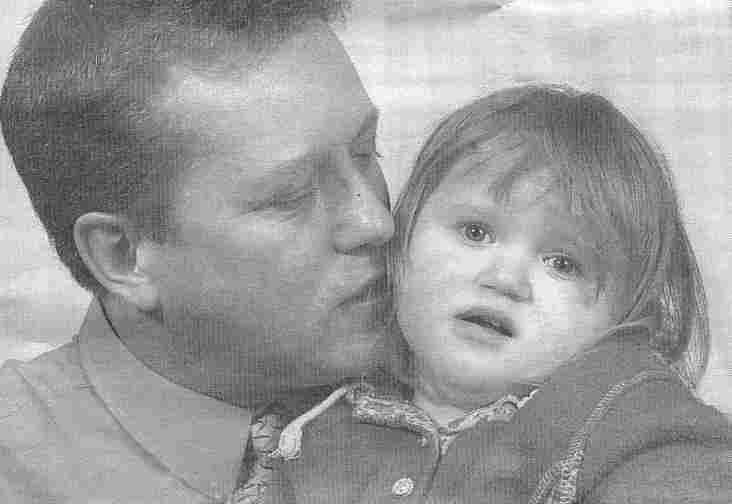 HER LIFE IS DESTROYED: Robert Lewis with his once-bubbly gaughter Holly
[Home] [Autism] [MMR/MR vaccines]