How MMR changed my boys, by triplets' mother
Daily Mail Aug 30, 1999
TRACY STEELL was thrilled when her three Sons were born almost five years ago.
Because they were triplets, their progress was monitored by the Glasgow Royal Maternity Hospital until they were a year old. 'They were doing fine, very healthy and passed all their milestones,' said Tracy. 'They were bright, full of fun, and talking. At 17 months they all had the MMR jab on the same day.
'Four days later Stuart started screaming and then Bobby and Glen started up. I had to call out an emergency doctor who wrote in their notes that it might have been a reaction to the MMR.
'It's been a nightmare since then. They have gone backwards. Bobby has been diagnosed as having severe autism and the other boys have a severe speech disorder. All three have to go to a special needs school.
'They can't play easily with other children, they get frustrated and have trouble communicating With me and each other.' The children also have bowel disorders.
Tracy, who is divorced, is among those taking legal action over the MMR Jab. She does voluntary work whenever she can fit it in. 'it keeps me sane,' she said. 'I'm determined not to let the boys' problems beat us but when I judge them against the way other children are growing up, it's really hard.'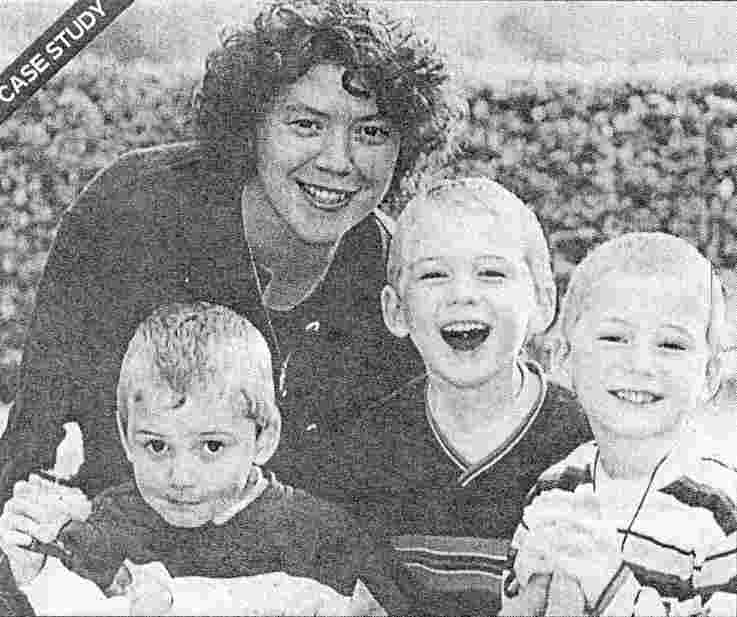 [Home] [Autism] [MMR/MR vaccines]